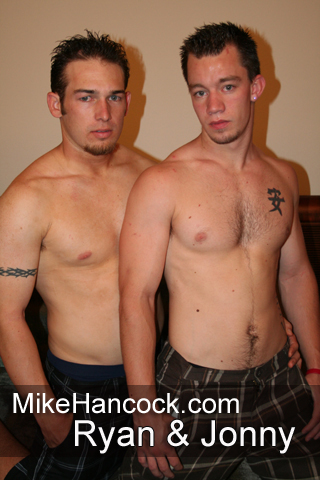 Besides both being Hancock Studios exclusive models, Ryan Andrews and Jonny Magnum have something else in common.  They both have dicks 8" x 6", and beautiful asses just ripe for plucking… or should that be fucking.  There's no one more versatile than Ryan Andrews, who loves getting fucked just as much as he loves putting his man-hammer to good use.  Whether he's on top or bottom, Ryan Andrews knows how to have a good time.  Jonny Magnum is relatively new to the scene, but Mike knows talent when he sees it and Jonny has it in spades.  Who better to teach Jonny the ins and outs of being a top and a bottom than Ryan Andrews?
The guys started out with a little mutual dick sucking to get in the mood, but Ryan was anxious to feel Jonny's huge cock inside him.  On his back and feet to the air, Ryan welcomed Jonny with more than open arms.  Jonny's thick dick was treating Ryan right, and Ryan's moans of ecstasy reached upper octaves.
Once Jonny had had his fill of pounding Ryan's sweet ass, it was time for Jonny to play fair and let Ryan have a turn at top.  Ryan was gentle at first, knowing that in Jonny's limited experience at being fucked, he probably had not had a cock as large as his plow him before.  After Ryan worked up some momentum, he showed Jonny what it truly feels like to be a wide receiver.