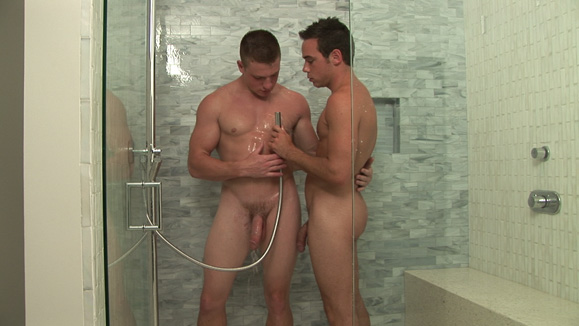 A friend of one our production guys had just finished remodeling this beautiful multi-million dollar home in a nearby desert resort town.
I think his intention had been to sell it, but we all know how the real estate market is doing right now! So our very talented remodeler friend decided to use it as a vacation house instead and was gracious enough to let us bring a bunch of our hot young studs out so they could fuck from one end of the house to the other!
Two of those studs were Curtis and Rylan.
Rylan is gay and Curtis, well, I think Curtis is just a horn dog!
The house had this big, glass enclosed shower. It was one of the very first things I noticed.
The first time Curtis was out, he had a little bit of an incident with a shampoo bottle in the shower at his hotel. So I think that water really, really turns him on and when he saw the water wand he got really excited! Once they got going, he was using it on Rylan's ass, and his own ass, and on both of their cocks (which are both quite large, by the way).
After the shower, both of them were really horned up. Rylan really liked Curtis and wanted to get fucked — bad!
Curtis pounded Rylan's ass and then Rylan got a chance at at Curtis, bent over on the shag rug. The look on Curtis' face while he was getting plowed spoke volumes. He really liked it, which is kind of strange for a guy with a girlfriend. Well, OK, maybe not!
Check out the rug burns on Curtis' knees at the end!