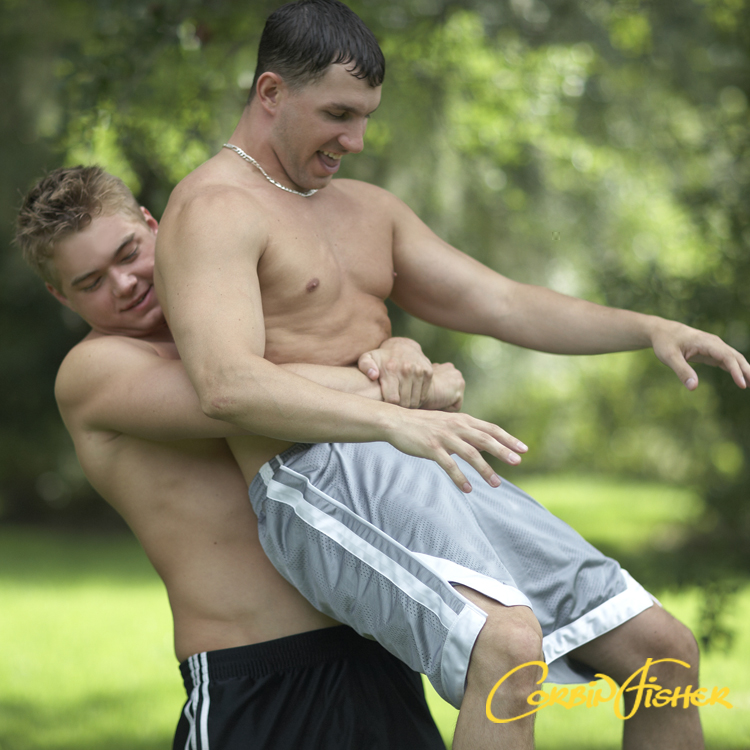 Every time I see Connor get fucked, I can't help but think of what an incredible thing that is to have happening. He'd held out from doing any guy/guy action at all for the longest time that his getting fucked – and clearly liking it! – is pretty awesome!
Not long ago, I never thought this video would be a possibility! But, as luck would have it, it was! So, finally, Connor is ready for what is almost a rite of passage here at CF – getting fucked by "The Machine", Cade!
Before we got to filming this video, I actually asked Connor what he felt about what was in store. He was no stranger to what Cade is capable of, having been in the Strip Poker vid with him.
"Cade's dick is pretty thick," I said. "You ready for it?"
"I suppose," was his answer. "I'll just grit my teeth and go to my happy place."
"Standing there watching and filming what's going to happen will be my happy place!", I had to respond. At that, he laughed.
"Your dick's pretty thick, too," I continued. "So it's only fair you get to be on the receiving end of a lot of cock sometimes, too!"
As it turned out, Connor did way more than just receive it! Whereas he was sprawled out, face down, ass up, getting fucked by Cade's thick dick to start, the guys eventually worked their way around to where it was Cade lying down on his back, with Connor riding his dick.
And does Connor ever ride that dick! He bounces up and down hard and fast and truly fucks himself silly on Cade's dick. Both of these muscular studs were clearly having a blast as Connor took charge and rode Cade's cock. Seeing their buff bodies flex, hearing their moans, and watching Connor's own cock swing around is quite a sight!
Soon, though, it was Cade's turn to get back in control of the action and he gets Connor on his back to keep fucking him. That must have done the trick for both, as Connor is soon spraying his own chest with his cum as Cade gets closer and closer to the edge. Connor finishes Cade off by taking his load into his mouth and all over his tongue!
____________________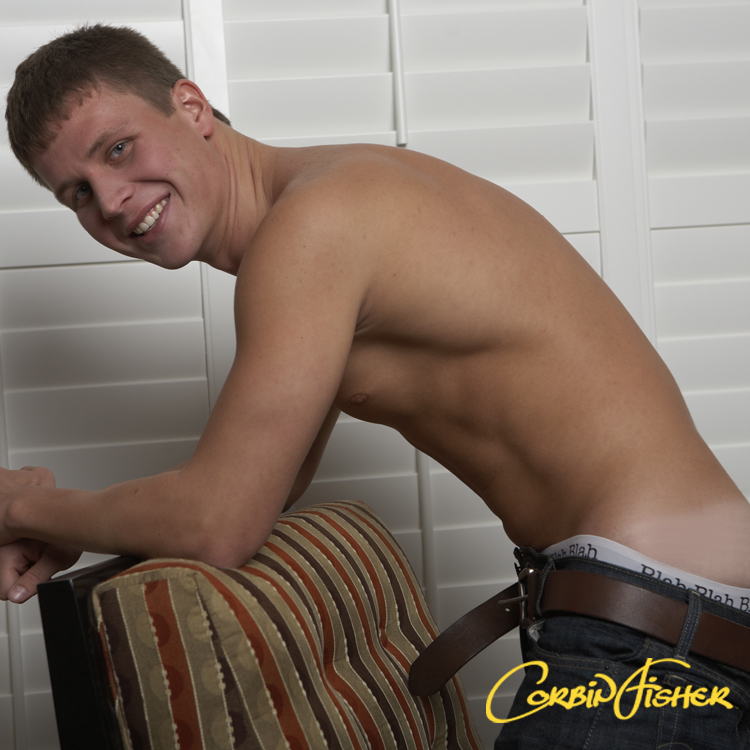 Carson is, indeed, very talented!
Just a few days before meeting Carson, a friend mentioned that "very talented" was the phrase a couple college professor friends of his used to describe students that are particularly hot – yes, college professors notice their hot students! I guess the professors couldn't quite come out and say to one another or colleagues that they had a super hot student, so would instead slyly say, "He's 'very talented'!" with a wink and a nudge (hopefully I haven't just exposed some long-secret professor's code!).
It just so happened that Carson came out for his shoot shortly after my friend told me about this "very talented" code, so I couldn't get that phrase out of my head the entire time I was around Carson! He's definitely "very talented"! Not having to worry about any kind of code or avoiding making inappropriate comments in the faculty lounge, I can straight up say he's a hottie!
He has an all-American, youthful look and is a dedicated athlete – he's a swimmer and spends so much time in the water he'll probably sprout gills at some point very soon. Among his other interests? Nature, the outdoors, Asian girls, and doggy style!
I suspect a number of you read the earlier part about Carson being a swimmer and thought, "Oh no! That must for sure mean he shaves all his body hair!" Well, fortunately, that's not the case! While trimming a bit, he keeps his pubes natural and, along with his swimmer tan lines, looks pretty darn hot as his pants come off!
All in all, hot young Carson fits in perfectly among his fellow, "very talented" CF studs!
____________________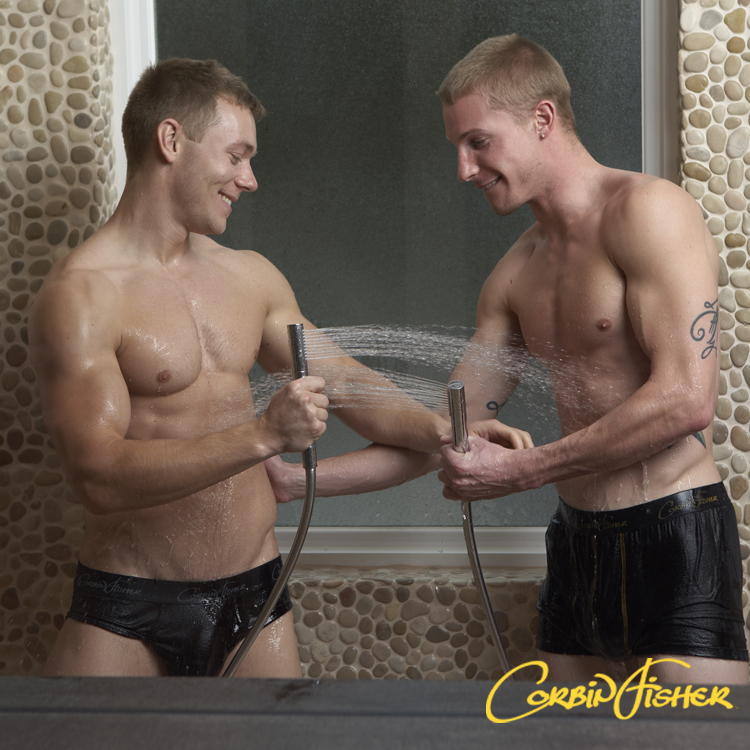 I knew Cole's first time with Derek had the potential to be incredibly hot on account of just how lively and horned up Cole was in his solo, and he didn't disappoint! Dare I say it, his first time fucking a guy was one of the hottest things I've ever filmed! He started off nervous and hesitant but by the end of the action was so into it and so fired up and turned on he was frantically reaching out to jerk Derek off while he fucked him, the guys were licking and kissing like mad, and he was talking dirty and seemed totally enthralled and fascinated by what was taking place and what he was doing.
When Cole agreed to fuck another guy, he wasn't quite willing to get fucked by another guy. He'd not agreed to try bottoming by the time he fucked Derek but after filming that video, I told myself I just had to get Cole to give bottoming a shot and get him in more action! Thankfully, by the time he got through fucking Derek he was considerably more open to the idea of getting fucked by a guy. I think that seeing Derek's obvious pleasure and enjoyment while he fucked him led to Cole really wanting to try that out himself and see what it was like. After all, we know Cole is extremely sexual, almost always horny, and very adventurous so I gather it was just an experience he couldn't pass up!
As the action here gets started, you can already see that Cole is much more comfortable and at ease than he was during his first time with a guy. Though he's a slight bit nervous in an adorable way at the outset, Dawson very quickly has him rock hard and loving things! The looks on Cole's face while Dawson treats his feet to a nice tongue bath are priceless!
Cole really gets the royal treatment from Dawson all along, as Dawson makes sure things are both playful and passionate while sucking him off and getting him prepped for what's in store. By this point, for both Cole and Dawson, it's all about the sex and the intense physical pleasure and Cole is totally into it as Dawson puts his hard cock in front of his face and presents it to him. Seeing guys first and early experiences at sucking dick is always a treat, and Cole really returns the favor to Dawson as he mouths and tongues his cock – Dawson definitely liked it, too!
Their foreplay isn't done yet, though, as soon it's time for Dawson to start getting Cole's hole ready for his cock. He gets Cole bent over on the bed and strokes his dick as he buries his face in his ass, and Cole's loving every second of it. I couldn't get enough of filming Cole's facial expressions while Dawson rimmed him, and likewise Dawson really feeds off of how his partner reacts to what he's doing. Indeed, the guys were both having so much fun during the foreplay that we had to split this video into two parts in order to fit in all the action!
The second part of this video is the one in which Dawson finally gets his dick into Cole's ass, and we get treated to some super hot fucking. Seeing both the actual penetration, as Dawson slides his dick into Cole, and Cole's facial expressions while it happens are hot as heck, and there's no denying Cole was both overwhelmed and totally into how it all felt. Both of these guys having incredible sex drives becomes the main factor in how things proceed from this point and it becomes a pure, all-out fuck vid from here on out!
In fact, it's not long at all before Cole blasts his load all over his chest. He just couldn't contain it and shoots a nice, big load all over himself. That puts Dawson over the top and he pulls out to shoot his own big load all over Cole (minus the shots that fired right by Cole's face and off on to the floor somewhere!).
With two guys capable of such intensity and passion, there was no way things were going to end just there, though, and they continue to kiss and make out for a couple minutes before the action is over! I don't think there's any doubt that both of these guys had fun and Cole really enjoyed his first time getting fucked.