Brent had never seen the ocean before.
In fact, at the tender age of 19, he'd never been out of his home state.
When I spoke with him on the phone, I promised that we'd take him to the beach so he could see it for himself. Man, was he excited!
When I finally got to meet him, I noticed that he was pretty shy in person. Maybe it was just that he was overwhelmed by everything.
However, he wasn't shy about showing his nice, muscular body or his low-hanging balls!
____________________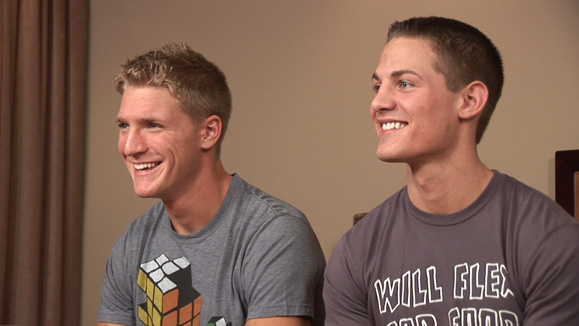 Jason is back for some flip-flop action with Trey!
Jason initially described himself as 'bi-curious." He had very little experience with another guy, but was excited to try.
So, as he was sitting next to Trey, we had to give him a hard time.
"This is your first time, right?"
"It is," he said. "Ever."
Trey, as always, had a big grin on his face. He's always so happy to take a cherry. That's what I love about him!
"How do you want him to be?" we asked Jason.
"Gentle at first, and then when we get going, we get going," he said…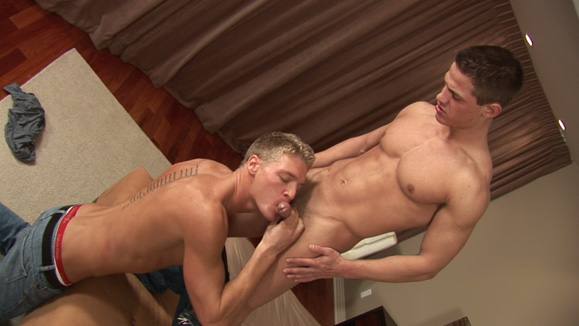 ____________________
Brandon is a college student studying business management. He lives in a frat house on campus.
When asked to describe the goings-on in his fraternity, he laughed and said, "It's a frat house, so who knows what's going on all the time."
Well, there was the time he fucked a girl on a dryer in front of a bunch of other people:
"It happened on a washer and dryer with the dryer still going," he said. "It kept a nice little warm pace to everything."
And the big orgy:
"We had one room that was full of beer and it was a free-for-all," he said. "Drinking and fucking. It was your pleasure."
Did that mean guy-on-guy action too?
"Oh, absolutely," he said. "These guys were going nuts on each other!"
Well, he must have learned something, because Brandon is very, very talented at finger fucking himself!
_____________________
See also: