Things have been really busy here lately. I needed a vacation and a little of change of pace.
Plus, the weather here in San Diego has been unseasonably cool and gray, and I was in the mood for some sunshine!
Believe it or not, I'd never been to Hawaii. I've been to pretty much every state in the nation chasing after hot boys, but oddly enough, never there.
So I checked out the weather reports and found that Hawaii was sunny and in the 80s. Sweet!
I hunted around online and found this incredible house for rent on the main island. So I booked it for a couple weeks and started packing.
I knew I'd be bored without at least some work, so I thought it would be cool to have a couple of our camera guys come out for part of the trip, and then to have a few of our hot young studs come out to hang and shoot a few films here and there.
So I got there and the house was far better than I had imagined. Totally off the hook with an amazing private pool!
For the first few days I did nothing but lay around, drink, and read (and OK, maybe hook up with some of the hot island boys).
Then Jake and Pete arrived and we were able to "break in" the house for the first time.
The house had an amazing kitchen and we decided to do at least part of our first film there.
I have to hand it to the guys… they came up with some pretty imaginative positions and even a very creative use of the kitchen sink!
Pete is becoming quite the little bottom boy!
I really enjoyed hanging out with the boys and filming them fucking. Being out of our element made it extra fun!

---
"I'm gay," Ryan told us. "I'm a gold-star gay."
I wasn't sure what that meant, so I asked.
"Gold star gay means I've never been with a girl or even considered it," he explained. "It just never occurred to me."
He's 32 and single, and was a gymnast a college. And yes, he's flexible!
And now?
"I'm a linguist and a professional writer," he said.
I think Ryan would be one hell of a fun bottom, as he's vocal and energetic and REALLY enjoys his body.
Plus, watch him suck his cum up off the couch. The boy is like a Hoover!

---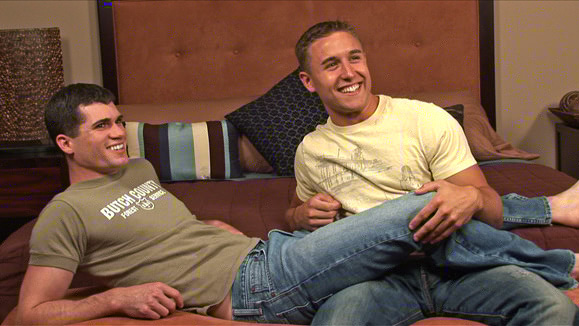 "So you're a power top now?" our camera guy asked Matt.
"Yeah, I gotta specialize," he said.
"Specialize in pounding tight ass?"
"Exactly."
"What are you doing mister?" our camera guy asked Evan (his boyfriend in real life).
"Well, I have to counter his power top with power bottoming," Evan replied.
"So what have you been up to?"
(I think it's funny our camera guy asked this because he knew very well!)
"School," Evan replied.
"Out of the Marines and full time student now?"
"Yeah, it's fun," Evan said. "College campuses are dangerous. Lots of cute boys."
From there Matt pretty much fucked the shit out Evan. To be honest, I think Matt got off on fucking Evan in front of his boyfriend!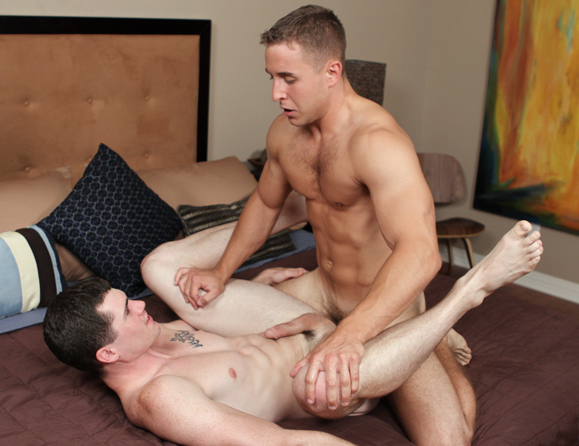 --- We met Glen a few days in Auditions 27.
He told us that he's bisexual, but that it had been about a year since he'd done anything with another guy.
"The opportunity hasn't come around," he explained.
He was very excited to explore that side of himself further. I loved his energy and attitude so we got him hooked up!
Doug also considers himself bisexual and he recently made his first guy-on-guy debut fucking the shit out of Pete.
I think they got along because of their similar backgrounds. They both seemed to have fun in their "explorations!"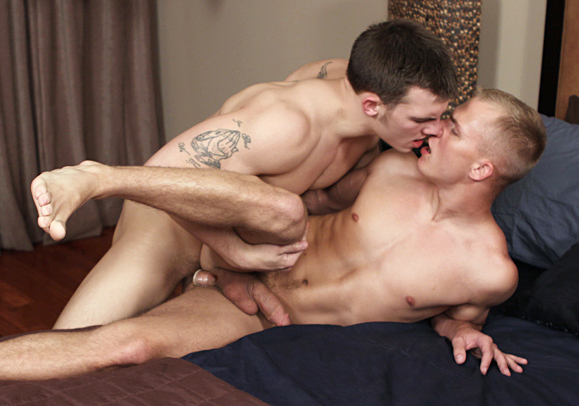 ---
Randall is very, very, very low key.
He's one of those guys who started out with hesitant one-word answers and then slowly started to smile and open up.
He's 19, single, and going to school.
"School controls my life right now," he said. "It's what I do for fun."
That and football.
"I've been playing football since I was 9 or 10 years old," he said. "I'm decent at it."
He's close to his parents, and he said they're very supportive of his athletic pursuits.
"My mom is my #1 fan, so she'd probably say I'm the greatest."
Love it!

---
Ethan is a 20-year-old college student who is taking a break from school.
"Money is kind of tight right now," he said. "I'm trying to save up so I can go back."
He's working at two restaurants as a chef.
"I mostly cook Italian food," he said. "My mom is Italian so I learned everything from her."
I love that — a cute guy who's close to his mom!
He also spends a lot of time at the gym.
"It helps me unwind," he told me. "I usually work out seven times a week."
He must do some serious leg routines… check out his quads!

---
"I bet you were a cute kid," I said to James.
I know that's an odd thing to say to someone when you first meet them, but I was about to see him naked so that kind of throws convention out the window!
"Yeah," he replied. "I guess so."
"You've had girls all over you your entire life, haven't you?"
"Yeah," he said with a little smile.
James is fucking adorable. I couldn't wait to see him naked. And I wasn't disappointed!
He's got a ripped physique, a bubble butt, and a nice uncut cock.
"Where are you from?" I asked.
"The midwest," he replied. "Farm country."
James is playing the field, but he's anxious to settle down and get married.
"I like country girls," he said. "Kind of the housewife type… cook, clean, and cute. I love the cowboy boots and the cowgirl hats."

---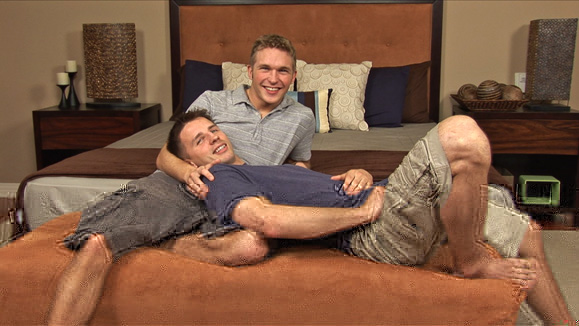 Pete met Harley a few months ago, before they got together to do this film.
There were both out over the weekend doing separate films, but ran into each other at the pool. I think the guys have learned that when they see another hot guy at the hotel, the chances are high they are here for us!
Anyway, they struck up a conversation and spent the afternoon hanging out.
Apparently, Harley made a big impression on Pete.
I was talking to Pete the day after he met Harley, and Pete kept hinting that he wanted to be in a film with Harley. Finally, he just came right out and said it.
I was making him work for it, because I suspected one thing:
"You have a little crush going there, don't you?" I asked with a smile.
"Yeah," Pete said. "I really like him."
So I knew I wanted to get them together. However, Harley is busy with a lot of different things, so it can take some time to get his sexy ass out here.
I don't know for sure, but I think that the two of them had exchanged numbers and were talking in the meantime. Because it seemed every time I saw Pete he was more anxious to hook up with Harley.
So the day finally arrived, and we just had to tease Pete a little:
"So is it true that you have a little man crush on Harley here?"
"A little bit," he said with a shy smile on his face.
"What do you find attractive about him?"
"Everything!" he said. Straight to the point!
I could tell Harley was flattered. But he's hot so he probably gets that all the time!
"I'm looking forward to having a good time," Harley said. "It looks like Pete is going to enjoy today and I think I'm going to do the same."
Awwww!
"I'm anxious," Pete replied. "I want to do this…"
"Have you seen his weiner yet?" we asked.
"I have," Pete said.
Hmmm. Wonder when that took place?
"How big is it?"
"It's pretty big," Pete replied. "So yeah, I'm eager…"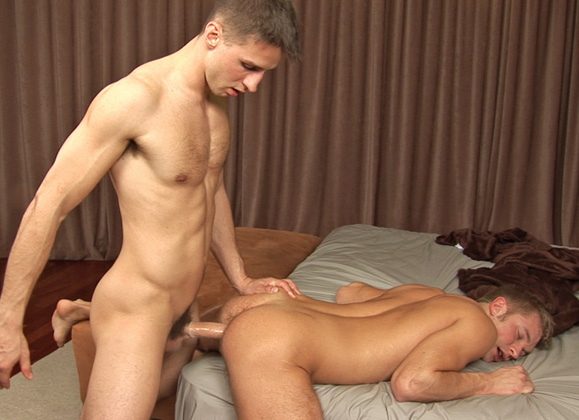 ---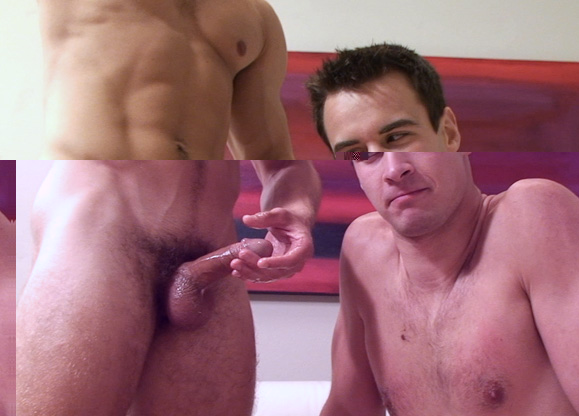 Individually, Kurt and Matt always guarantee a really good time. They're incredibly hot, they're smart, both of them have great senses of humor, and let's not forget the big cocks!
I thought it would be interesting to see how their personalities meshed.
"So you've both been here a couple of times," our camera guy said. "What have you come to enjoy that you didn't expect?"
"The cumshot at the end!" Matt said quickly.
"Yeah!" Kurt added. "That's the best!" (I love how Kurt always has this mischievous smile on his face when he answers our questions.)
"Cuz you're fucking for so long…" Matt said.
"You got a huge load built up and you just 'BOOM'!" Kurt added.
"Yeah," Matt said. "It's an unnatural amount of cum…"
So they've both had some experience fucking (Kurt more so that Matt, but we're working on that!).
Their favorite positions?
Kurt said, "Face down, ass up!"
To which Matt replied: "I like to do some pounding, so face down, ass up sounds great!"
With that answer, the look on Kurt's face said it all…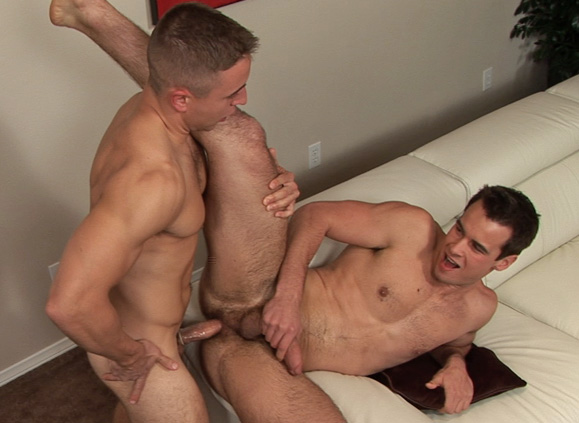 ---
Simon has always been attracted to older women.
He's only 22, so by "older" I assume he means "over 30."
"Older women are so fucking hot," he said. "They just know what they want and they have a lot of experience, if you know what I mean."
He says he has a buddy who is also into the "cougar" thing and they love to tag team.
"One of us in each hole," he said. "It's great!"
Simon is going to school, studying "to be a doctor."
"I want to go into sports medicine," he said.
I thought for sure he was going to say gynecology!

---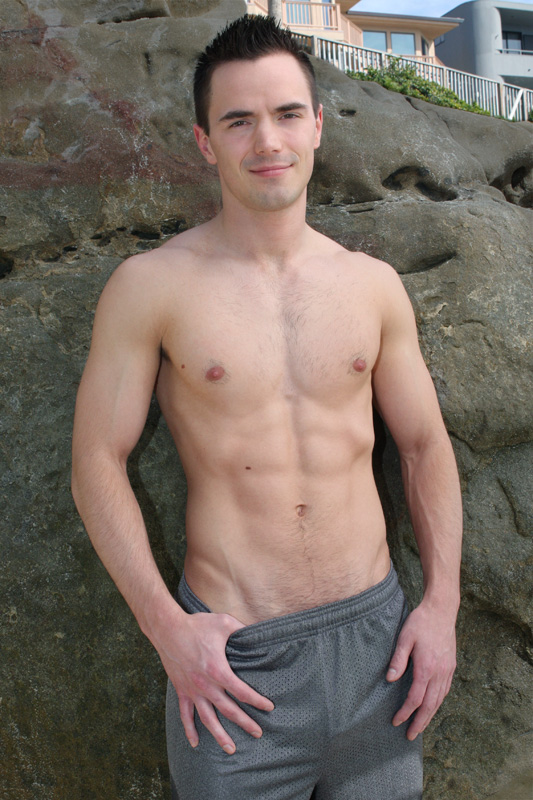 "Would you consider yourself a grower or a shower?" we asked Tony.
"A shower," he replied.
There he was, standing with a clearly visible semi-hardon showing through his shorts.
We'd taken him to the beach and he had told us about some of the stranger places he and his girlfriend had had sex. I think he's kind of an exhibitionist, so I think that turned him on!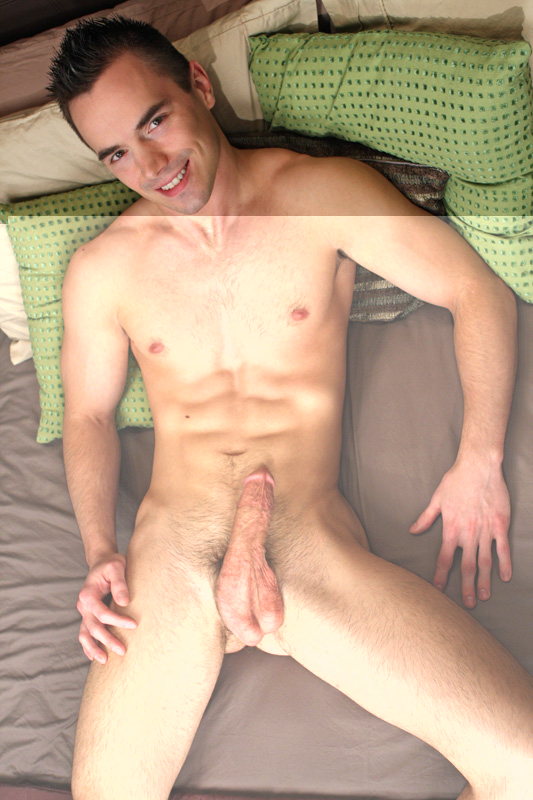 ---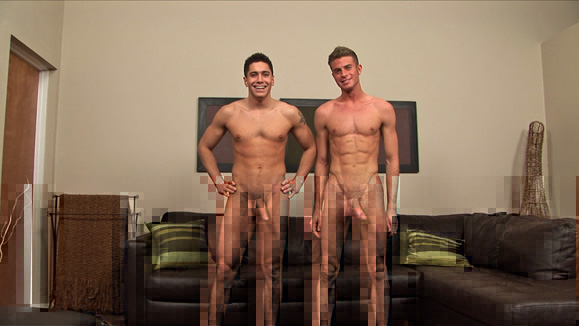 "I'm topping for the first time," Tobey said. I think he forgot to add "on camera."
"It is a rare occurrence," he explained. "I'm usually attracted to straight-acting guys and they very rarely bottom, so…"
I'm not really sure what he meant by that!
Jake was bottoming and he was concerned about how big Tobey's cock was.
When we told him it was about the same size as his, he said, "That's kind of scary to think about."
Jake is still identifying himself as "100% straight."
I don't know, though, because he seemed to enjoy getting his furry little ass fucked!