Cal is a postman and when he delivered a package to Kyle he got more than he bargained for.  Kyle immediately took a shine to this chavvy lad and complimented him on his own package!  Cal then invited Kyle to open it up!  Kyle took Cal straight upstairs and these horny fuckers then got dirty on the bed.
Kyle ripped of Cal's hi-viz jacket and post office shirt and trousers.  These slim, toned lads were both rock hard and wasted no time sucking each other off, before doing some hot "69-ing". Both lads smoked and drank beer whilst been sucked off – as scally boys do!
Kyle turned on to his front and Cal stuck his tongue deep up his cute arse.  He spat into Kyle's hole to lube it up further.  He really loved eating out that shaved man-hole.
Cal is usually a bottom lad but he was so horned up that he agreed to fuck Kyle.  First he "spooned" him, then did him from behind standing up.  Kyle loved Cal's big, thick uncut cock inside him, but was keen to fuck Cal's tight hole.  The boys flipped and Kyle proceeded to pound Cal hard and deep.  Enjoy as Cal keeps moaning and exclaiming "fuck, fuck"!
The lads wanked off some more before shooting their loads. First Cal shot a huge squirt of cum all over Kyle's face and mouth.  Kyle licked it up and swallowed it.  Then Kyle returned the favour by shooting his hot white jizz into Cal's face, hitting him straight in the eye. Painful!
---
It is always great to work with a "porn virgin", even though it can be risky because you never know how the lad will perform in front of the camera and the lights, etc.  Fortunately, there were no such problems with Matt, whose confidence off screen was matched once we started filming.  Danny, on the other hand, has done numerous shoots now, so we had no worries that he would perform to his usual high standard.
Once the shoot began it didn't take Matt long to explore Danny's body!  He was soon working his way down that slim, toned bod with some passionate kissing, nipple play and cock sucking.  He took great pleasure getting his lips around Danny's 8-inch throbbing dick, and took it all the way to the back of his throat.  Danny then returned the favour and gave Matt a blow-job to die for.  In true scally style, these chavvy lads knocked back bottles of lager whilst they were being sucked off!
Next they went on to the floor and did some very horny 69-ing, each lad gobbling up the other's stiff, erect dick.  It was then onto to some ass play, with bottom lad Matt being subject to some serious hole abuse by Danny.  First his shaved man cunt was licked and rimmed, as well as being lubed up by a copious amount of Danny's spit.  Danny got his tongue deep inside, before fingering him in order to further loosen him up.
Matt was now ready to get fucked hard.  Danny proceeded to plough this eager bottom boy from three different positions, including one where Matt sat on Danny's cock and rode it like a true knob-jockey!  Before long Danny could not contain himself any longer and withdrew his cock from Matt's ass and shot his creamy load all over his back.  Matt then turned to face Danny and shot his spunk all over his face and chest.  A nice climax to a well horny shoot that I'm sure you'll enjoy.
---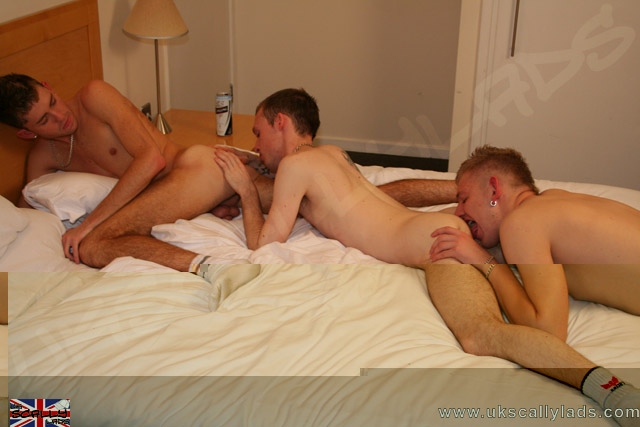 After the wrestling, kissing and sucking in part 1, the lads then got down to some serious ass play, firstly with Aaron eating out Kyle's peachy ass, whilst having his own ass being licked feverishly by Nico.  Then some fingering of Nico ensured he was nice and loose, before being subject a hard pounding by Aaron's 8-inch piece of meat.  Nico was spit-roasted and he moaned with pleasure at this double ended assault of his mouth and ass.  Then it was Kyle's turn to fuck Nico hard, with the young 18-year old scamp now being forced to take Aaron's big dick in his mouth.  Then the lads got into a train position and fucked each other at the same time, with Nico fucking Kyle, whilst being fucked himself by Aaron.  See these guys go for it and pump each other hard, with some nice close-up shots of deep anal penetration.  Finally after an exhausting suck and fuck session, the lads relaxed on the bed and wanked off some more, before shooting their hot sticky cum loads all over their bodies.  The end of a really horny session which I'm sure you will enjoy!
---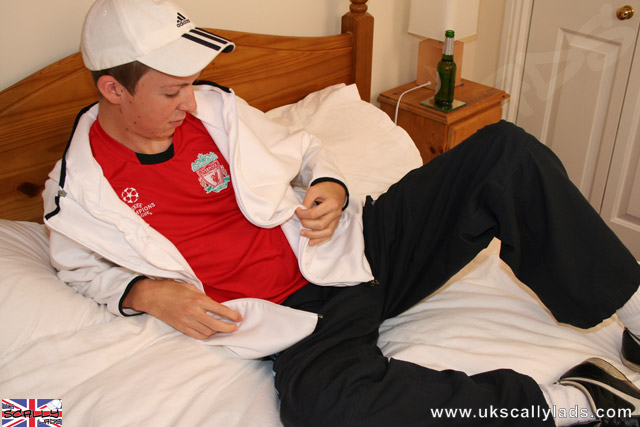 Callum came down from the streets of Birmingham for this shoot.  He wore a white Nike hoody top, red Liverpool FC shirt, navy Adidas trackie bottoms and white Adidas baseball cap.  He was soon getting hard and horny as he slowly took items of kit off and revealed his nice, thick uncut 7.5-inch dick.  As he tugged away, he was thinking of his boyfriend who had come down to the shoot with him.  Unfortunately, we couldn't persuade Gary to join in and make it a duo scene!      After some horny wanking, Callum turned onto his front and whilst kneeling down stuck his cute, fuckable ass into the air so we could get a good look at it in all its shaved glory.  He had a nice red hole which he teased and played around with his fingers.    Then it was into the shower, where we got to see Callum soap up and wash down, with his cock now just semi-hard, but still looking great.  He then returned to the bed where he jerked off further before he shot his hot creamy load over his chest.  To finish off he picked up some of the cum in his fingers and put it into his mouth.  Well horny mate!
---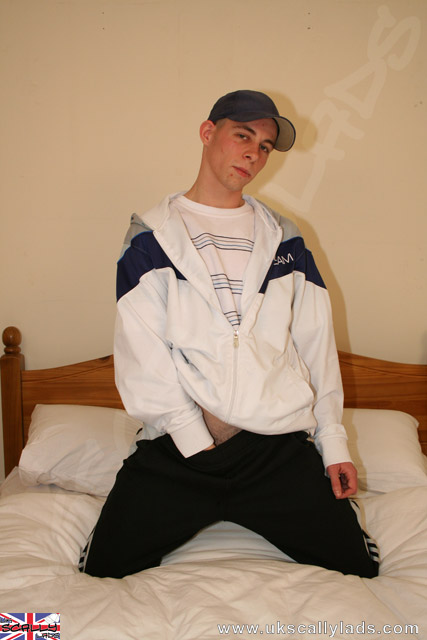 Lewis is a true scally lad off a rough council estate in South London.  He always getting into scraps with his mates and generally getting up to no good on the estate!  And, of course, he wanders round in his trackies and other scally gear, whilst regularly shoving his hands down his pants and playing with himself!  For this shoot he wore a white hoody trackie top, striped Lonsdale t-shirt, navy Adidas trackie bottoms and white Lonsdale trainers.  As the shoot started Lewis watched some hot porn to get himself hard and horny.  Before long he was feeling his body all over, with hands underneath his top and down the front of his pants.  Gradually items of kit came off to reveal a nice thick juicy 7.5-inch dick, which he stroked slowly up and down, gradually increasing speed as he got more and more horny in front of the cameras.  As he wanked off, Lewis lit up a cigarette and chilled by smoking it, as well as knocking back some lager.  Although Lewis likes nothing more than fucking another dirty, horny scally fucker, he also loves cock up his arse.  Luckily he had brought along one of his big, thick, fat 10-inch dildos for the shoot!  With only minimal fingering and lube, he amazed me by sliding this enormous latex dick effortlessly up his man-hole.  He moved it in and out, slowly at first, but gradually building up to a crescendo, and before long it was inside him to the extent that its base was touching his balls!   After having a shower (filmed of course!) it was time for Lewis to wank off further before he was ready to shoot his creamy cum load over his body.  This dirty scally fucker then also took some of his hot jizz in his mouth.
---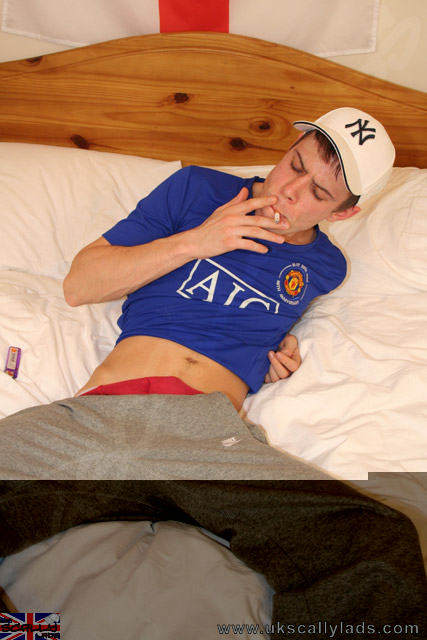 Kyle will be familiar to many of you porn lovers, as he has done loads of stuff in the past, although not so much recently.  When he asked if he could do a shoot for us we were only too happy to oblige.  It was meant to be a duo shoot, but unfortunately the other lad went sick on the day, so we had to do a solo instead.  This chav lad from South London, wore grey Nike trackie bottoms and a blue Man United footy shirt for the shoot.  Kyle is a big United fan, but then again he does live in London!!  Kyle smokes over 20 a day and he wasted no time lighting up during the shoot.  He was soon playing inside his trackies and under his top.  Underneath his trackies he wore some red Bench boxers, although it wasn't long before they were down also and he stroking away at his nice uncut cock.  This slim lad also loves a bit of arse play and soon he was getting his fingers nicely up his ass hole and feeling deep inside.    Next we did a horny shower scene, including some "water sports" action to start with.  Then Kyle soaped up and rubbed himself all over, once again playing with his cock and arse.  After drying himself off, Kyle returned to the bedroom and wanked off some more, until he shot a big spurt of cum all over the pillow and on to his body.  He then scooped up some of his sticky load off his chest and put into his mouth.
---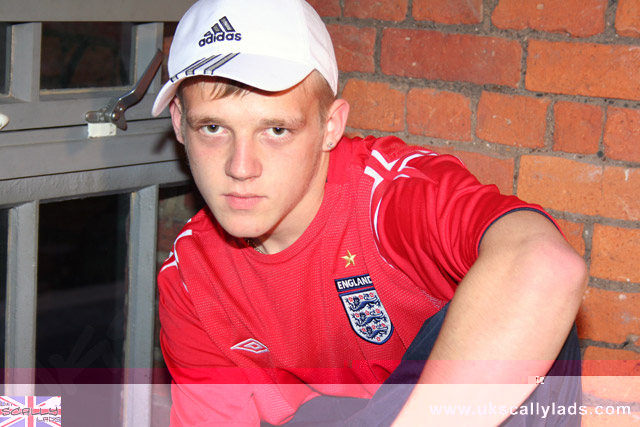 Max had only turned 18 a few weeks prior to shoot so he was keen to start what he hopes will be first of many photo/video shoots. Judging from the results of the shoot we're sure he's going to be in demand!  Despite his inexperience, Max wasn't nervous at all. We met him at the station and after a quick drink we returned to the apartment to do the shoot. Max has been a scally lad for a few years and has a mischievous streak and is always getting in trouble! But he was great during the shoot and we did more photos of him than any other model to date.
Max wore a red England top, blue trackie bottoms and white baseball cap. He is such a tease. He insisted on performing in front of the window so that passers by could get a free gay sex show!! Max has a very nice 8″ cock and was soon stroking it up and down. We had to take regular breaks as he was getting so excited he thought he might cum a bit early. We shouldn't have worried though and right on cue Max spunked over his stomach.

---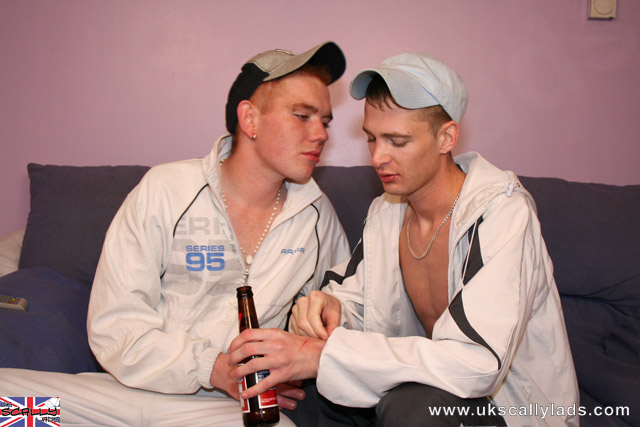 Jordan & Jayden are two fit scally bois from the Leicester area.  After working in Birmingham I made the trip over to see them at their council flat.  They are really nice guys in a long-term relationship, although they bicker like an old married couple!  Jayden had been drinking all day but fortunately was still sober enough to do the shoot!  They were both kitted out in white trackies tops and Nike trainers and looked well horny with a bottle of lager in their hands!  After a couple of minutes of chat the boys were soon getting their tongues deep down inside each other's mouth.  You could tell they were a couple by the way they snogged.  Jordan then gave Jayden a love bite!  Next they explored each other's body and nipples were sucked.  Soon hands were wandered down trackie bottoms and the lads' cocks were being pulled out ready for a mega suck session.  These boys cannot get enough cock and they sucked each other off for ages, including in the 69 position.  We had so much footage we had to edit a lot of it out!  Next Jayden rimmed Jordan's cute sexy shaved arse.  Both lads love rimming deep and Jayden certainly got his tongue deep inside Jordan, eating out his arse whilst Jordan moaned in ecstasy.  As this turned out to be mega session (due entirely to the boys!) we have had to put his vid in two parts.  In part 2, see the boys have a shower together and then get down to serious fucking!
---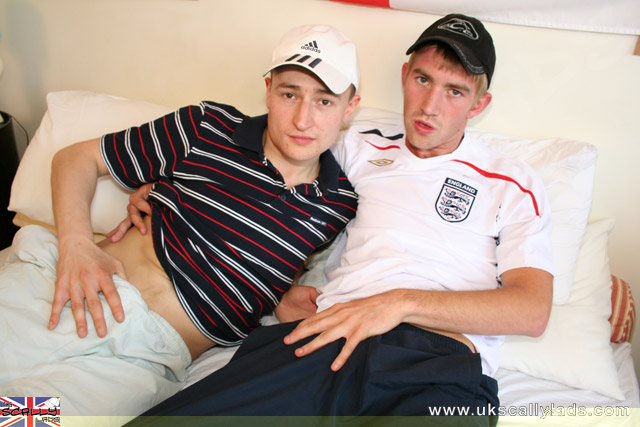 We had been keen to do a shoot with Matt for some time – for obvious reasons!!  For many of you will know that this straight horny chav lad from Kent has the most enormous cock that you could wish to see!  In all its 11-inch (28cm) glory this is a sight to strike fear into any bottom lad!!  For this shoot the intrepid volunteer was Ricky, who has worked with us before.  Ricky admitted before the shoot that, although excited by the prospect of taking this impressive piece of manhood, he was also quite nervous about it too!  We did the shoot at a mate's flat.  Ricky wore white Reebok trackie bottoms and striped Reebok polo shirt, whilst Matt wore navy Reebok trackie bottoms and white England footy shirt.  It was immediately clear that Ricky couldn't wait to get inside Matt's pants and get working on Matt's todger!  As a straight lad Matt was not into kissing at all, but soon Ricky was working on his nipples and working slowly down until he was teasing his cock through his boxers.  Then the moment came and Matt's boxers were pulled down to reveal this huge thick powertool.  Ricky did his best to suck it deep but, to be honest, you'd need a mouth as big as the Channel Tunnel to deep throat this boy!!  Matt returned the favour by sucking Ricky off for a while, before Ricky flipped Matt over and began to rim his tight ass hole.  Then the time had come for Ricky to take this majestic 11-inch piece of meat like a man!  After loosening up his hole with copious amounts of lube, Matt slowly inserted his throbbing dick inside as Ricky winced the further and further inside him it went.   Matt then proceeded to pound Ricky's arse from various different angles, both in the bedroom and then on the table in the dining room.  To be fair Ricky took it pretty well (he later admitted that it was not the first huge dick he had taken!).  Finally the boys shot their loads.  First Ricky, whilst still being fucked, spunked all over his chest and shoulder.  Then Matt stood majestically over Ricky's face and proceeded to shoot his creamy wad over cheeks and mouth, with Ricky taking some of it down his throat.  He then took Matt's cum-soaked dick in his mouth and licked the remaining cum off it.  A great finish to an incredibly horny shoot.    Oh, and did we mention Matt's got an 11-inch cock!!
---