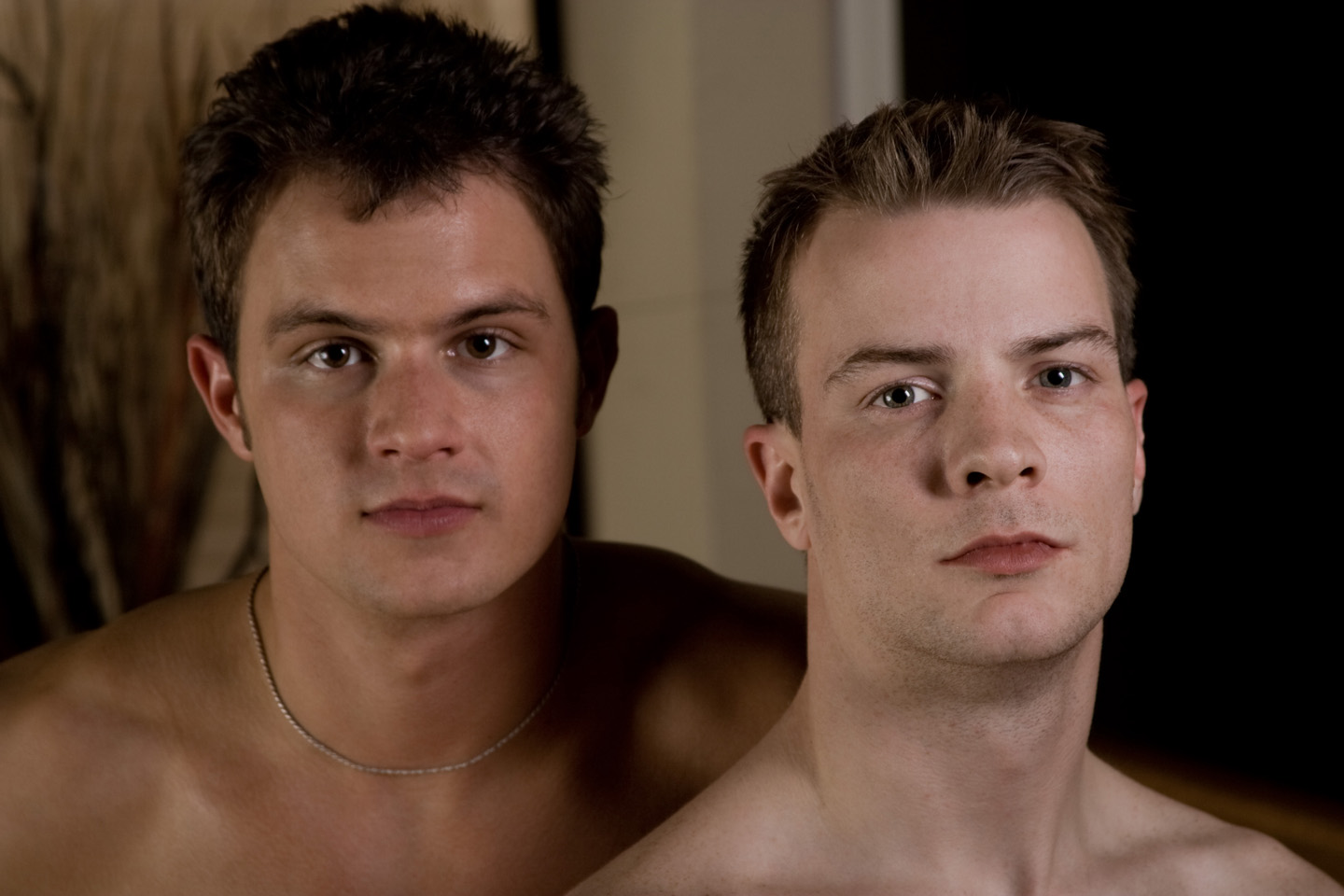 Buck has to be one of the horniest models we've had at Southern Strokes. This has made him a regular visitor to the Lake House. When Buck finished his last shoot with Preston, he made it clear that he was ready to take it up the ass. Austin was a nice surprise when he made his first visit. He comes across as this shy straight guy but it's obvious that he has a nasty side. When he was asked to come in and fuck Buck, he couldn't get here fast enough.
When these two first met, I could tell that Austin was looking forward to diving into Buck's hot ass. He couldn't take his eyes off him. Buck is a little shy which is so sexy given how ripped his hot body is. Buck really likes to please and he was looking forward to letting a guy take his tight hole. It was obvious that this was definitely a first for both of them. They were both a little tentative as we were discussing the shoot, and I wasn't sure how things were going to go.
Once the cameras were rolling, these two looked as if they had been waiting for this opportunity for a long time. They both immediately went after each other's clothes, peeling away their pants and shirts leaving them both hard and ready to go. Austin could tell that Buck was really anxious to feel a hard cock in his tight hole. Buck couldn't hold back his moans as Austin probed his ass with his tongue. He didn't stop until Buck was completely worked up and begging for his cock.
Austin is only 5'8'' which makes his 7 1/2″ cock look even bigger. It was hot watching the small framed Austin bend over Buck and tease his firm ass by slapping it with his cock. Buck couldn't take it anymore and grabbed a condom, demanding that Austin fuck him! Austin proceeded to fuck Buck in every position imaginable. Watch as Buck flexes his entire body and shoots his huge load of cum while Austin is fucking him deep.
---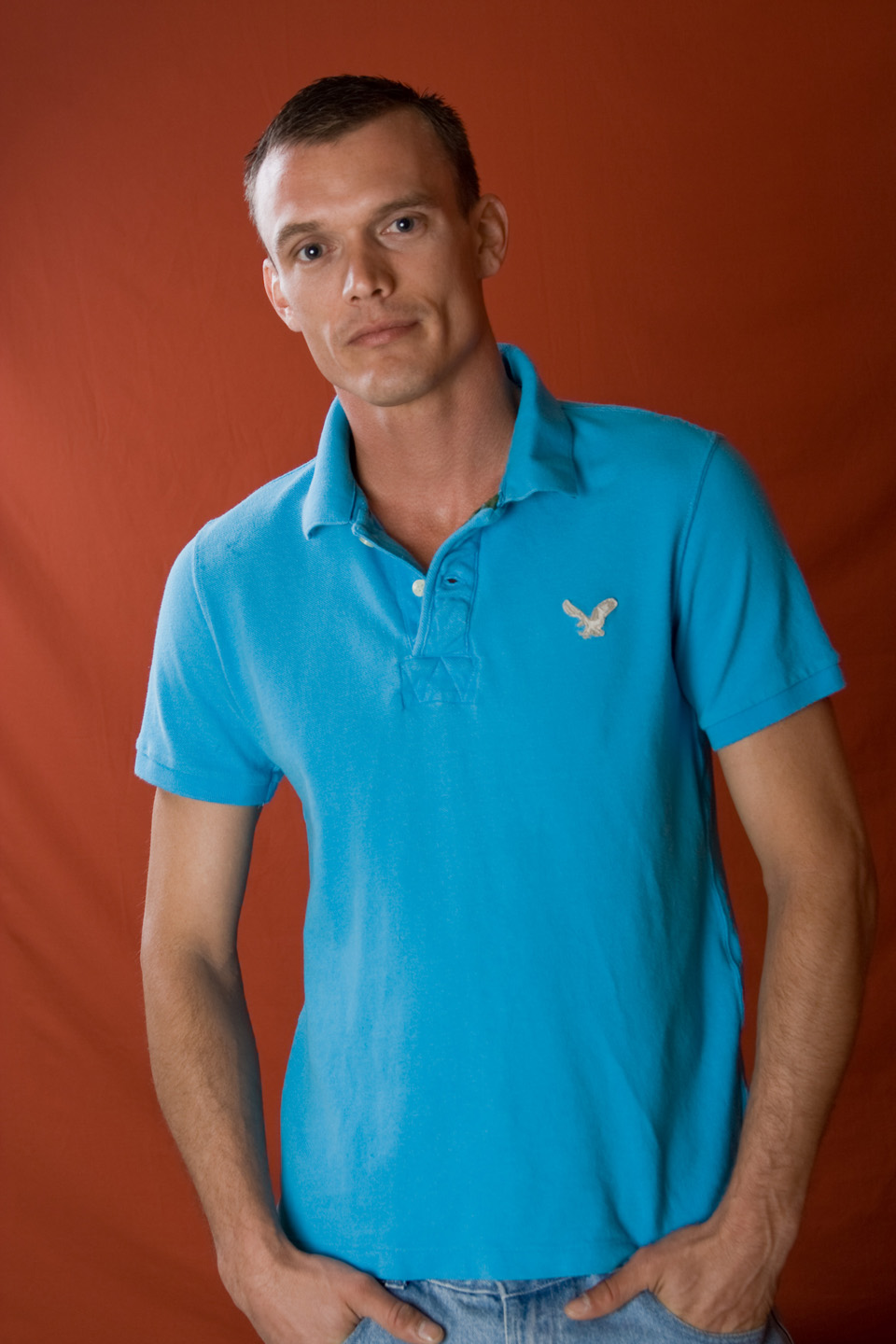 Bobby is a hot 25 year old Bi-Guy from Miami referred to Southern Strokes by one of our friends in Florida. When I received an email from Bobby, I must admit I was more than a bit surprised when I saw the size of his cock.  Bobby is 5'11″ with nice abs and chest on a slender frame which only makes his 9 inch cock look even bigger.
This was Bobby's first trip to Georgia and you could tell he was just a bit shocked at the laid-back attitude of the staff. It was nice working with this hottie. He's had a little previous experience playing in front of the camera so he knew what he had to deliver. He said, "You tell me what you want and I'll put it out there for you."
Bobby said that he is bi-sexual, but he couldn't stop talking about the hot boys in Georgia. He had plenty of stories to share with us about all those boys on the beach in wild Miami. It doesn't matter how many times you see a big hard cock, it still takes you by surprise when a hot guy pulls out a monster and begins to stroke it.
This bi stud really knows how to put on a show. He has a great tanned body and hot tight ass to go with his monster cock. At one point he strokes his cock with both hands which still can't cover up his manhood. Bobby is a top and said that he was really turned on at the thought of getting to fuck a hot southern guy. You can't help but wonder what it would feel like to have that big cock explode into a hot tight ass. We haven't seen the last of Bobby. Some lucky guy is going to get to help Bobby milk his hot creamy load for our cameras.
---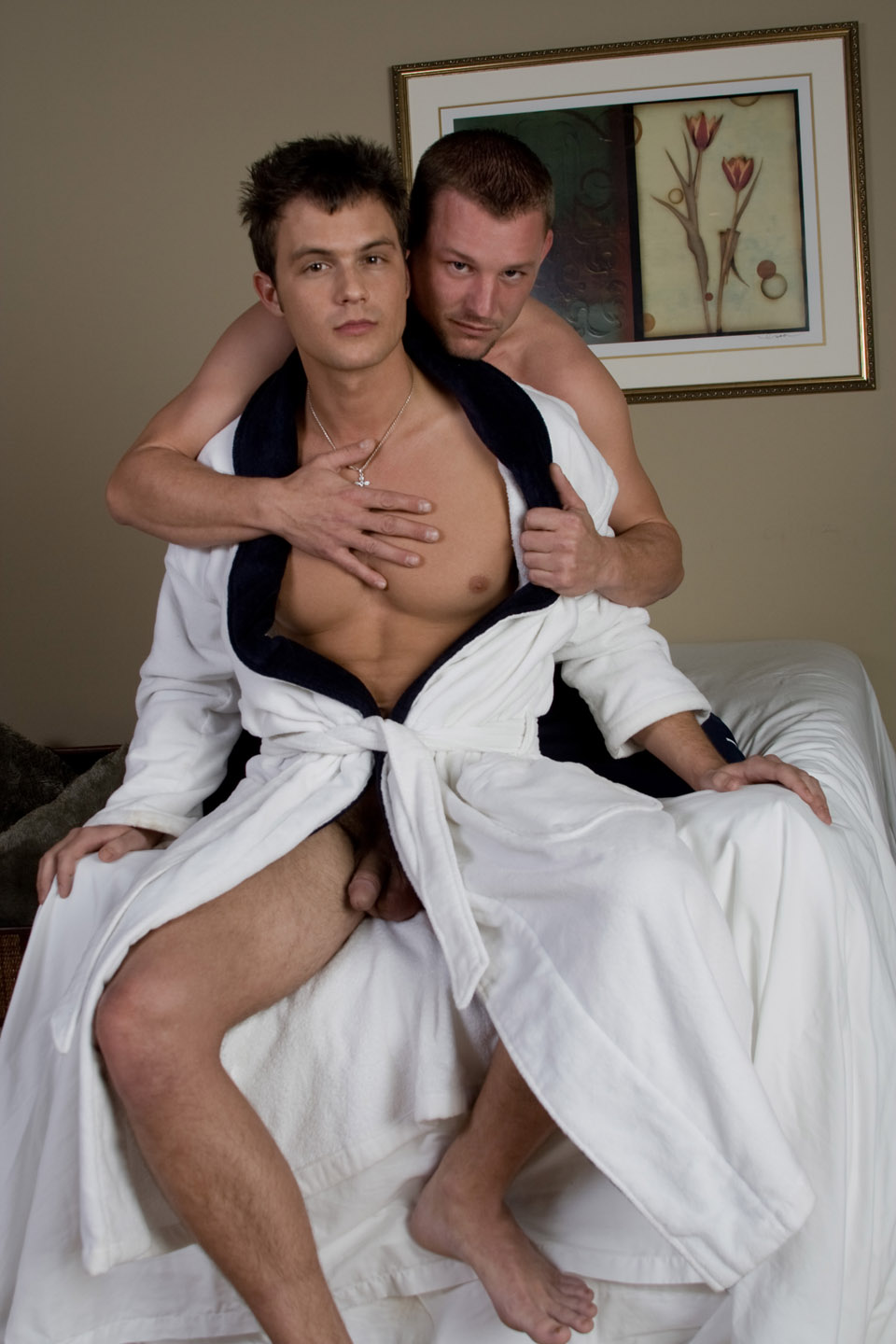 Buck and Preston hit it off from the first time they met. If I didn't know any better, I might even say that Buck has a man-crush on Preston (and who could blame him?). As soon as Preston walked in the room, he went over and gave Buck a nice hard slap on the ass.
This was the third meeting for these two so everyone was relaxed and especially turned on by what was about to happen. They were both so anxious that they actually both arrived at the Lake House early. Although he didn't need any work, Buck showed up more ripped than the week before. What was even more surprising was to see how Preston had changed. He's been getting some sun and hitting the weights hard, and it definitely shows.
We had set up a massage table at the Lake House knowing that once Preston started to rub Buck's hot ripped body, they both would take it from there. Buck stripped down and crawled on the table and lay on his back. Buck couldn't take his eyes off Preston as he oiled up his body (Buck loves to be greased up). It was obvious that Buck was ready to roll over on his stomach so that Preston could get at what he was really after.
This has to be one of the easiest films we've ever shot. As soon as the cameras were turned on, they just went at it. Preston always likes to take control and Buck loves it. He likes to lay back and wait for Preston to tell him what to do. At one point, I had to ask them to slow down because I thought Preston was going to blow his wad too quickly.
Buck has one of the hottest asses around and loves to have it teased. Preston didn't disappoint him as he slapped Buck's ass with his big cock. It doesn't take much to get Buck going. Before you know it, he's on his stomach thrusting his ass in the air for Preston to take. After the first scream, Buck was ready for anything. Preston proceeded to fuck him in every position imaginable, trying to see just how much Buck could take. After they worked up a good sweat, both of them shot big hot creamy loads at the same time. Buck is obviously happy to be covered in cum yet again.
---

Bryson is definitely a rare find for us here at Southern Strokes. We typically don't run into the hard-core skater types here in the South, but we certainly are glad we did. When Bryson first contacted Southern Strokes he said that the wanted to model for us but he wasn't the typical "jock type" that we would expect. He admitted that he had more than a few tattoos and wanted to make sure that wasn't going to be a problem for us. I was so impressed with how honest and sincere he was that I decided to pursue him further.
I had to pick up Bryson and bring him up to the Lake House. Looking at Bryson's angelic face, it was hard for me to imagine that his body was covered with tattoos so I had to ask him to lift up his shirt for me. So I have to say it….Bryson has this soft perfect skin and his chest and abs are covered with some pretty impressive art work. He shyly said that most of the tattoos were done when he was 17 and they really meant a lot to him them. The combination of his soft sweet face with his hard core body art makes him smoking hot!Bryson said that he is 5'10" but I'd say he is more like about 5'8'' with a small little waist and Zero Percent Body Fat! When you look at his hard 8 inch cock on this small frame, it absolutely looks huge. We started the day out by the lake with some outdoor shots. I could tell immediately that this was going to be fun because he doesn't take a bad picture. Bryson has this raw sex appeal about him that comes out no matter where I had him posing.
When it came time for the video shoot, Bryson gave us all a big surprise. First off, he asked if we wanted him to play with any toys during the video so that he could have a little fun. He then proceeded to give us one of the hottest solo's produced at Southern Strokes. We literally didn't have to say a word to him during the shoot and he gave us everything we could ask and more. Bryson works his ass over hard with our favorite glass toy as he moans with pleasure. It was so hot to watch his tight body flexing as he strokes his huge cock with a dildo buried deep into his tight hole. After he squirts a huge load all over his stomach, he smiled and said "I hope they will like what they see".
This isn't the last we will see of Bryson!
---
Well I really don't know where to start with Cam. Lets just say that he was certainly one pleasant surprise that pretty much just showed up on our doorstep at the Lake House. Actually I wish it was that easy and I wish I could find 100 more "Cams".
Cam was literally passing through Atlanta on his way up to the North East for the summer. As luck would have it, Cam's trip was delayed due to some bad weather so lets just say that we took full advantage of our time with Cam.
When you first meet Cam and he gives you that smile of his, you just melt into his devilish charm. I wasn't quite sure what we were going to get when the filming began. Cam definitely gets off on people watching him display his sexual side. Once his clothes were off, Cam explored every inch of his sexy body. He especially loved teasing the cameras with is hard uncut cock slapped against his firm stomach.
When Cam finally couldn't take anymore, he gave the camera a look as if saying; "watch out because here I cum". Well that is exactly what he did! One of our camera men literally thought that he was going to be sprayed with Cam's huge load of creamy cum. We have been looking for a Cam to help some of our more curious straight boys find their way with another guy. Look for Cam to visit us again real soon.
---
18 year old Wesley is a 6'2″ College swimmer from South Georgia.  He really wanted to do a shoot for Southern Strokes so he contacted us and said that he was going to be about an hour away from the Lake House and he asked if he could come by and show us his stuff.
Wesley is really smart and he is completely comfortable with his sexuality.  He is definitely turned on by a hot guy as he is by his girlfriend.  Wesley has the most amazing eyes with long eyelashes, perfect skin and a smile that will make you melt.
When I asked Wesley if he had a big cock, he said I know that when I was 13, it measured 8 inches but I haven't measured it since.  Wesley's uncut cock revealed the most foreskin I have ever seen.  I knew that his cock had to be huge so I made him measure it for the cameras.  I wasn't surprised when his cock measure 10 inches and over7 inches around.
Probably the best thing about Wesley is the face that like every other 18 year old, he is always horny.  The entire time during the solo, he just wanted to talk about when he was going to get to do a scene with one of the other models.  Bryson was at the Lake House hanging out most of the day so he and Wesley really hit it off. Wesley definitely showed us that he knows how to use his big cock. I can only imagine how is girlfriend must feel when he stuffs her deep with his monster.
---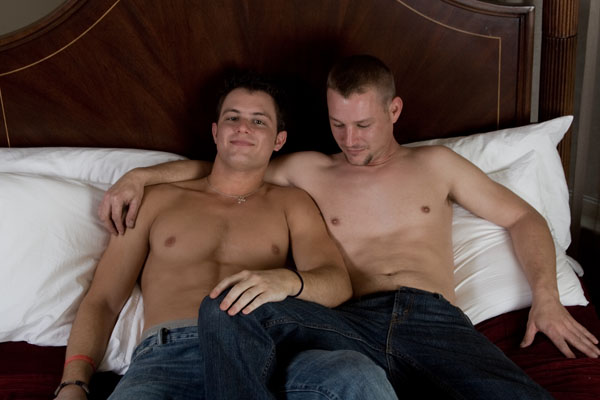 We have paired both of these Southern Hotties with a few different guys but it is obvious that they both really like playing together. They both have spent quite a bit of time at the Lake House and it shows when you watch them together.
Preston and Buck are going to be very surprised to learn that we managed to always have at least one camera rolling as we prepare for their shoots.  We have put together a little look at what really goes on as these two prepare to make a video.
After you have viewed this Behind the Scenes Video or Preston and Buck, I am sure that you will agree that these two have "man-crushes" on each other.
---
Kyle is a 24 year old Finance Student in Charlotte North Carolina.  He plans on using his beautiful blue eyes and southern charm to convince all of us that he should manage our money some day.  I wonder if he will consider doing it in the nude.
I first talked to Kyle almost a year ago.  He had sent in some pictures to the website and even picked up the telephone when I gave him a call.  I could tell that he likes to show off because when I asked if he had any more photos, he said why don't we get on the web cam and I will show you anything you want.
Finally a year later, I received the telephone call.  Kyle said he finally had the time and he was horny and really wanted to do a video.  Kyle is much better looking in person that any of the pictures he had sent in.  In fact, I was really surprised at how beautiful those blue eyes are on that cute face of his.
As we moved through the photo shoot, things only got better.  Kyle obviously works hard at keeping is body in great shape.  He has nice defined tight abs with perfectly shaped pecs to go along with them.  Watch Kyle's biceps bulge as he strokes one of the fattest cocks ever filmed at the Lake House. I love it when a huge load of cum shoots out of a big fat cock.  No wonder Kyle wanted to show us his package.
---
Jonathan is a 23 year old psychotherapy major from Atlanta.  Originally from Brazil, he has been in the South for the past 10 years.  When he first contacted us, he said that he has always wanted to some naked filming.  He is proud of all of the hard work he puts into maintaining a fit body.
When Jonathan showed up at the Lake House, I couldn't take my eyes off of his handsome masculine face.  Most of the boys I have met from Brazil seem to have this softness about them but not Jonathan.   Jonathan is 5'8" tall and all man.  He has the perfect body to go with his Brazilian sexiness.
Jonathan was just a little shy at first but once he started talking about sex, he quickly loosened up and started to get down to business.  It was a beautiful day at the Lake House so we decided to do the Photo and Video shoot outside.  I think this really got Jonathan turned on even more.   He told us about a time when he fucked his girlfriend in the school locker room in the middle of the day and how he wished they would have got caught.
Once Jonathan has his clothes off, he immediately wanted us to see his hot hairy ass.  He said that he loved to play with it when he is jacking off in private but he was embarrassed for everyone to know it.  Well he couldn't hide it for long.  Jonathan spends virtually the entire video with his legs in the air and his fingers in his tight hairy hold.  I can't want to get Jonathan back for more.
---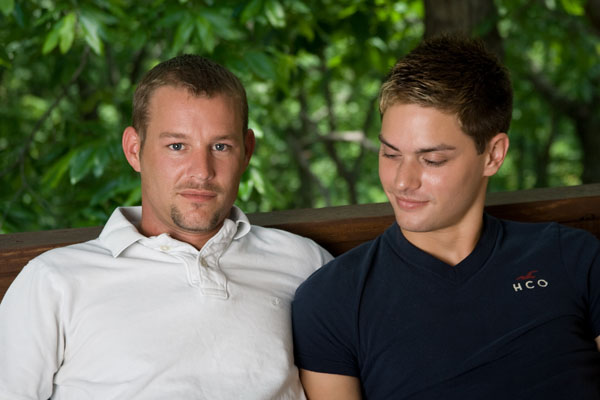 Preston seems to always be at the right place at the right time.  When Trey made a visit from Birmingham, we had planned on hooking him up with Bryson.  But Trey made a specific request to do a video with Preston.  Of course one call to Preston and he was at the Lake House within an hour with his dick hard and ready to go.
It was fun to watch Trey blush when Preston walked into the room.  I started to introduce them when Trey interrupted me and said "I know Preston, I have watched every one of his videos".   Preston turned and gave me a smile as if to say, I'm going to enjoy fucking this boy.  After watching the two of them get acquainted out on the deck, I decided why not let Preston fuck Trey outside!
These two didn't need any direction at all to get them going.  Once I told them that the cameras were rolling, Trey reached over and immediately grabbed for Preston's cock.  I really think that these two completely forgot that they were being filmed.  Trey proceeded to give Preston an amazing blow job that I thought was going to end the video early.
Just when he couldn't take any more head, Preston turned Trey over and started to immediately fuck him deep.  Preston has a nice big cock and Trey enjoyed every inch of it.  The entire crew had a smile on their face as they watched Trey sit on Preston's rock hard tool. In the end Trey got exactly what he was after and that was a big mouthful of Preston's cum!
---