Mason Wyler loves making new friends, especially ones like the lean young Patrick Kennedy.  The two really seem to hit it off quickly.  In fact, Mason decided to pop his dick out of his underwear and slurp on Patrick's meat pole right off the bat.  What a nice how-do-you-do!
Patrick seizes the opportunity to display his fine manners by returning the favor with a rock hard cock in Mason's ass.  "Do you want cream with that, Mason?"  It just goes to show that there's no substitute for good ol' fashioned hospitality.  The proof is in the pudding.
Enjoy!
---
Ilias is out on a stroll on a beautiful sunny day with his lube in one hand and towel in the other.
What a grand day to stroke your cock outside and bust a creamy load in the green grass. Ilias loves to rub his body down with baby oil so you can see his muscles glistening in the sunlight.
Sit back and watch a sunny day masturbation scene which will make you want to get outside and do the same.
Enjoy!
---
The Triplets go out to a nice, cozy country bar to enjoy a drink, some scenery and of course, some hard cock! Our three boys just can't stop thinking about busting their hot loads, so they bring along a friend who's more than willing to help with his mouth or ass!
---
The tattooed hunk Alexy Tyler is back for more ass slamming action, and this time his encounter is with the tall, slim stud Shane Erickson.
The two hit it off really well on our set, so we decided to see how the sparks would fly when pairing these two up for a scene.
All the action takes place in the bathroom. First in the shower, and then on the flood. Plenty of making out, cock sucking and ass pounding to keep you cuming back for more.
Enjoy!
---
The Studding twins are back with Tommy and they are ready to tag team his sweet little ass.
Tommy loves these furry masculine little guys and with all their energy combined it's going to lead to some hot sweaty grinding.
It's the twins first time fucking Tommy and they both get to tear up that ass just the way he likes it.
Get that lube ready and sit back for an awesome 3 way cum shot that soaks up Tommy's chest.
Enjoy!
---
Meet Aaron Skyline, a 19 year old semi pro mixed martial arts fighter. Yeah, he'll kick your ass, but he'll also get naked and show you his.
This young stud thought it'd be a fun thing to try out for some x-rated movies. Luckily, we got to him first. Instead of throwing him immediately to the sharks by pairing him with TommyD or Mason Wyler, we decided to take it easy on the young man and give him a NextDoorMale scene to get him up to speed. You may not know it, but being naked in front of a camera doesn't always come naturally. Luckily for us, this kid wasn't fazed one bit.
Enjoy!
---
We found Patrick Kennedy who is one of Cody's biggest fans and he can't wait to meet him in person.
Once Cody steps into the room Patrick's jaw drops as he approaches him. Fully naked and ready to fuck young Kennedys awaiting mouth, Cody wastes no time in showing the respect a true fan gets from this monster cock.
What a great horny fan Cody has found and boy can this kid suck some dick and clean out a smooth asshole. All you Cummings fans must be jealous but you will be happy with the end result when Cody's man juice is dripping off of Patrick's wet tongue.
Enjoy!
---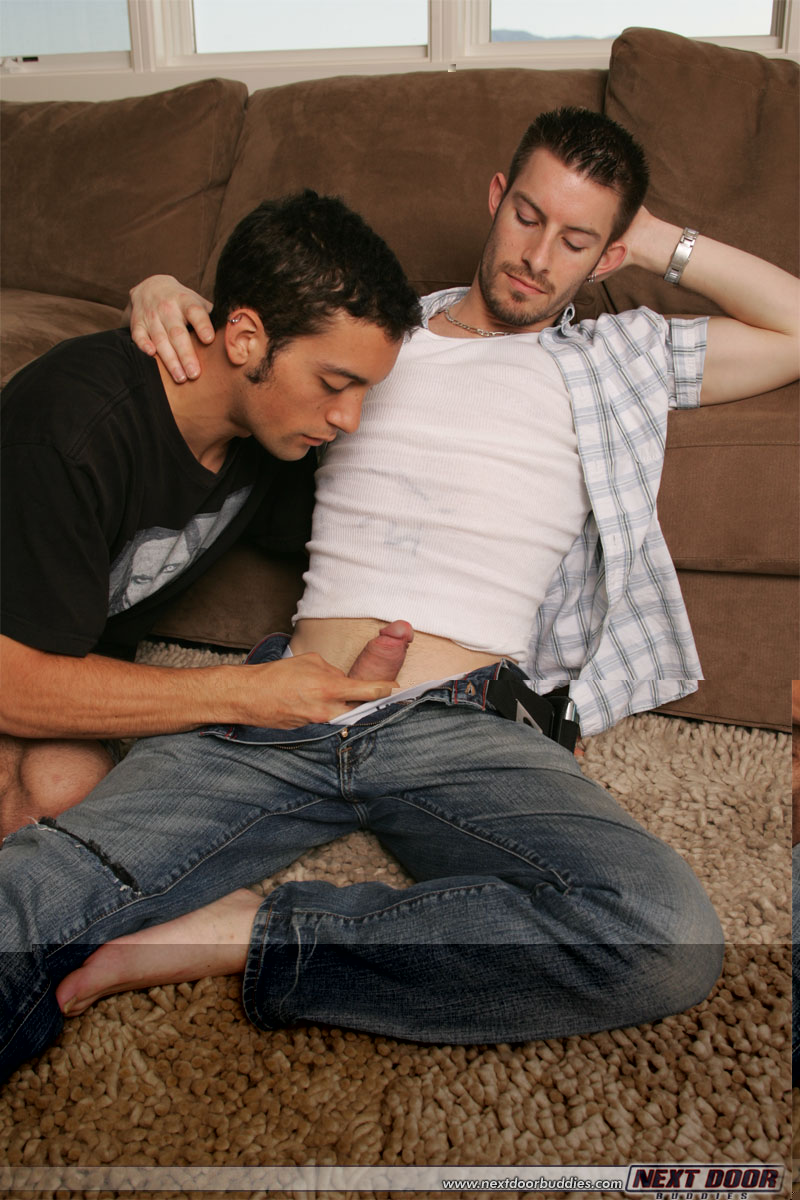 You know that 25 year old hunk Mike Roberts? Well, if you don't, you'll get to see him in some hot ass fucking action in this scene with his buddy DJ.
These two sexual young guys were playing video games the other day when Mike beat DJ. Of course here at NextDoorStudios, when you lose at something, you've got to give it up, and that's exactly what DJ does. First he services Mike's fat cock, then he bends over, spreads his ass and lets his buddy pump him until they both cum all over the place.
Enjoy!
---
AJ Irons is back. Well, this is his first time on NextDoorMale, but he should have a familiar face because he's rocked out with his cock out on some of our other hot sites.
If you didn't know, that's how we do it. We love letting these hot young guys experiment with their sexuality in a multitude of ways. NextDoorMale is where we let these guys have fun when no one else is around and our buddy AJ here is a natural if we've ever seen one.
From stroking his cock on the bed, to lathering it up and jerking it some more in the shower and finally heading back to the bed to unload his tight balls all over himself; yeah, this guy loves anything that has to do with sex and getting off. Can we blame him? We think not!
Enjoy!
---