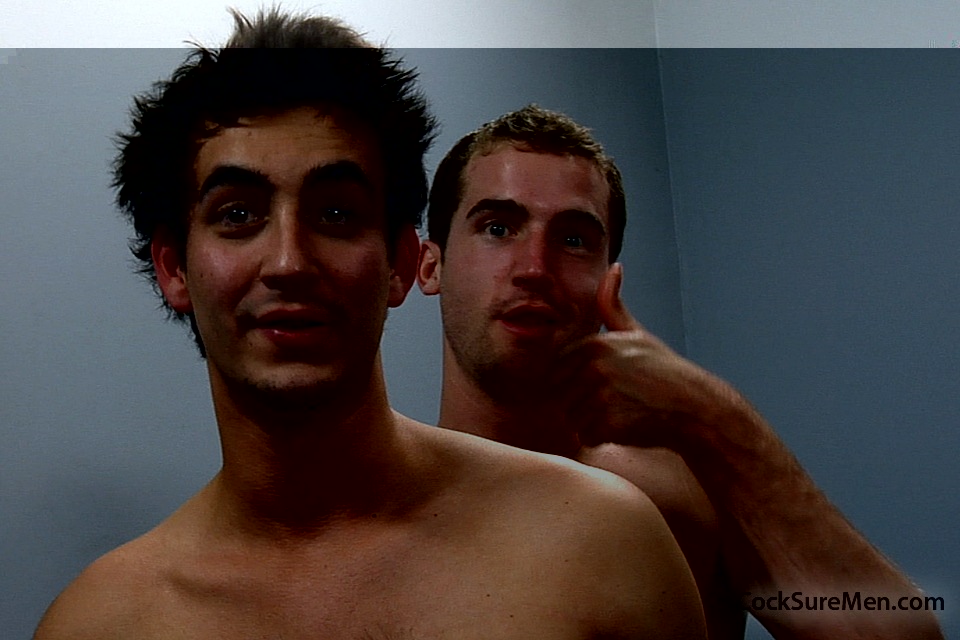 Making Cocksure Men is a lot of work, but it's a lot of fun, too. And just like everything else, nothing ever goes quite as planned. Take a look at the laughs we have behind the scenes making movies at Cocksure Men. We have a few bumps and bruises, some cum in the eyes, some bad-tasting lube on dicks, a few nervous bottoms in need of a bit of encouragement and a lot of horsing around. Who knew that the stuff from the cutting room floor could be super hot!
---
It's always great to see old friends again, especially when the friend is like my favorite Southern gent Shawn Hunter, who stopped by saying he needed a massage. And THAT is what friends are for. Things start off just how I like it, pouring oil and getting to run my hands all over his tanned, toned body. I'm busy teasing his cock and burying my face in his ass when things take a wild turn. Moments later I'm on top of the massage table with Shawn's raw dick deep in my ass. He fucks me hard and fast on and off the table, but then it's back to business. I have an erotic massage to give and he's earned it! I work his tight muscles, gleaming from the oil until I find my way back to his curved-cock. I suck and stroke Shawn until he shoots a big load. I will never get enough of this Southern stud.
---
Tyler and Zach find a nice shady spot and decide to 'take a load off'. They lay out a blanket and get comfortable. Tracing each other's bodies with their eyes; Tyler smooth and defined, Zach furry and chiseled, they begin to get undressed. Tyler has a beautiful cock, but Zach is packing a monster! Try as he might, Tyler cannot choke it down. Zach is ready to get fucked and Tyler happily obliges him, shoving his dick deep inside Zach's hairy ass. Zach's pounded doggie-style, goes for a ride on top, and finally gets his hole rooted missionary style until he can't hold back any longer and cums all over himself, leaving his fur dripping with warm cum. Tyler cleans Zach up only to make a mess of his own moments later.
---
We proudly present Johnny Selleck, a meaty running back from Maryland. From his faux-hawk down to his white anklet-socks with loafers it's clear we've got a straight boy on our hands. Johnny has never fucked on film before and is a little nervous, but that didn't keep him from getting hard before Tatiana even touched him. Tatiana does a good job of putting those nerves at ease, swallowing down his thick cock and rimming Johnny's hairy hole. It's a pleasure viewing Johnny from any angle, but watching his ass while he fucks in doggie-style is heavenly. When it comes to fucking on film, our running back scores a touchdown!
---
Friends are great. Friends with benefits are better. Dakota and Colby are two friends who are hanging out under the hot California sun and decide to have some fun together. Clothes gone, they work each others cocks until both men are raging hard and ready to fuck. Colby arches back and Dakota eases his throbbing member slowly inside. Our bearded bottom moans wildly from the intense fuck Dakota gives him. Both men can resist no longer and Dakota cums all over ColbyÂ's dick which immediately bring Colby over the top, releasing a thick wad of cum all his own.
---
I've seen David in several movies and he's always stolen my heart. He's the sweet blond hair, blue eyed boy you want to walk along the beach with, then make love to all night. I didn't get to do that, but it was a real treat to have him in front of me, naked, hard, and wanting. At my Ranch patio I work David over and let my fantasies go wild. I suck his cock admiring the Adonis in front of me. I bend his leg and I suck his big toe together with his cock! That was a mouthful and a first for me. David has gorgeous, smooth feet and I make love to them. I laugh as my tongue runs up his armpit and tickles him. Soon I bend his legs back and feast on his cute hole. Then I turn him over and continue to rim him doggie style. David gets hot and fucks my face – and he fucks really well. I lay him back and take my time jacking him off, then lick the big sticky cum off of him.
---
Let's not forget the REAL definition of "tea bagging." After a game of beach volleyball, Kelly's feet need a little attention but Jeremy Bilding finds out just how ticklish he is and he two collapse in a tickle-torture wrestling match that leaves them both breathless. It isn't long before Jeremy's tongue finds Kelly's hole and it isn't much longer before it's time for a REAL Tea Party and Jeremy's balls are dangling right in Kelly's mouth. After some good old-fashioned face fucking, Jeremy's down at Kelly's ass again and this time he's pounding it with his long, curved dick. Kelly tries to hold off but Jeremy pushes him past the point of no return and he blows his load all over himself. Jeremy's not ready to finish just yet and Kelly gets fucked again until Jeremy's ready to blow while Kelly licks his balls.
---
Corn fed cutie Baxter James grew up on a farm in Indiana. He's off to college and the bills are starting to pile up. To help him pay for those mounting college bills, we film him mounting his new friend, Sammy. Before our shaggy haired student hops in the saddle, Sammy gives him a great blow job. Being from the mid-West Baxter knows his manners and places those pouty lips on his girls pink pussy and returns the favor. We didn't ask, but we'd bet he's a chemistry major watching him fuck. Smooth, sensual, and completely in sync, Baxter and his girl are oblivious to anyone but each other. Baxter cums on his girl's stomach and the love birds lock lips passionately as we slide out of view.
---
John Magnum Massaged
I know it's been less than two weeks since we last saw John on the site, but I just couldn't wait to bring him back. He's SO FUCKING HOT! To oil up that thick, muscular body is a dirty dream come true. After sticking my tongue deep inside John's ass I get so worked up I jump up on the massage table and cum on his feet! It's a first for both of us. I turn my attention to John's cock and pump it until it spits out some sticky cum in an intense, toe curling orgasm.
---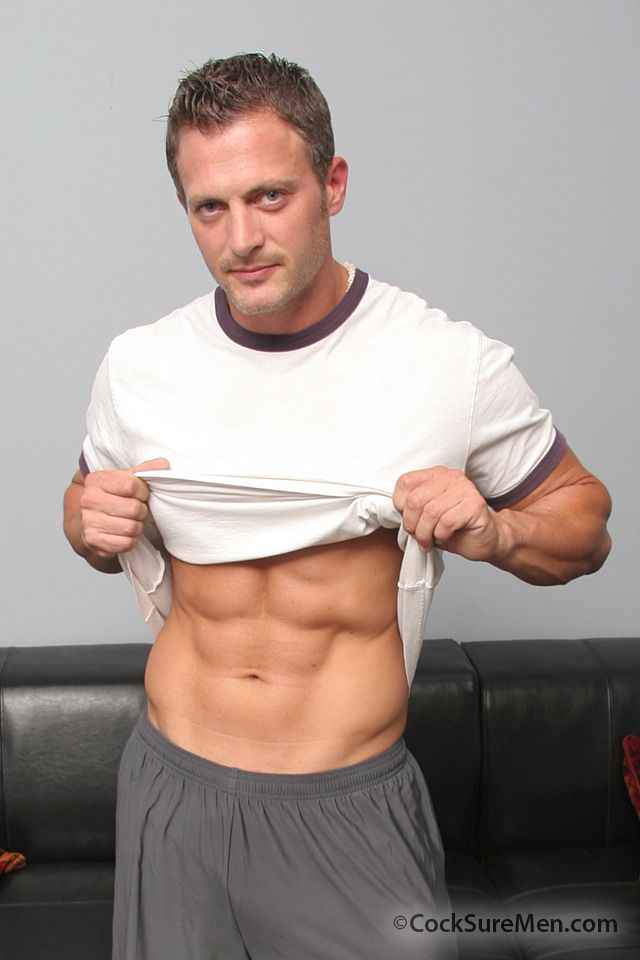 Brenden's a personal trainer and a dancer, which explains his ripped body and his sensual moves. He's also got a nice piece of meat between his legs – thick, long, ramrod-straight, with a big head. Watch as he puts that meat through his own special personal training session. You'll see Brenden really knows how to deliver results.