First Class – Steve & James
A pilot's life can be a stressful one, but on this late night in a stopover city in Europe, this high-flying hottie seems to have found a friend who can help him ease some of that jetlag with some hot, sweaty sex. The duo start out with some wine and quiet conversation before passionately kissing each other and chowing down on each other's cocks. Then our pilot goes for a ride he's not going to forget.
---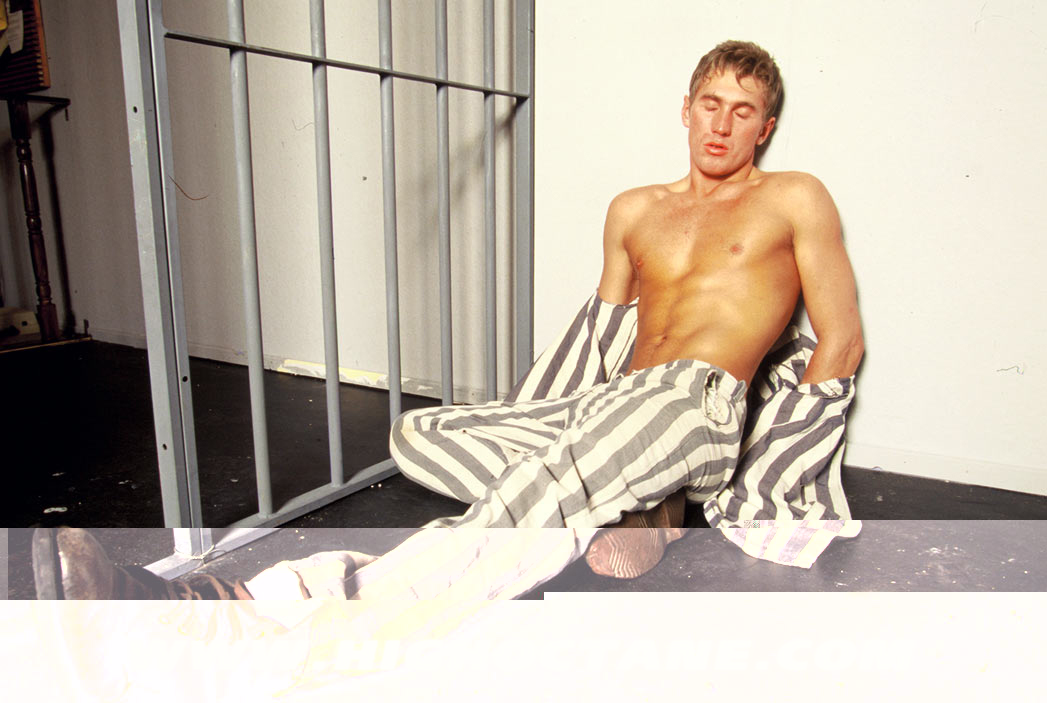 Prison – Franck & Lazlo B
We're not quite sure where he learned this interrogation technique was  taught, but for this prisoner and his interrogator, blindfolding and sucking cock in a cell seems to be the right way to get answers. Of  course, there isn't a lot of talking going on between captor and captive. More like some serious ass-fucking and moaning instead.
---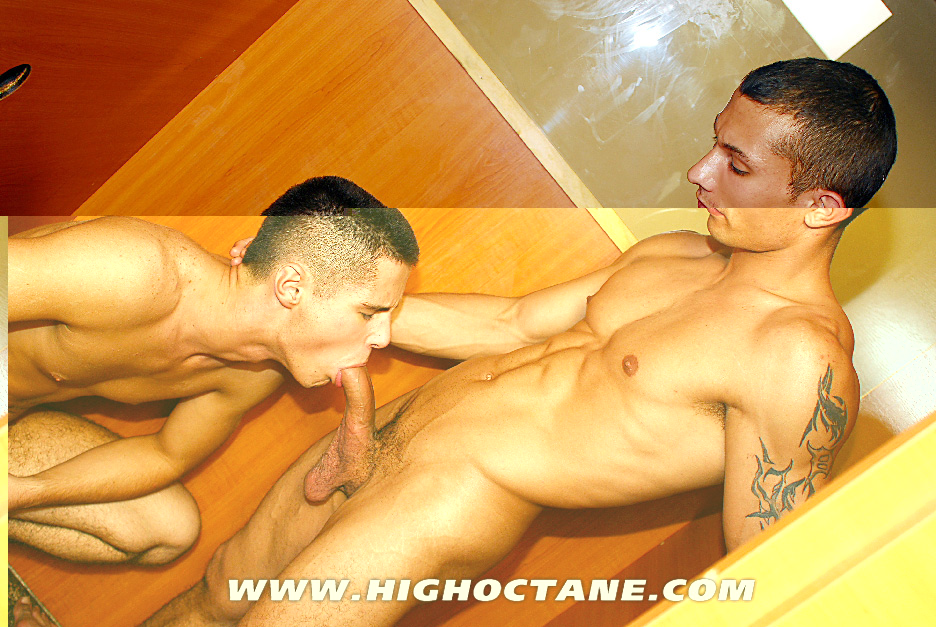 Glory Holes – Danko Bell & Jack Wright
Danko and Jack stand on either side of a glory hole with a difference. From the waist up the wall is made of glass – so the guys can actually see whose cock their playing with. Along with a huge, throbbing cock the gym-chiseled bodies and handsome faces are clearly visible. They take turns sucking each other's cocks through the hole till they can't deal with a wall between them anymore and they fuck until their cum floods the room.
---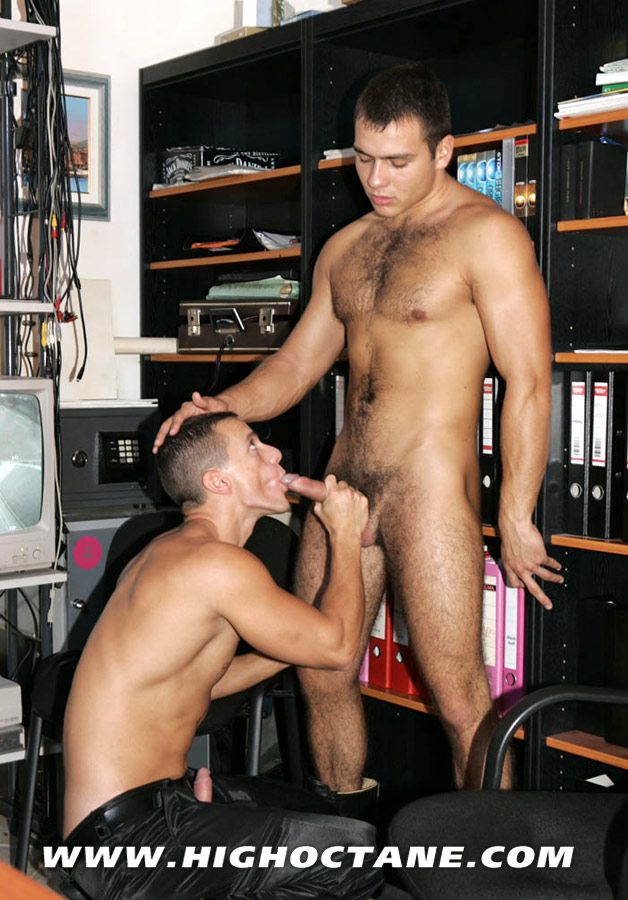 Bodyguards – Austin & Steve
Two security guards get frisky in the monitor room, neglecting their duties to focus on each other's raging boners. After some reciprocal blow jobs, our furry hottie Steve Hunt gives up that hot ass to his smooth, muscled companion Austin, who gets really kinky by slapping him round while pounding his hole. Steve even tweaks his own nipples a bit while getting fucked and leaves a hot load all over the desk.
---
Julian Vincenzo, Rod Stevens and Freddy Costa
After these hot college boyz have been ordered into their dorms and the lights have been switched off, the fun really begins. Two late-night readers get bored of their studying and decide to suck on each other's cocks for a bit of a break. When they're discovered by their buff teacher, he enacts some punishment on them with his own fat cock.
---
Fire Pump – Christophe, Zolt and Izvan
For these studying fireman, learning CPR has a few added benefits. As well as having to take off their shirts to properly show where to pump the heart, it also mean locking lips in order to demonstrate how to give resuscitate victims. The demonstration proves too much for teacher and student before they're discovered by another fireman keen to make this class into three-way 101.
---
Rough Riders – Irving Hunter, Zeno Alexander and Tim Brensen
After a busy morning of shirtless quad-biking Irving, Zeno and Tim put away their big toys and bring out their big cocks instead. The ripped, buff hotties move into the barn and moan continuously as they chew on each other's big cocks and take turns plowing each other rough and fast. They cap things off with a hot jerk off session and leave a big cummy mess on their amazing bodies.
---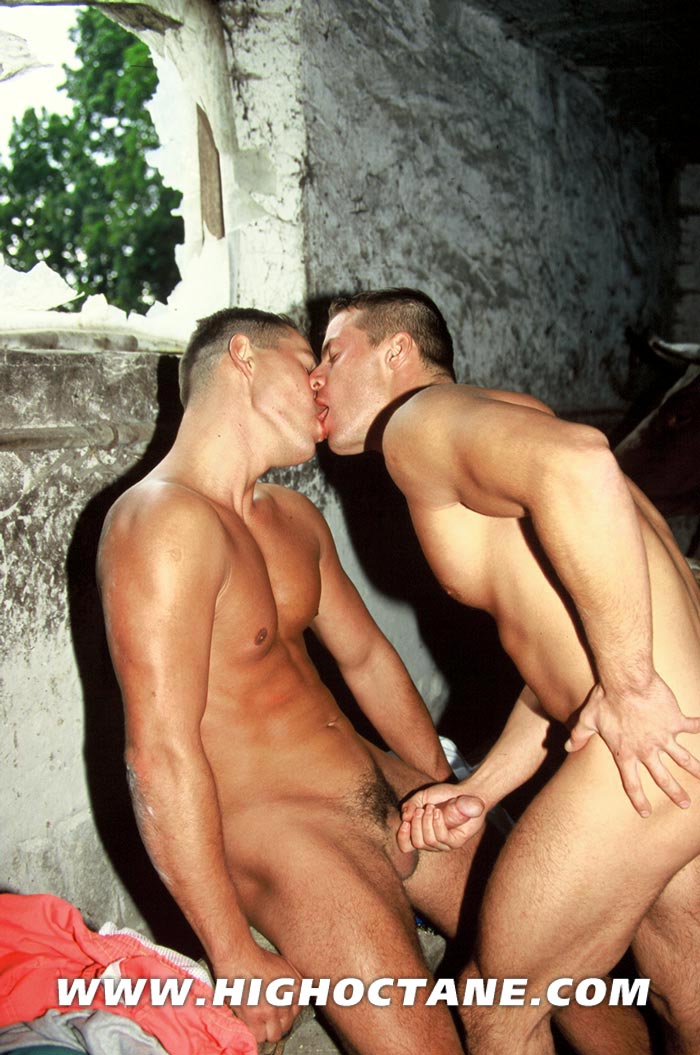 Farmboys – Peter & Atilla
Surrounded by live stock, hung muscle boys Peter and Attilla take time out from their daily farm duties to suck and fuck inside one of their barns. With their loud grunts and moans and horse-sized cocks it's a surprise these boys aren't locked away with the other barnyard animals after they've cummed all over each other's toned bodies.
---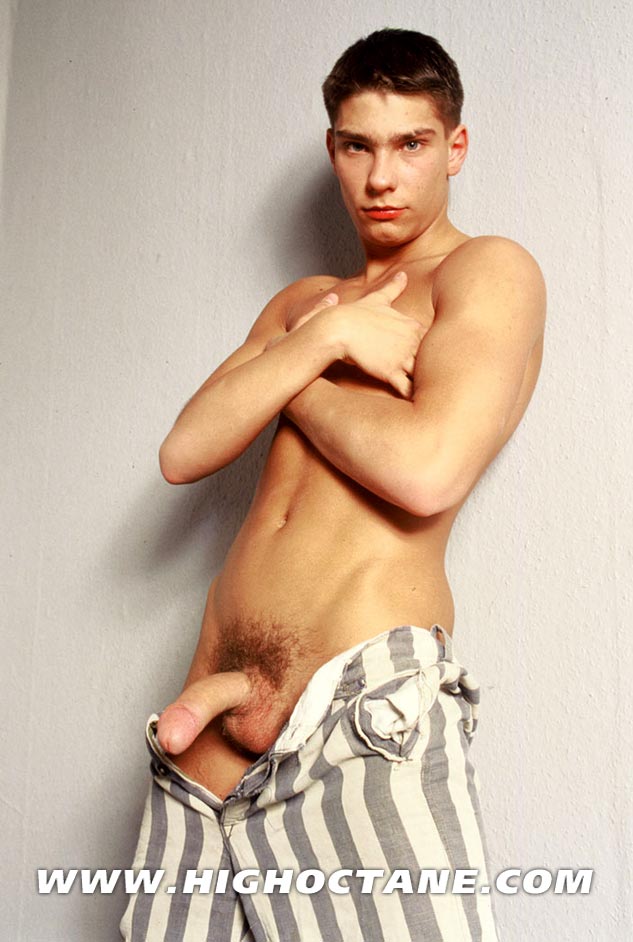 Prison – Richard B & Atilla M
Prison can be a tough place to survive, but for Richard and Attila they look like they're in seventh heaven being stuck in a cell together. The twinky guys suck each other's cute cocks before fucking their way through a whole collection of positions. They finish off with a hot mutual jack-off session and passionately kiss after they've blown their loads.
---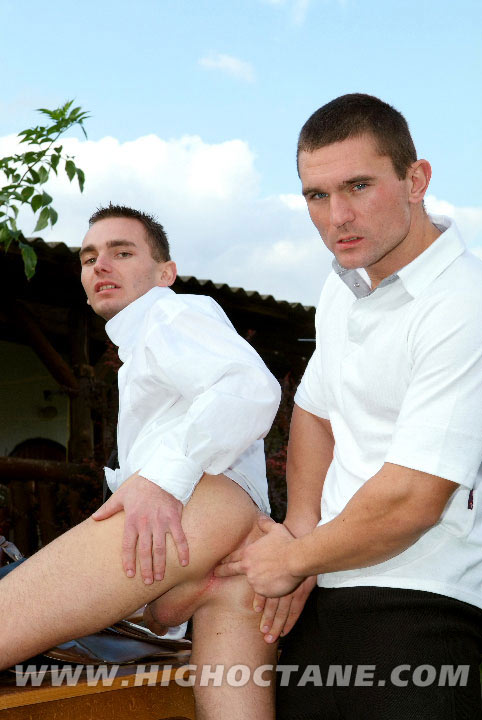 Horse Club – Skyboy & Rod Stevans
Rod and Skyboy get really rough in this outdoor fuckfest. Rod takes command of his smaller companion grabbing him around the neck and kissing him, fingering his tight hole and then shoving his fat cock inside him for an aggressive pumping of his ass. Skyboy then rides his cock upright, his smooth butt completely devouring all of Rod's rod!
---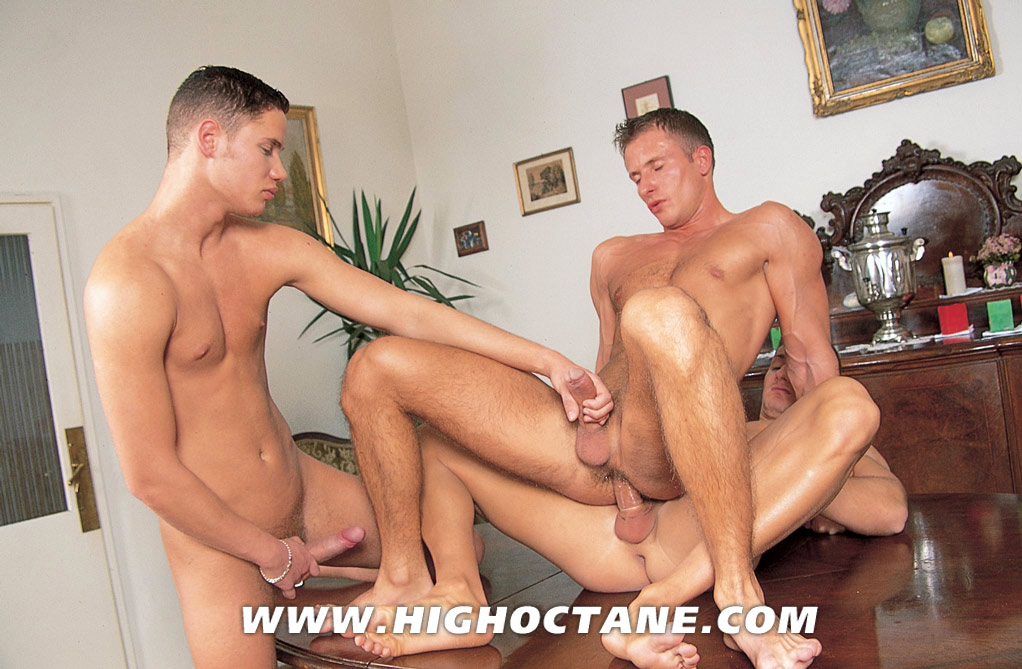 Hot Type: Marcel, Achille & Leo
Dressed in just tighty whitey briefs, Marcel, Achille and Leo start teasing us by rubbing their erect tools through their underwear and staring straight down the barrel of the camera with seductive allure. They eventually reveal their beautiful tools before sticking them in each other's mouths and holes turning those seductive looks on each other. Not content just to shove their cocks in each end of their bottom, our two tops double penetrate his hungry hole at once, provoking moans of pleasure.
---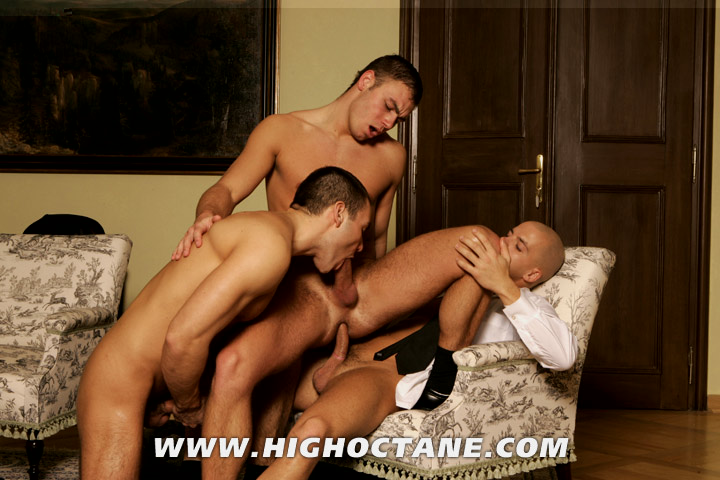 Masters and Servants
Sipping some of the bubbly gets Steve Hunt horny for his servants Peter Shadow and Enrico Bellagio. Steve rubs Enrico's crotch, getting it hard for his mouth. Steve begins to suck on Enrico's uncut meat, while servant Peter watches. Wanting more cock, Steve turns his attention to Peter's meat. Forcefully attacking Peter's dick, Steve is cock hungry. And only his man-servants will do! Eager to please their master, Enrico and Peter kiss and suck Steve's cock. Peter licks Steve's hole while Enrico helps get better access to the ass, holding Steve's legs further apart. Peter fingers Steve's opening hole while Enrico sucks Steve's uncut meat. Peter's full nut sack hits Steve's ass as he pounds the hole of his master. Enrico sucks Peter's meat while pounding Steve. Master Steve wants some ass too, so he fucks Enrico's asshole.
---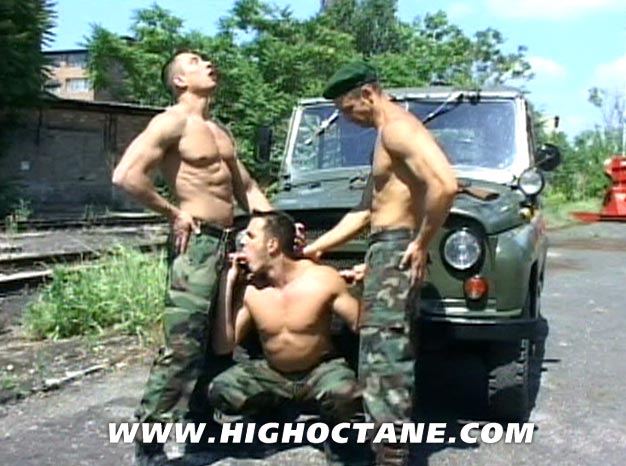 Commandos – Zoltan, Fred & Luis
When our massive, shirtless muscle general inspects his soldiers for a special mission, he finds the perfect man for the job… a blow job that is. Incapacitating the hot recruit till a fellow buff general can arrive, they make him suck their cocks before taking turns riding his sweet hole up against an army vehicle. They get him in a spit roast position and then move him to the ground so he can ride their cocks. When they've sufficiently trained his ass, his superiors leave two messy loads on his muscular chest.
---
First Class – David & Brent
Halfway through the red-eye flight, Captain David comes down the galley to check on his passengers when he's grabbed by horny passenger Brent Moon. After quickly deciding the rest of the passengers are fast enough asleep, he goes down on Brent's sweet cock and rims his hole before letting the twink ride his cock. Both spunks then jerk off, spilling big loads all over their smooth abs.
---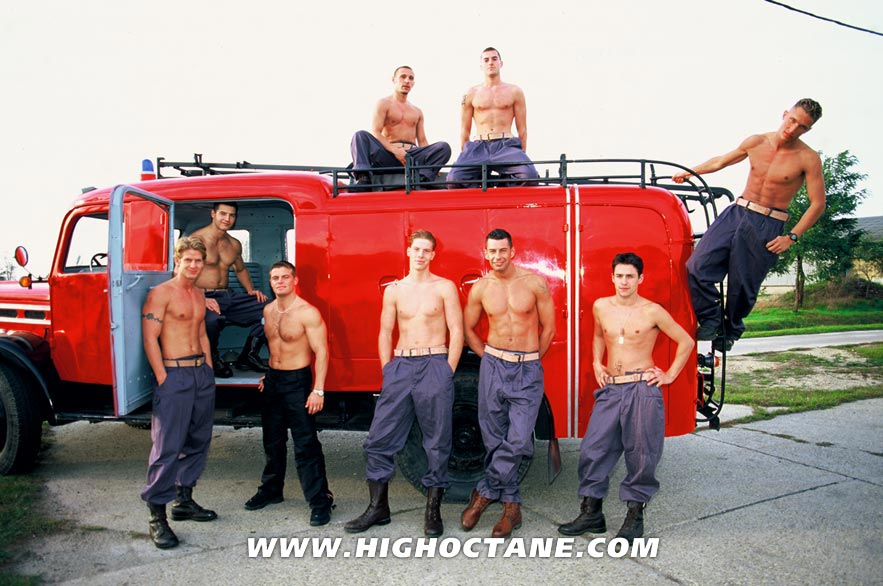 Fire Pump – Attila & Richard
Things are already sweaty in the gym before Atilla and Richard decide to ditch the weight-training equipment for a whole different kind of workout. Built beautifully, with smooth, toned bodies they look amazing together as they explore each others muscles with their tongues. When they finally get down to taking turns ass-ramming each other on the equipment, their abs shine under the light and the rest of their muscles flex with the strain of the hard action.
First Class – Steve & James