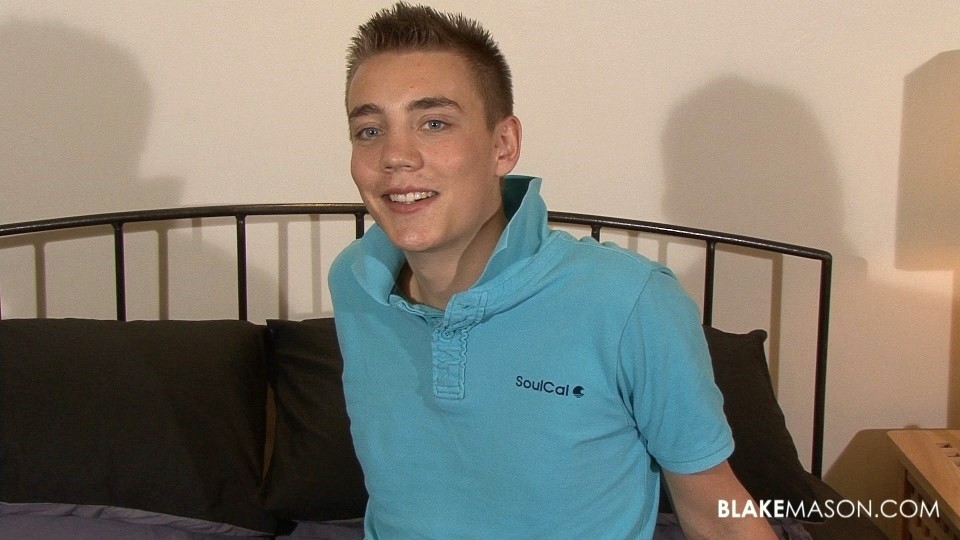 What a perfectly lovely guy, eh? Jake's originally from Cornwall but is now studying for his degree in Bristol. Working part-time in a gay bar, I wonder how many of you have come across this fella and undressed him with your eyes as he serves you a drink 😉
Alas, he has a partner and while he professes to be a good boy he also admits to being a "bad boy" with his fella behind closed doors. Mmmm, I might just have to go and install some hidden cameras somewhere!
Mmmmm… when I first saw Jake I had a warm feeling come all over me 😉 He's just got that "hot" look about him so if, like me, you happen to like cute young guys with sparkly smiles and alluring bright blue eyes then this fella is going to do it for you big time! He's a confident 19 year old who has a smooth, slim body, a nice uncut cock and a surprisingly hairy hole…
Chatting away, Jake's personality just glistens in front of the cameras – helped of course by his cheeky smile and captivatingly beautiful eyes. He talks happily about his life, studies and partner before the moment comes when he's left to strip and jerk off! A little shy to begin with, Jake's soon laid back and relaxing in to a pleasurable wank 😉
One thing I should say about this fella is that he jerks off really fast, tugging frantically away on his dick all the way through the film! His gentle sighs and whimpers only confirm that he's enjoying himself as he gets closer and closer to the point of no return, erupting spurt after spurt of hot creamy cum all over himself. And cum the end, doesn't Jake smile like the cat that got the cream or what?
---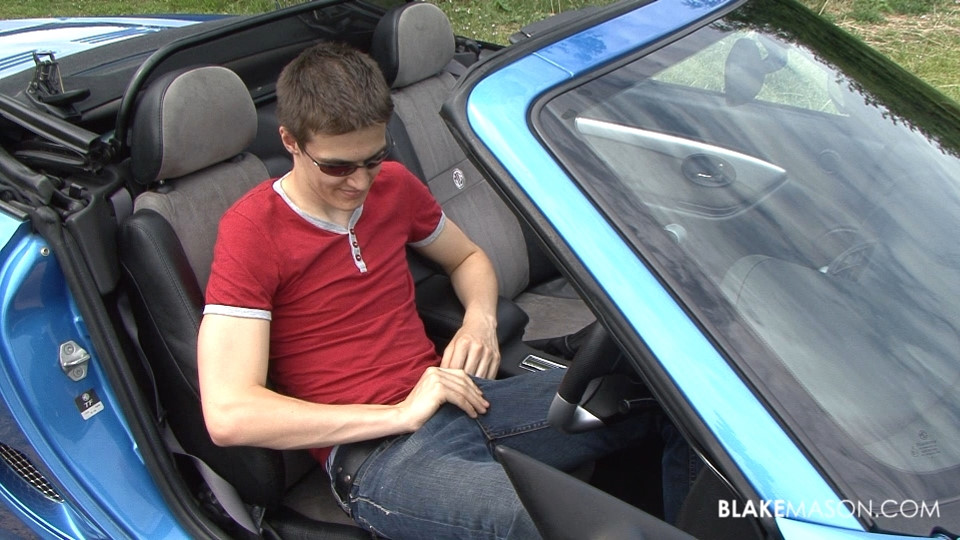 Meet Jason, originally from Surrey but currently living, loving and studying in Bristol! He aspires to be a sound engineer and has just begun a 4 year degree at a local Uni where he met his first love, Jake T.
Admitting he likes his sex totally vanilla, I'm sure we'll get to see his full sexual repertoire cumming on a screen near you soon 😉 After all, I love boyfriend sex the best! Yep, we've got another cute young hottie for you! This charmer just so happens to be Jake T's boyfriend and he decided to pay us a visit on one of the hottest days of the year. But the wind was blowing so the sea was out… so we thought we'd take a drive down into Cornwall and on to someone's field! After all, it would have been unfair not to allow him to show off his slim toned physique in the sunshine 😉
Once parked up the guys had a quick scout around to make sure no one was about. Jason naturally took his seat in the car and they began chatting away – Jason openly talks about his life, studies and partner Jake, all before settling back to enjoy himself! With one glance of his killer smile, his jeans are around his ankles and he's clearly having some serious fun…
Too restricted in the car, he proudly perches on the bonnet with the sun shining down on his hot body and his bare ass burning on the hot paint work! Like Jake, Jason went to the same school of fast wankers, only occasionally slowing his speed – this guy was just enjoying himself too much! Inevitably, he works himself to the point of no return and with a few frantic tugs, his special hot wax was soon shooting up the paintwork… perfect 🙂
There's also an interesting 3 minute bonus film with this one too!
---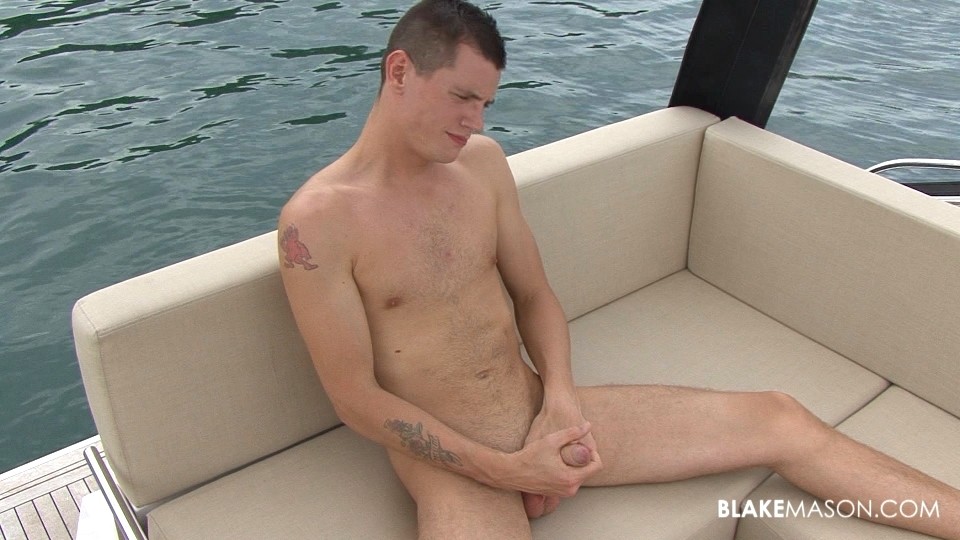 Anyone order a squaddie ( or even an ex-British Army fella?) Oh yes, sorry, that'll be me! This is Tommy, an ex army guy and friend of Harrison's. When he found out what his mate had been up to he simply couldn't wait to come down, strip off and have some fun!
He walks, talks, and acts like a straight guy but he's got one secret – he simply loves cock, and with looks like his there should be no shortage of willing partners! And with a lovely, rock-solid uncut dick like that I'm afraid we're going to be keeping this fit young guy rather busy 😉
You know, I simply love guys with thick, sturdy cocks. There's just something inspiring about a real strong boner that let's your imagination run wild with fantasies… and our latest newbie sure made my day! So who is he? Well, this fit fella is called Tommy and he's an ex squaddie who's not the least bit shy…
What with Tommy being a real "man's man" kind of guy he was more than up for proving how it should be done out in the open air! So Tommy got to be skipper for the day and after a quick chat (including some very horny revelations about what went on in the barracks) he relaxes back to enjoy the sea, sun, and most importantly himself!
No stranger to getting naked in front of guys, he happily pulls out his soft dick from the side of his tiny swimming trunks. It grows surprisingly quickly and within minutes he's moaning and groaning like it's the best wank he's ever had! Slowly easing his foreskin back and forth, he prepares his solid meat for the finale… with one hand on his cock and the other on his tight hole it's just pure ecstasy! And sure enough, rope after rope of hot jizz spunks everywhere, coating the boat, himself, and the deck 😉
Oh, if that's not enough for you there's 7 more minutes of Tommy in the bonus footage too!
---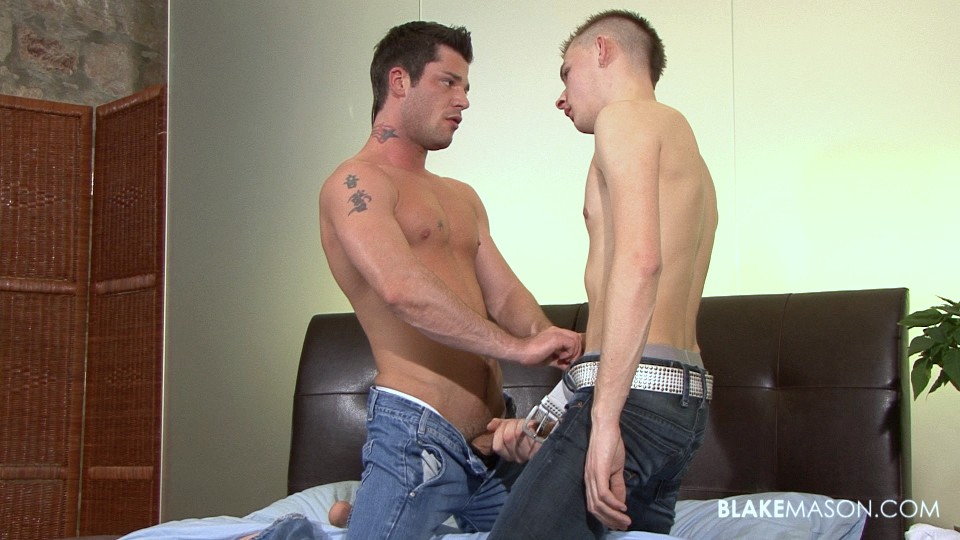 Ever since Tony first featured on the site I have been in awe of his dick. It's just a perfect, chunky, thick and solid cock… and his balls always seem to be overflowing with creamy spunk too! Coupled with his great body and fun loving personality, I decided that it would be only right to let him have some fun with Danny R – another equally horny guy who relished the prospect of a fine fuck session with Tony 😉
With sparkling sexual tension in the air, you could tell from Tony's eyes that he was desperate to break open Danny's flies and have a feast of epic proportions… and that's exactly what he did! Tony tugged Danny's cock out of his jeans and began to work that mighty uncut cock to its full 7 inches 😉 And when Danny released Tony's cock from his jeans it was already pointing skyward and looking thicker and sturdier than ever! No surprise then that Danny was quickly coating Tony's cock and balls in thick saliva…
After a marathon suck off it was time for Tony to take that fab dick in his ass. Danny was clearly in heaven, fucking that willing hole with abandon and passion like this was his last fuck on Earth! Tony takes it like a man and even rides that meat, having it hit all those sensually deep spots that only a cock can reach! No Wonder then that Tony's soon spurting his jiz while Danny continues to pound his ass… and once finished Danny pulls out to spill his own load right over Tony's face 🙂
---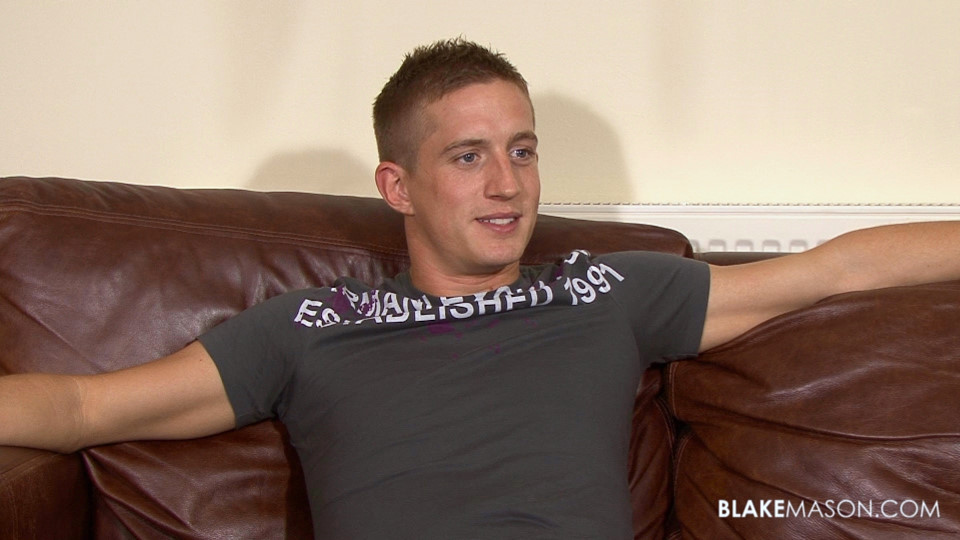 This is Christopher, a really charming character from London who sparkles like the stars! He's an absolute dream in every sense you could imagine, and when I asked him "why porn?" he simply said… 'looks like great fun!' Man, is this fella great or what?
Christopher has it all. Great looks, captivating smile, twinkly blue eyes, perfect smile, superb cock, and genuinely one of the nicest people you could meet. The only thing he is missing is a man at his side… any takers???
Meet Christopher, another one of the Capital's finest specimens of manhood! He's a super sexy guy from central London who's been keeping an eye on the site for a while… and finally he couldn't resist applying hoping that he could "get it on" with some of our eager bottoms! Judging by his superb good looks, charming character and dazzling performance I don't doubt for a second that he's going to get the other guys queuing up 😉
You see, Christopher has this captivating presence about him where you naturally just seem to hang off every word he says. Your eyes simply cannot resist following him around the room either and from the moment he walked in through the door it was evident that he had an abundance of energy and enthusiasm. Quite simply, this guy was born to be in front of the camera… he's a real natural!
The action kicks off with Christopher fully clothed but he quickly unbuttons his jeans and pulls out his semi flaccid cock out. Before long he's stroking, tugging and massaging his perfect, hard, uncut dick and strips off right down to his birthday suit! Moaning and groaning, his sensual hands stroke almost every inch of his sexy toned body… and when he reaches the point of no return he juts forward and begins to shoot one very impressive load 🙂
---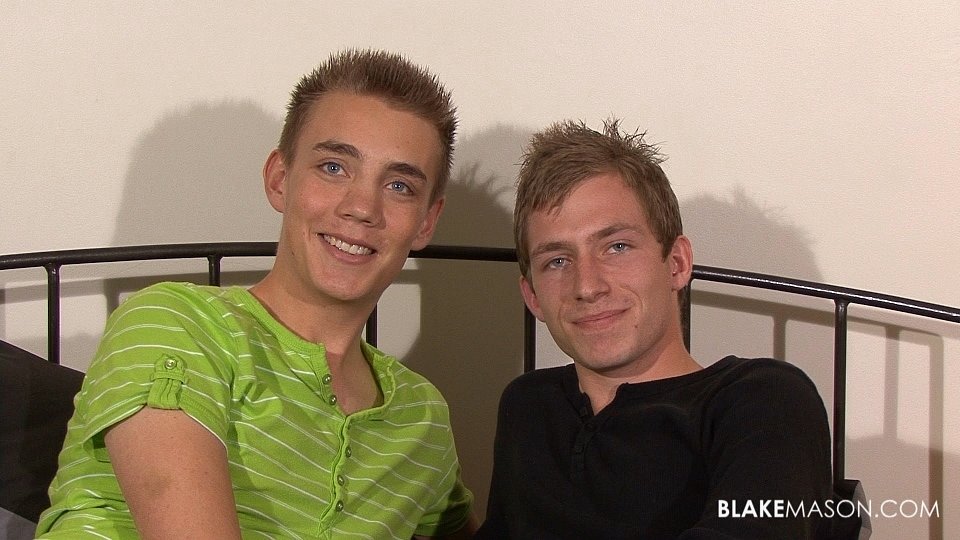 So how would I summarise this film in just one word? "Wow!" – pure and simple 😉 First off, it's been well over a year since Terry made his debut on our screens and I thought it was about time he returned for his very first duo film. This is also Jake T's first duo too but that didn't stop these guys hitting it off and having one mother of a horny session! Yep, these youngsters could surely teach some of the older guys a thing or two when it comes to the bedroom…
NEVER under-estimate the horniness of two newbies (a lesson I learnt myself in this shoot!). While a few nerves were evident right at the start the guys were undeterred as they settled right in to some amazing action 😉 And have you noticed that it's always the sweet, quiet types that surprise you the most? Take Jake for example – it turns out that he's one very vocal little lad and during the intense foreplay he begins to tell Terry about how he wants to be fucked… and man, does he want to get properly fucked or what!?!
Guided by Jake, Terry's rock-hard dick slowly enters Jake's tight little hole and within seconds he's soon thrusting in and out with abandon! Jake enters his own world, moaning and writhing all the time as Terry digs deeper and deeper and pounds away harder and harder! Ready to unload, Jake jumps on top and bounces away  until Terry's cock finally sends him over the edge… but not content with just satisfying himself, Jake turns his attention to Terry's still throbbing cock and works that meat until it unloads in his face! Outstanding 🙂
---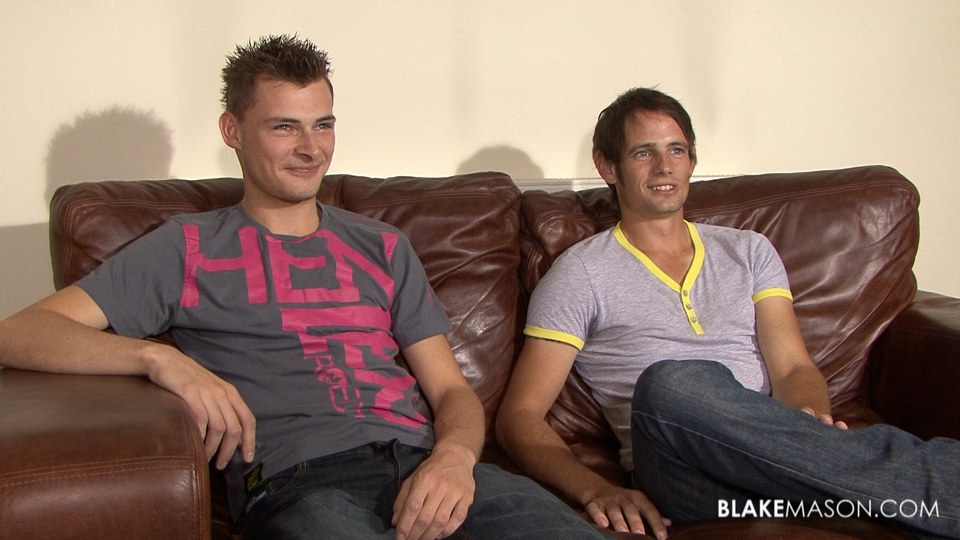 Finally, after all these years (and that's 4 whole years!) I managed to get the totally straight Jason back and persuade him to let a guy suck on his luscious big dick! For those of you that don't know Jason, well, he's a regular guy with a lovable personality and a fab uncut cock… but although we could all sense he might have a curious side he refused to give in… until now 😉
Not that I haven't been trying, of course. We came real close a few years back but Jason cancelled, saying "I'm really sorry but I just can't do it". OK, fair enough… but every 6 months I sent him a text asking if he would change his mind and give it a go. Man, that makes me sound like a long-term stalker (!) but it was all really very light-hearted… and in June this year he said "yes!"
"Fuck" I thought to myself. Who can I get to show this straight fella what a man's mouth can do to his dick? We sent out the word and the queue of potential seducers quickly blocked up our email! It had to be an expert… someone who prefers to give gratification rather than receive… and it had to be someone who could swallow all of Jason's mighty dick! Tony… you are the hero of the day… and I never knew you loved the taste of straight-man spunk so much 😉
---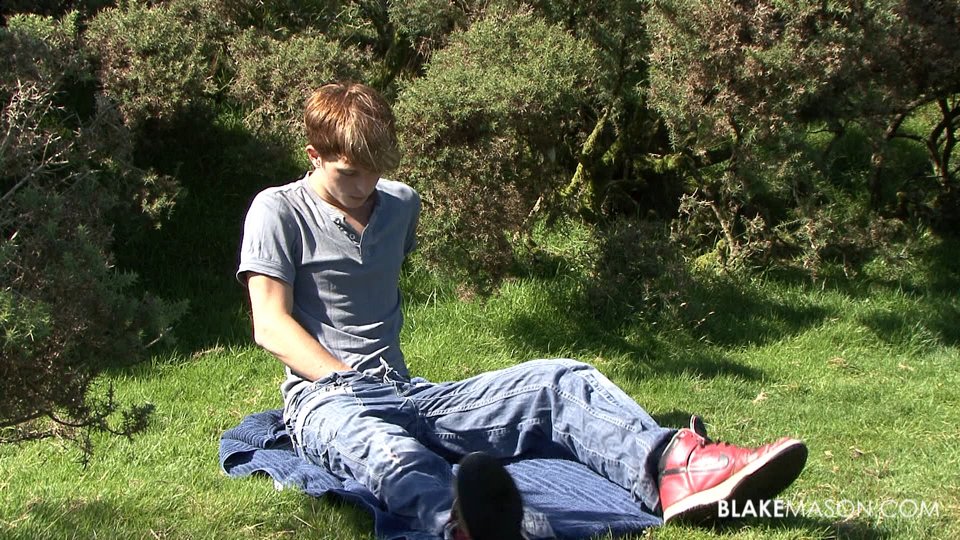 Ray. He's cute. And he's got floppy hair and a thick, fat cock to boot too! I simply love that combination… especially when it all comes together with a perfectly slim, lightly toned body AND a daring, fun loving personality 😉
He's studying Film at University and has a real relaxed attitude to life. If he lived closer to the sea then I'm sure he would be a real surfer dude… wandering around in just a pair of beach shorts all summer long… and raising more than just a wave 🙂
Is it just me or do you fantasise about people you see on the street too? OK, maybe I should explain… I've known (and dreamt about!) several cute young guys with floppy hair in my time… and my wicked thoughts always wandered to what it would be like to secretly watch them jacking off in some remote place. Well I kind of know just how that plays out now 😉
Ray just happened to sit and wank off exactly where my camera's and I were hiding. As it turned out he's a student with a tight, slim body and a cock that just keeps on growing. And I mean that. As the sun beat down and shimmered through his soft, downy body hair his cock began to grow hard and stiff. And then, as he jerked away it grew fatter and fatter. I've not seen a dick continue to blossom so much ever…
As the heat of the day intensified Ray's self-enjoyment became more and more obvious. His gentle moans and panting became louder… the way he lubed up his cock with spit became more frantic. And then he decided to let loose and go for it! Stroking his lithe body while pounding away at his perfect meat was my fantasy cum true… and that dick swelled even fatter right before it gushed spunk everywhere 😉
---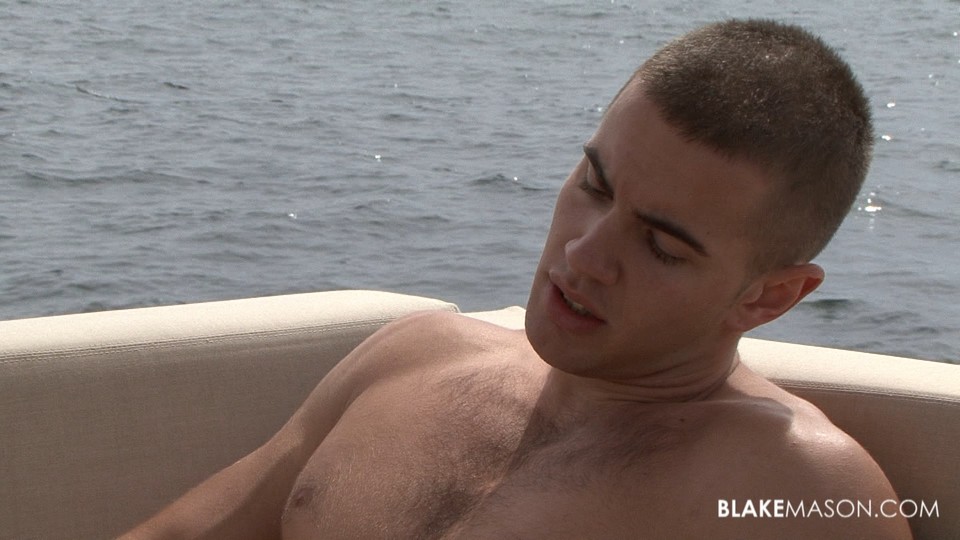 Finally, the sun decided to shine again and as soon as it did the totally HOT Scott S jumped on the train! Ever since we first met he's been real keen to have a ride on my big throbbing machine – and when it came to jerking off at sea Scott's big, fat, uncut dick sure was at full mast 😉 Starting out in his swimming trunks and basking in the summer warmth, Scott's cock is quickly on display and being lovingly stroked…
I think the pictures tell a pretty good story of how horny this fella is and looks out on the water so I'm going to keep this write-up short. He wanks his dick in his own casual manner – sometimes fast and other times nice and slow… but he always made sure we could capture it and his hot defined body perfectly! And he was also real good at keeping an eye out for pirates 😉
Gushing his spunk all over the boat's windscreen, I thought we had drained Scott good and proper. But I was wrong… there's an "interesting" little bonus film with this one – for some reason I just had to pick up the camera after we had finished shooting to capture this spunky fella… um… well, you'll just have to watch and find out because I'm not confessing to it in writing 🙂
---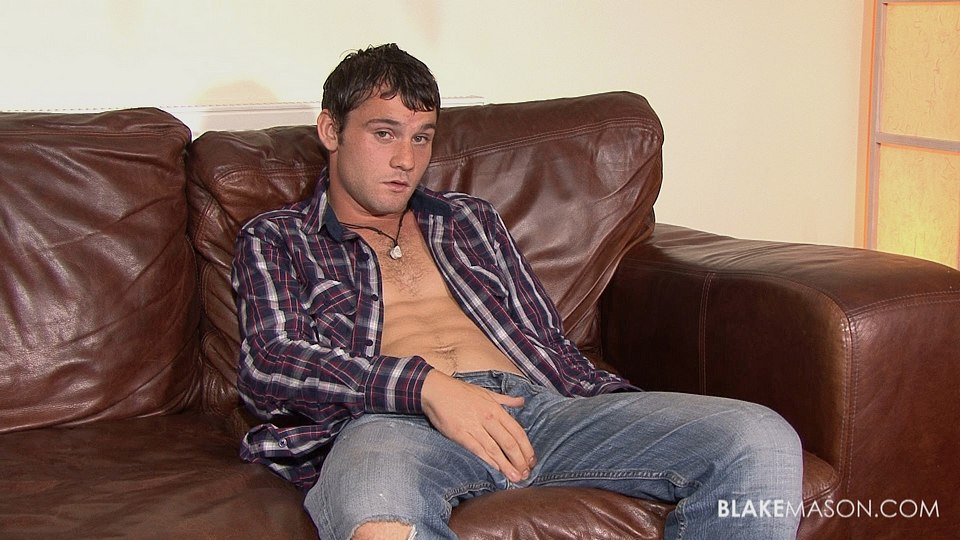 Meet Owen, a super sexy and straight Essex boy who lives up to many of the stereotypes! He works in a bar but he's planning to jet off soon and start a new life in Brazil with his fiancé.
Owen has a superb 7½ inch thick cock and he knows how to use it. He admits that he enjoys attention from guys, but as yet hasn't gone down that road. But in his own words… watch this space! Let's just hope his girl's not reading this!
It's time to welcome another total newbie to the world of BLAKEMASON – this fit fella goes by the name of Owen and he's 24 years old… oh, and he's a real straight guy too! Owen is a typical Essex geezer, a bit of a wheeler dealer and one of those guys that simply oozes raw sexuality. He admits to enjoying teasing the guys (a guilty pleasure) that I think he may one day act out… but for now, let's see what this straight character is made of 😉
The film begins with Owen having a short chat about life, love, and his fiancé before he's left to enjoy himself. Owen has no problem getting his kit off in front of other guys and his cheeky glances and little comments make me think that he was secretly enjoying the attention he was getting. I'm certain that deep down he was getting off, knowing that you guys at home are jerking one out just for him!
Owen wastes no time in getting his thick uncut rod to full mast and kneels up on the couch to give his cock a slow, sensual workout! I don't know if he was trying to tease all you at home with his cock or just the camera, but man, he sure knows how to raise the heat 😉 With his cock now rock solid, he lays back, closes his eyes and begins to really jerk it out. Balls cupped, toes curling, and heavy breathing all signal that this hunky fella is about to explode… and sure enough Owen's soon spurting a big, thick, creamy mess all over himself 🙂
---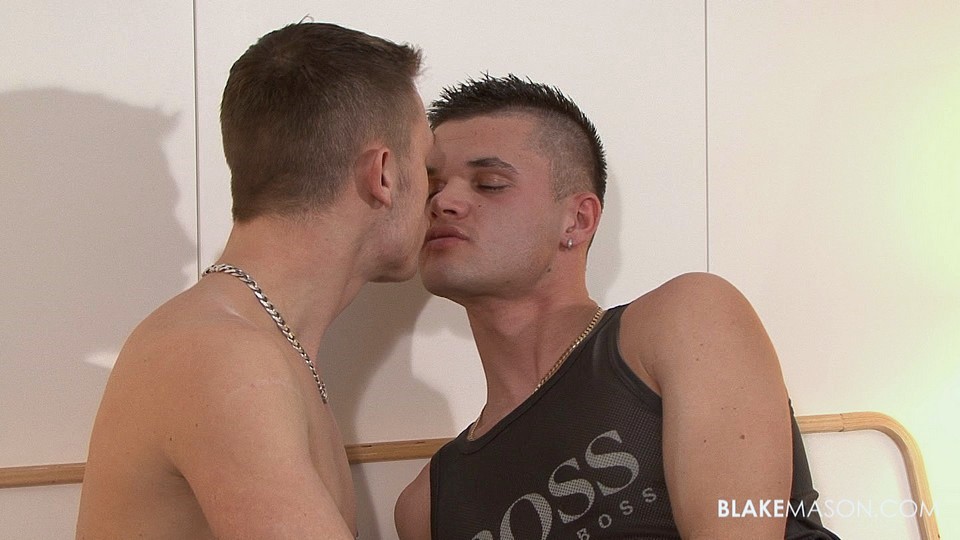 OK, so straight after the totally delicious Harrison finished his solo film he was pleading to get it off with Kai, and as luck would have it, Kai was also more than keen on the idea! Naturally I wasted no time in arranging a date when these two horny guys could get it together and roll around on the bed… and it sure was a scorcher 🙂 Both Harrison and Kai were itching to break open each other's underwear, so much so that they were both boning up even before the record button was pressed!
They start off with some slow kissing and gentle rubbing before the underwear comes off and then it's down to some deep, deep, deep-throating action! Both Harrison and Kai prove they are masters at the art of enthusiastic and rampant cock–sucking… and as they work themselves around into a 69 they really get stuck in 😉 But there's an unspoken tussle go on… who is going to fuck who? Well, Harrison takes charge and reaches for the condom…
He carefully enters Kai's more than willing hole and slowly builds up the speed of his thrusts. As the intensity increases, Kai starts oozing pools of precum – and the sight of that sweet clear juice sends Harrison insane and triggers him to fuck with abandon! But Kai thrusts back onto that cock just as hard, meeting Harrison's dick as he pushes forward, both undoubtedly enjoying every second 🙂 And as the intensity reaches boiling point, Harrison grabs Kai's oozing cock and strokes it until it's spraying jizz everywhere…
---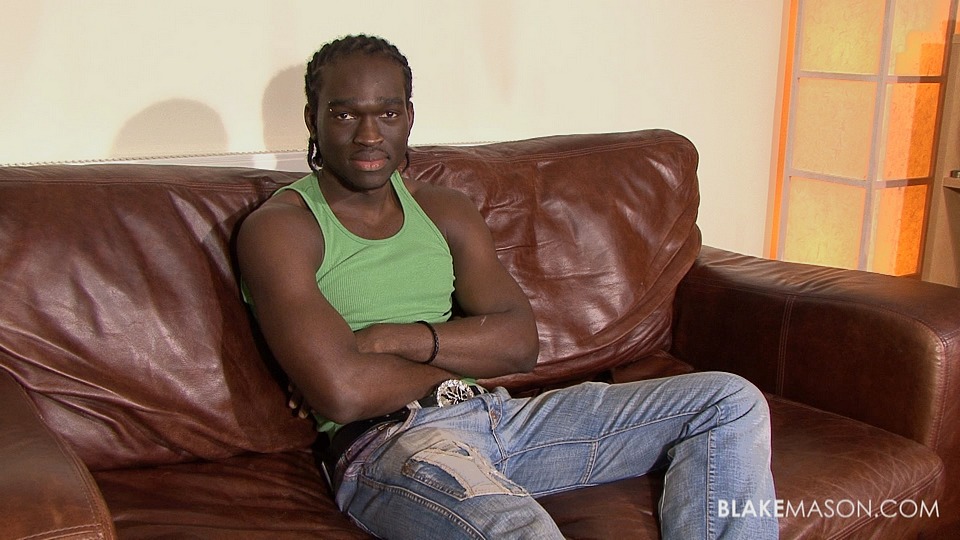 Meet Billy, a gorgeous and very well hung guy from London. He originates from the French Caribbean and still has a very slight and sexy French accent…  which just adds to the charisma and charm of this absolute Adonis!
Billy stays in shape through Dance which is also his main passion and man, it sure seems to work! All I can say is that hopefully he's a great mover in the bedroom too… if you catch my drift  😉
Time to welcome another hot and total newbie… this week brings the arrival of Billy R! He's a guy who has been blessed with a superbly long, thick, uncut cock, stunning good looks and a body to die for! What's more, Billy's a true exhibitionist and isn't the least bit shy at showing himself off – that is once he's nice and relaxed 😉 But if you had the full package like Billy wouldn't you?
So Billy's just a little bit nervous when we started out having a chat, but his big, beaming smile and coy laughter really make you warm to the guy.  But once we shut up and left him to enjoy himself he quickly finds his pace and gains full control! He wastes no time in getting out of his underwear and sets about handling his monstrous but totally delicious cock. And Billy's a quick grower – he's soon at full mast and beating away with abandon!
He takes some time to squeeze and rub his thick dick in between bursts of frantic wanking, edging himself closer and closer to that magic moment. This guy truly is the master of his cock, knowing how close he can take himself before slowing the pace in order to prolong his pleasure! But once fully laid back it's apparent that this time he isn't going to slow the pace – instead it quickens and soon he dumps one very thick sticky load all over himself 🙂
---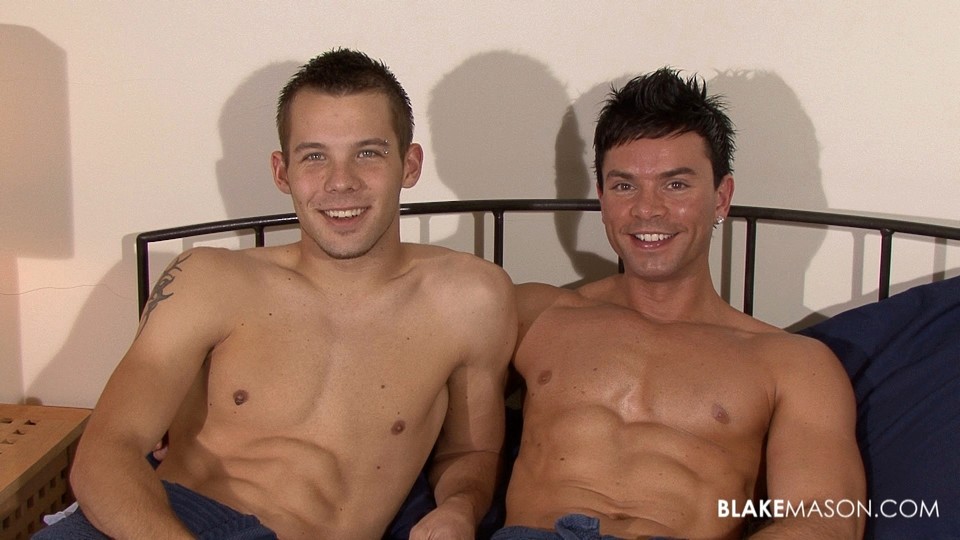 Well, it's the one you we've all been waiting for – the totally delicious AJ is back for his first duo fuck! And who better to ease him through his first ultra horny session than the stunningly gorgeous Dave. With both buff guys just as eager to get down and dirty with the other, it made sense to start off in nothing but their post-shower towels – these guys were KEEN and I didn't want them coming off the boil (if you know what I mean!)
So after a very quick introduction from me I let them loose on one another and I don't think I blinked until the last drop of cum had left AJ's dick! Dave begins by working his way down AJ's beautiful body and unsurprisingly finds an already hardening cock 😉 He needs no encouragement and begins to devour those 8 fat inches before AJ returns the favour and swallows all of Dave's manly meat! The action continues in to a superb 69 suck-fest and then Dave breaks off and turns his attention to the rear…
He first enters that sweet pink ring with his tongue, sending AJ into a world of ecstasy. Then he uses his fingers and gradually they explore deeper and deeper, making AJ moan louder and louder! Horned up to the hilt, AJ mutters the words 'you wanna fuck me?' and who could refuse??? Dave plays it sweet and gentle at first but raw passion quickly takes over! AJ's perfect face tells the story of pleasure and pain… and when the cum eventually starts flying it's as magical as I dreamt it would be 😉
---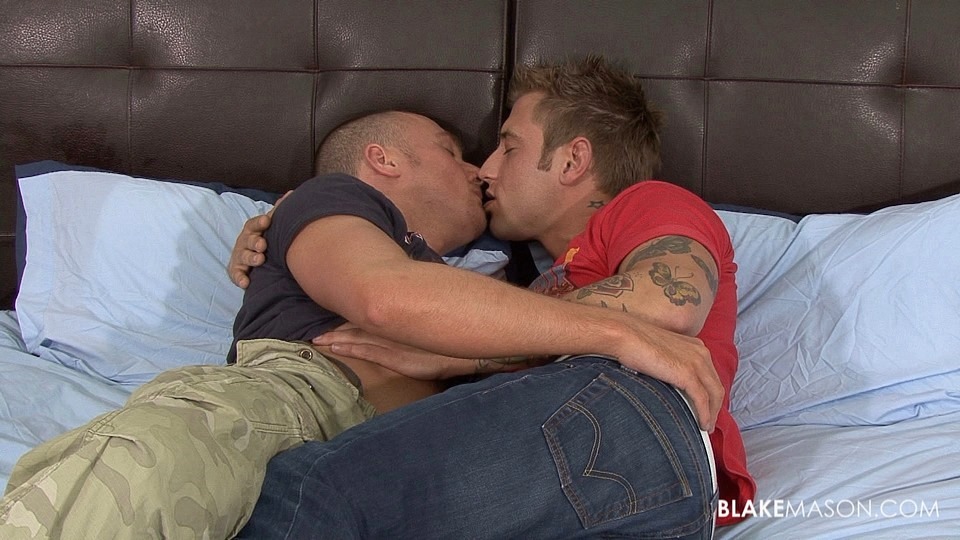 It's time to welcome back two of our hottest and most popular guys this week… RJ and Jed! Each has his own HUGE fan-base and so it made sense to invite them down for a good old fuck session – and both guys were equally keen to savour each other's bodies in a lust-fest of epic proportions! Jed, with his sturdy frame and stunning good looks coupled up with the manly and sex-mad RJ was one of my fantasies cum true…  and judging by the smiles and flirtatious banter I knew this was going to be something special…
Rather than a fast and furious session the guys took this one at a relaxed pace, more boyfriend sex than frantic fuck! In fact Jed and RJ looked as if they had been together for a lot more than just a few hours as they enjoyed some real sensual pleasure 😉 Jed becomes especially acquainted with RJs cock, sucking and licking with abandon and barely coming up for air throughout! All the while RJ is eyeing up those sweet cheeks and it's not long before he's parting them wide for some serious ass play…  licking, spitting, fingers, massage… RJ is a true ass man and it shows…
But it's not until RJ's tongue is exhausted that he asks if Jed wants to get fucked! With the serious workout that Jed's ass had received RJ simply had to guide his cock toward his hole and let it slide in… ALL the way in 😉 The heat rises as RJ's tempo picks up but they slow down at times for some gentle kissing and words of encouragement! RJ continues to make Jed writhe and wriggle in pleasure before asking Jed to 'sit on my dick' for the finale… and now that Jed's in full control (and riding the length of RJ's dick) that he reaches nirvana and spunks his load – quickly followed by RJ 🙂
---
Well, it's not often I get the opportunity to film two hot red-headed guys with pure white skin, so when Sam S emailed me about doing a duo shoot with my assistant Shayne I was somewhat excited! I forwarded on his email to Shayne who replied immediately with a resounding "yes"… and then I asked our loyal forum members if they wanted to see it too. Given that it's now released you can bet the answer was an overwhelmingly positive 😉
But anyway, that was my only involvement in arranging this shoot. I had no idea what these two horny guys had arranged between themselves and so it all came as a lovely surprise! Man, can Shayne slurp his lips around a big, fat dick or what – anyone would think he had been starved for a month! And he's not as shy in front of the camera as he is behind it – Shayne just loved thrusting his own meat right down Sam's throat 😉
However, the biggest surprise came when Sam S gave up his tight white hole for Shayne – who wasted no time in sliding his solid hard dick deep in to that eager ass! Humping away, these fellas kind of melted perfectly in to each other – slow and fast grinding movements sure put a smile on Sam's face. And once Sam was laid on his back with Shayne jerking his dick and ploughing his ass there really was no stopping his spunk gushing forth 🙂
---