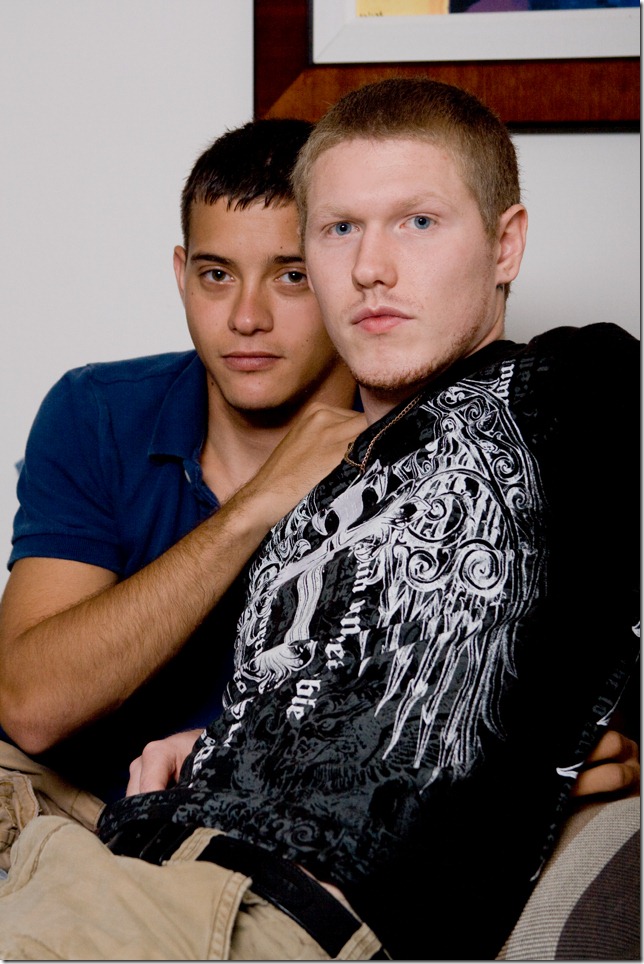 It had been a few months since I had talked with Matt when I got an email from him out of the blue. I can't tell you how happy I was to hear from Matt. He did a great solo for us and we have been getting requests all the time to see him do more.
I remember Matt telling me when he did his solo that he really wanted to bottom for another guy. I knew immediately that I just had to see if Matt could take Dallas' huge cock. This was definitely one of those shoots that was getting me horny just think about it.
Matt showed up looking hotter than ever. He has obviously been spending some time in the gym and in the sun. Dallas walked in and took one look at Matt and gave us all a big smile. I hadn't given a lot of thought about Matt's experience with other guys so I totally didn't know that he had NEVER BEEN FUCKED before.
Knowing that this was going to be a first, I couldn't wait to get the boys started. Matt sucked Dallas' cock like a pro as he took the entire thing down his throat. Matt definitely likes to get nasty so Dallas put him on his back and started to drill him deep. It wasn't long before Matt wanted to ride Dallas, in hopes that he could control him a bit more. Although Matt had no idea that Dallas could fuck his ass just as deep. Matt took it like a pro from every imaginable position until both boys exploded with thick white loads.
---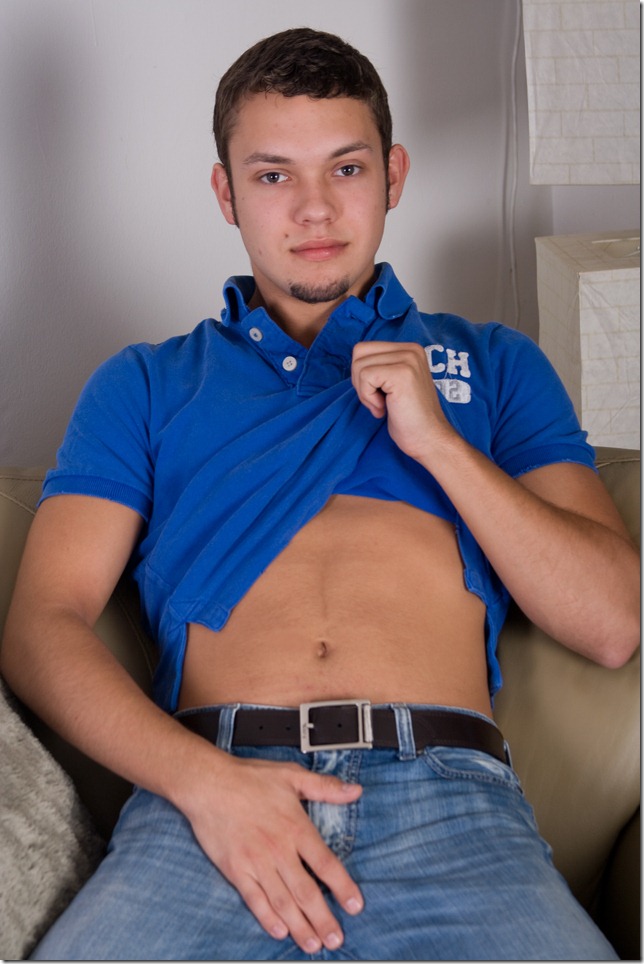 Wes is 19 years old with dark brown hair and a sweet little boyish face that makes you want to squeeze his cheeks. Wes is a little guy standing just 5'6 tall and weighing 155 pounds.
I received a call one day from the ex-girlfriend of one of our Southern Strokes model. It took me by surprise because it had been almost 2 years since we last filmed this model so he was kinda out of site, out of mind. She was calling because she had met this guy and she really thought he would be someone that our members would like to see. I told her to go ahead and have Wes give me a call and we would set something up.
When I first talked with Wes, I thought that maybe we had our wires crossed. He is really quiet (just like most of these country boys) and I couldn't imagine him wanting to put on a show for our cameras. I went ahead and arranged for him to meet us up at the house but I really didn't think that he would show up.
When Wes walked in the door, I just couldn't take my eyes off his cute boyish face. He is just a little guy with gorgeous smooth olive skin covering his compact frame. As soon as he said hello, I knew that we had another one of our quiet little country boys that was about to get nasty. There is just something that makes it so incredibly hot when these shy bumpkins get down and dirty.
Wes had us all worked up when he was telling us about his first sexual experience with a 20 year old man. (Wes was just 14) It seems as though Wes's camp counselor had his hand (and cock) in the "cookie jar". Wes stripped off his clothes and stroked his cock as he fingered his tight pink hole. Wes was moaning loud as he worked over his hole with his hand. He finally squeezed out a pool of thick white man juice all over his tan stomach. I can't wait to watch Wes getting fucked.
---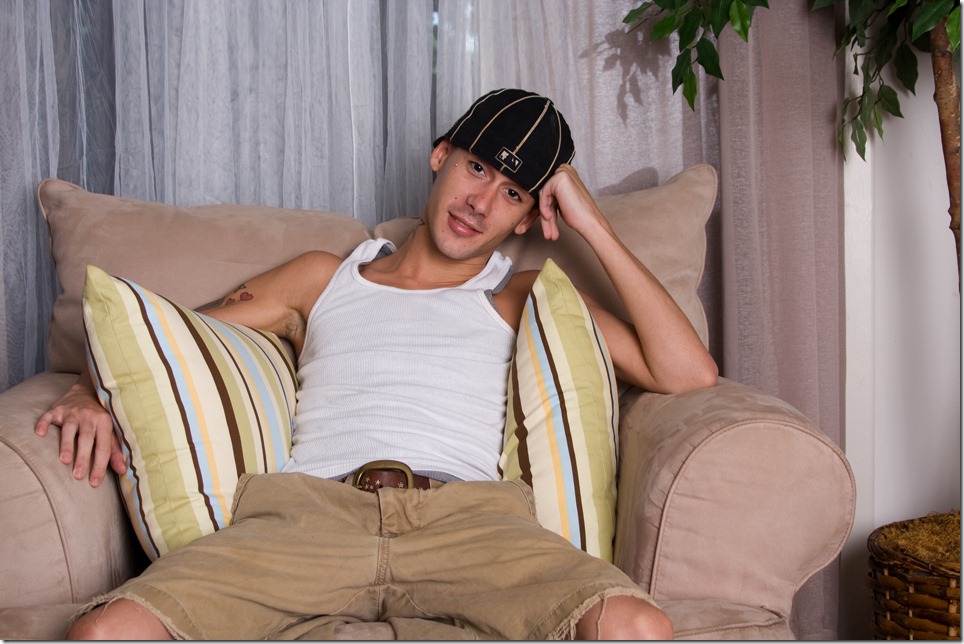 Cody Starks is a 25 year old bi-sexual southern boy from Atlanta. He is a small guy at 5'5″ tall and he has a thin build. The one thing that isn?t small about this hottie is his fat 9″ cock.
I originally started chatting with Cody when he responded to one of our model search ads here in Atlanta. He definitely sounded fun over the phone so I let him know that we were interested and we would arrange a time to do a shoot. I finally took a week off for a much needed vacation and Cody contacted the office and said that he was ready to go.
Cody showed up at the house and he was ready to go. As long as we have been doing this in Atlanta, it still amazes me that there are hot guys out there that just love to have sex and I don?t know about them. Cody is one of those guys that you just want to be with. He is a small Southern Boy from Atlanta with a tight swimmers body that is covered in tats and a carefree attitude that makes you want to be his best friend.
Cody started to talk about his first sexual experience with a guy when he was 14 and how he would just pretend to be asleep when they were having sex. He was getting really turned on when he was talking about it and I could see his cock start to rise in his shorts. Cody?s body is covered in tats from his back down to his legs. Just another expression of his carefree attitude and approach towards life.
Cody finally stood up and showed off his tats for the cameras and then reached down and pulled his cock out of his boxers. Cody has a huge fat 9 inch cock that looks even bigger on his thin 5?5? frame. It was amazing watching his cock grow huge as he stroked it with both hands. Cody?s body just looked ripped as he tensed up so that he could unleash a huge creamy load. Cody finally released his cum all over his stomach as one hand squeezed his balls and the other one milked him dry.
---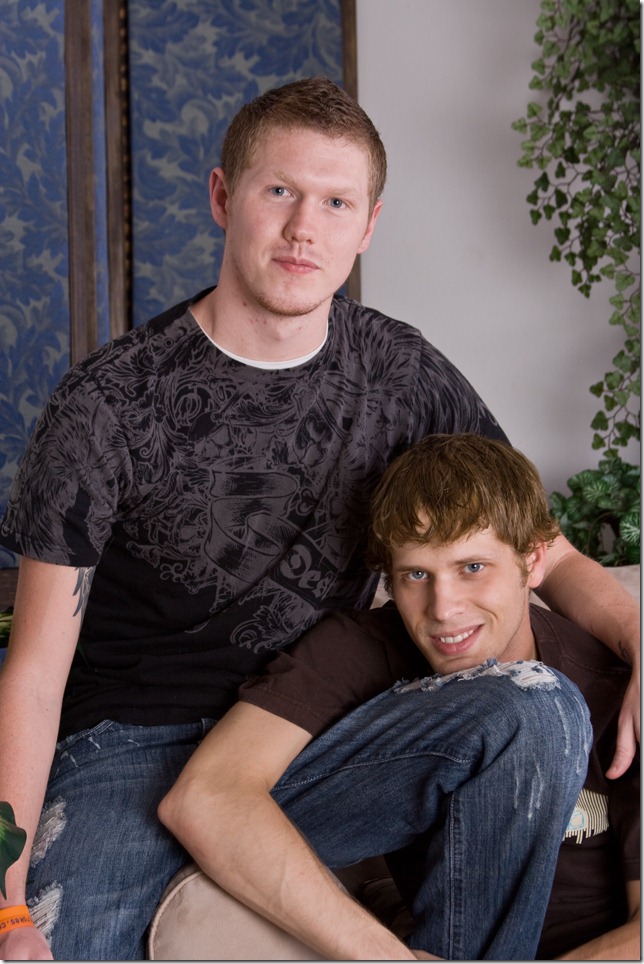 Dallas was so much fun when we did his solo that I just couldn't wait to pair him up with another one of the Southern Strokes' models. He was so turned on when he was talking about how he wanted to get fucked, that I had to get him back in to see how he was going to be able to take it.
Cory has rapidly become one of our member's favorites here at Southern Strokes. I think it is because he just loves sex and he has a really nasty side to him. Cory has been up to the house a few times to get fucked but he has made it clear that he loves to fuck too. With the arrival of Dallas, I thought that this would be a good time to test Cory's fucking abilities.
These two both showed up horny and it was obvious. They both had this nervous energy that really was making me hot. I could tell that they were both excited at the thought of what was about to happen. When we were setting up, the boys were flirting with each other and they just couldn't keep their hands off their cocks. Cory was definitely ready to fuck and Dallas certainly wanted it badly.
I had a brief chat with the two of them while we were getting ready for the shoot and I could see that Cory was having a hard time holding back. Cory finally leaned over and started kissing Dallas as he undressed him. Cory pulled out Dallas's rock hard cock and started to suck him off. After Dallas returned the favor, Cory bent Dallas over the chair and plowed his fat cock deep into his hole. Cory certainly lived up to my expectations as he fucked Dallas on all fours, standing up, on his back and finally on his side. Both of these hot Southern Boys blew their loads on Dallas's stomach and they collapsed with exhaustion.
---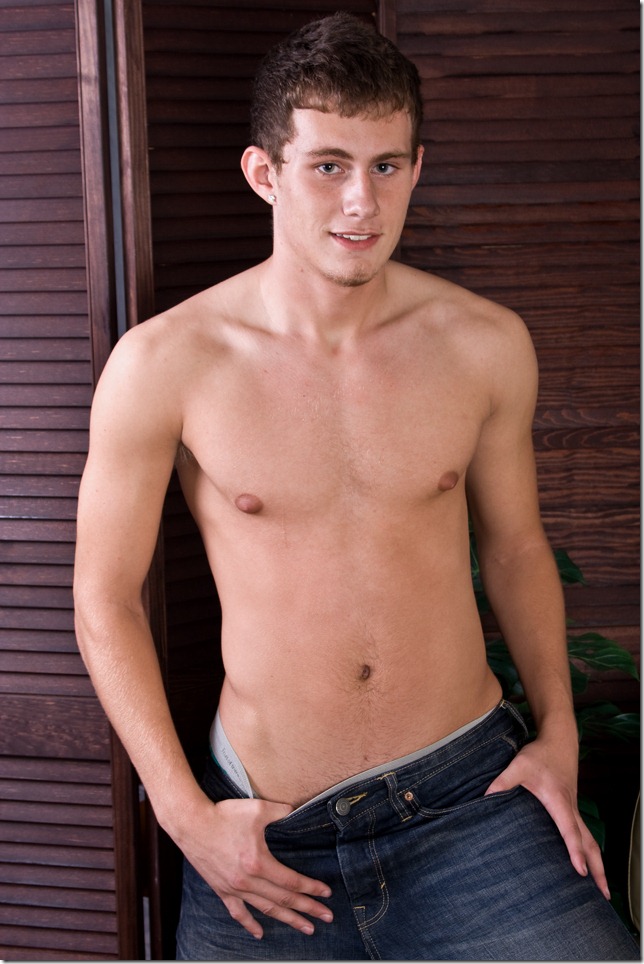 This straight 19 year old has this sexual appeal to him, he is 6′ tall dark hair and green eyes, weighing about 165 lbs. Cody likes to show off and enjoys the attention he gets
A fan of the site sent over Cody's pictures, telling us he had seen him on a live cam show before and was prefect for our site. The pictures didn't do him justice, when he walked into the house the staff was speechless. Cody is 6′ and lean, Brown hair with green eyes. Cody has an amazing smile that just makes your cock tingle. As we got settled in to start the shoot, Cody was telling us how he loves to jack off on his cam, and likes the thought of guys watching him. The thought of getting paid to do it is a bonus he said.
Once the cameras were on Cody's clothes were off, he couldn't wait to get his boxers off, instead he tore them off him. To watch Cody tear at his boxers watching his muscles pop is HOT ! As Cody got into it he started slapping his cock against his flat stomach. Watching his hairy balls bouncing, as he tugs at his cock, letting us know he is enjoying himself. As Cody got closer, the quitter he got. Until his cock started shooting out his thick creamy load. As it drips down his cock, Cody takes is rubbing it on him.
---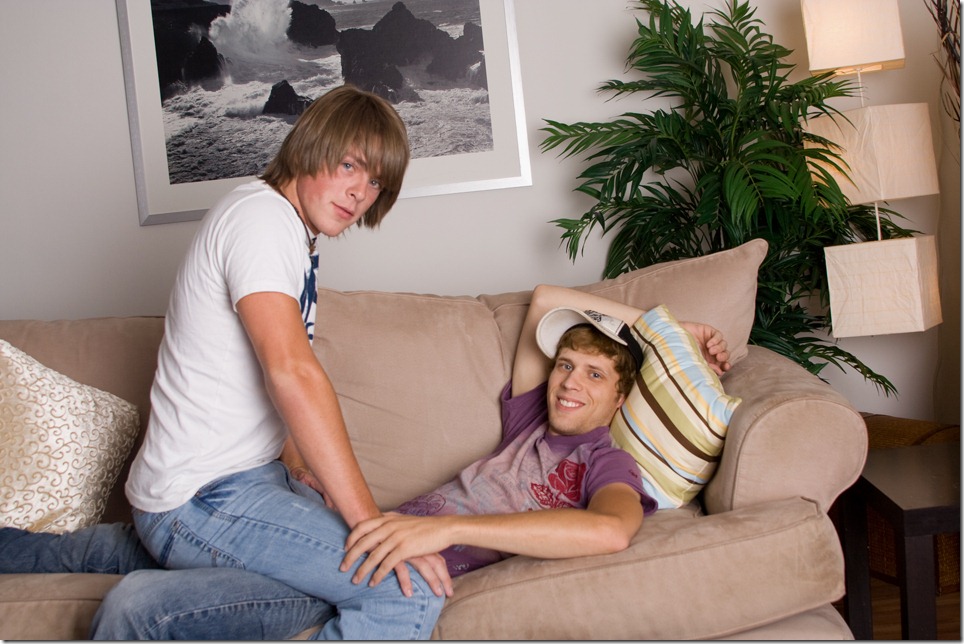 As soon as the two of them met, I could just tell that they were immediately attracted to one another. Trevor might only be 18 but he definitely carried himself as the older of the two when he started teasing Cory. Like I said, Cory likes to get nasty and this was a huge turn-on for Trevor. The more Trevor dished it out, the more Cory like it.
The two boys were sitting on the couch when I suggested that they kiss and before I knew it, Trevor was on top of Cory as he fucked Cory?s mouth with his tongue. Cory loved the attention and he immediately opened up his legs and let Trevor take control. Trevor slowly undressed Cory as he teased his body with his tongue. I?m sure they could hear Cory moaning all the way across the Lake.
Once they were both naked, Trevor put Cory on his back and started to fuck his throat again only this time with his cock. Cory was begging Trevor to fuck him so Trevor grabbed Cory?s legs and put them over his shoulders and started to drill him deep. Cory was screaming so loud that I thought for sure he was going to cum before things really got started. Well Trevor definitely lived up to his stories. He fucked Cory on his back, his side, doggie and finally curled him up in a ball and fucked him silly. Cory finally collapsed to the floor after he shot his load. I?m still hard thinking about this one.
---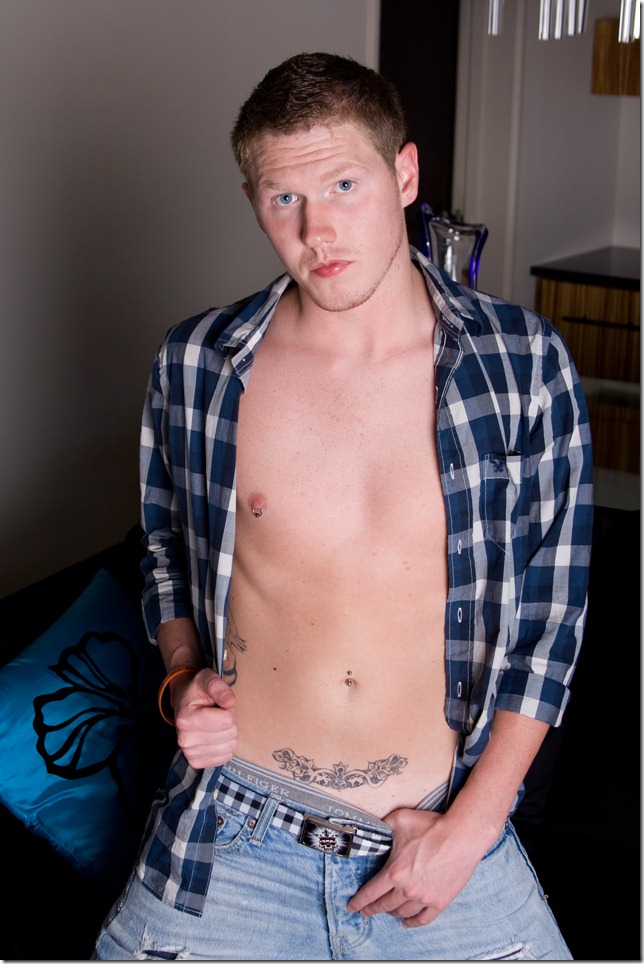 I gave Dallas my phone number and he called me that afternoon. He said that he had always wanted to have sex in front of an audience and he loved the thought of it being taped so that the entire world could watch. He made it a point to tell me that he was willing to try anything and that he was great at taking direction. In fact, he was getting turned on just talking about it with me over the telephone.
Next thing I knew, there was a knock at the door of our summer location and Dallas was standing there in just a pair of jeans and no shirt. This has been a hot summer in Atlanta so the summer house has come in handy with its pool and plenty of boys hanging out naked. Dallas walked in and I swear that he was semi-hard through his jeans. I could tell that Dallas was extremely horny and based on our conversations, I knew that he was anxious to get naked and show off for us.
Dallas was taking to me as we were getting ready for the shoot and he was telling me how he loves to be taken advantage of. He definitely loves to get fucked and he especially loves it when his partner gets rough. He loves to be choked and have his hair pulled as a guy pounds his tight hole. Dallas immediately got naked and started to play with his pink hole as he work his cock until it was nice and hard. Dallas has a hugh fat cock and he loves to stroke it rough just like he likes to get fucked. Dallas finally let a puddle of cum fill his stomach as he gasped for air.
---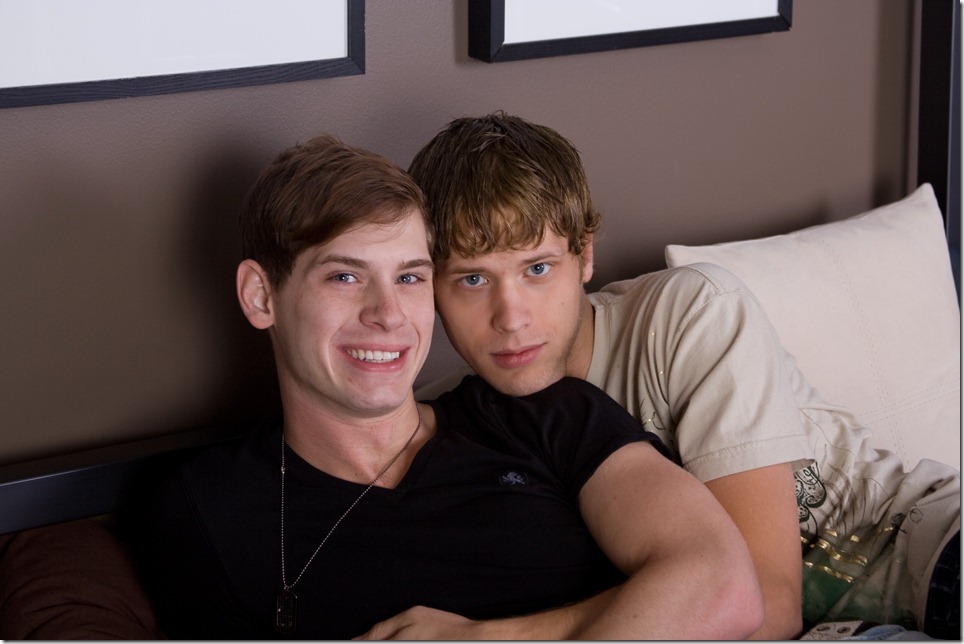 Jayden loves sex and he especially loves to have sex with hot southern boys that like to get fucked. When I told Jayden that we wanted him to do a shoot with Cory, he couldn't wait to get it scheduled. Before I knew it, both boys were at our summer location and ready to get naked.
As we were setting up, I looked over and saw that Jayden was already working on Cory. Jayden was teasing Cory's cock through his pants and talking about what he was going to do him. It seems that our hottie Cory has a little bit of a submissive side to him because he was squirming as Jayden was teasing him.
Cory finally ripped Jayden's clothes off and started working on his cock. He loved sucking Jayden's cock so much that I was afraid he was going to swallow a load of cum before things really got started. Jayden pushed Cory off his cock and onto his back on the bed and returned the favor. Jayden reached over and put on a condom (yes it's BLUE) and started fucking Cory doggie. I think they could hear Cory scream all the way in Alabama as Jayden pounded away at Cory's tight ass. Cory was squirming so much that at times it looked like Jayden was chasing his hole all over the bed. After fucking him silly, Jayden unloaded a huge stream of cum in Cory's mouth. As Jayden fingered Cory's hole, Cory exploded, shooting a hot load all over !
---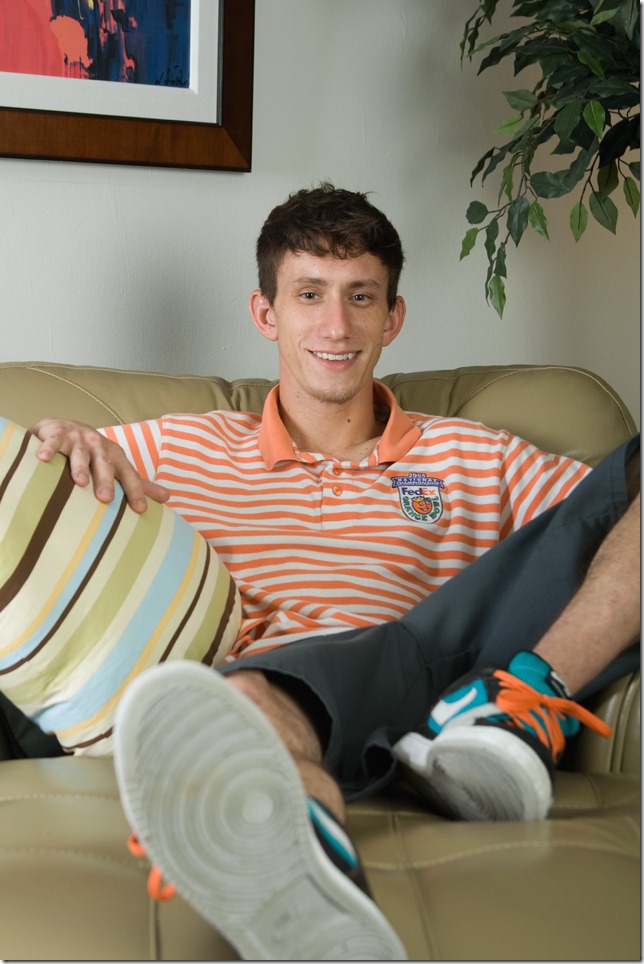 Troy's pictures found their way to my computer via a friend from California. He knew that Troy was attending school in Atlanta and he thought that he might be some one that our members would like to see. He also knew that Troy likes to show off through his first hand web cam sessions with our newest boy here at Southern Strokes.
The first time I connected with Troy on the telephone, I knew that he was going to be fun. Troy is a computer nerd and it comes across in his personality. He has this awkward confidence about him that is so fucking sexy that I was getting hard just talking to him over the phone. He is straight but this boy loves to show off and he is adventurous.
When Troy showed up at the house, he was even hotter in person than in the photos I had. He is 24 years old with brown curly hair; hazel eyes a boyish face with some hot chin pubes. Troy is 6′ tall with a tight worked out lean physique. His smooth boyish skin just makes me want to see more of this Southern Boy.
Troy sat back in the chair and started rubbing his chest and playing with his silver dollar sized nipples. Troy then peeled off the rest of his clothes and started working his big cock. Troy is every bit of 9 inches so it took a while to work the blood up into the shaft. I was in a state of awe watching his cock grow, and grow, and grow. Troy worked his big cock with both hands until he unleashed a puddle of thick white cum all over his beautiful abs.
---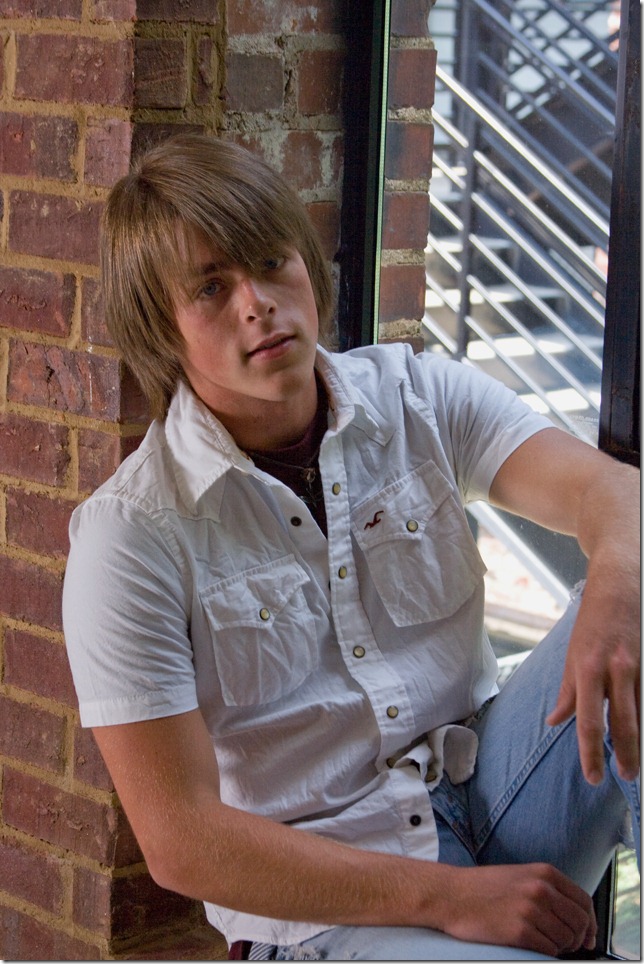 Trevor is a 18 year old Southern Boy with shaggy hair and an adorable face and a hot little body to match. He is 6′ tall with a swimmers build and a nice hard 7″ cock. Trevor showed up looking even younger and fresher than his pictures. He has this adorable face that has just enough freckles to make you want to take him home and put him to bed. He is right at about 6′ tall with a nice tight swimmers build. Trevor's shaggy hair cut makes him even hotter. Trevor has one of those looks that let you know that he may look innocent but you are in for a surprise when it comes time to get down and dirty.
I had heard talking on the phone with one of his friends as we were getting things set up for the shoot. It seems that our 18 year old Southern Boy was horny the night before the shoot so he hooked up with a trick he found on my-space. Trevor drove to this unsuspecting boys house and fucked him in his bedroom as his Sister was watching tv in the other room. Our boy Trevor was really horny so he got a little aggressive with his little trick's ass.
Trevor took a seat in the kitchen and slowly took off his clothes and started tugging on his cock. He quickly turned himself sideways on the chair so that his head could hang over as he went to town on his cock and fingered his hole. I thought Trevor was going to pass out from hanging upside down until he let out a gasp. Trevor squeezed out nice pool of steam hot cum all over his naturally smooth stomach.