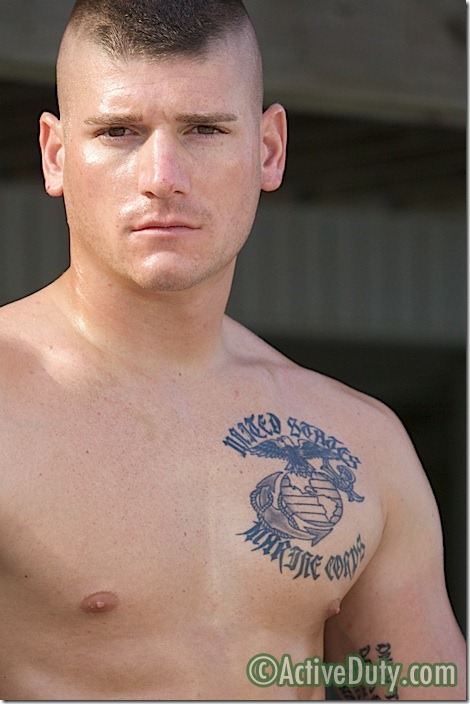 Summer Recruits 2: Dorian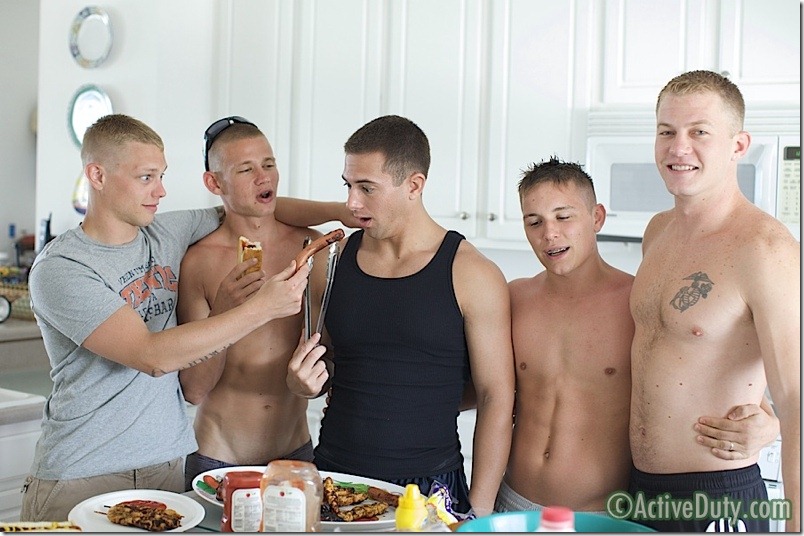 Active Duty has just announced the release of the Sizzling Sequel to their Smokin' Hot Summer Release, Summer Recruits 2! They've already started streaming the new content for their members, starting with a fun and revealing 1-hour Behind-The-Scenes! This was the second wild weekend at the Summer Recruits beach house and what a blast it must have been. I'll give you more details on individual scenes as they stream. For now, I'll just debrief you a little and you can enjoy the photos and get the visual description. Summer Recruits 2 stars exclusive Active Duty amateurs Randy, Kasey, Gage, DJ, Thomas, Chaz and Dorian as they saddle-up for some fun in the sun and a few romps in the hay, and man did the sex ever get wild.
Kasey makes his first comeback of the year and it's one hell of a return. In his scene with Gage and DJ he cums three times. Once without even touching himself while Gage plows his ass doggystyle. Then he rides DJ's cock beautifully and you'd think that cock was made just for his ass. Kasey has come a long way and he must have been really missing the action because he's on fire in Summer Recruits 2, going above and beyond the call of duty. Kasey isn't the only one to get his hole fucked good in the first scene, Gage bends over and takes it from DJ too. DJ is loving being a top today because he's got two great bottoms that know how to appreciate his big, thick cock and take it right.
Up next is a hot threeway between Gage, Kasey and Dorian. Gage is the first to take it for the team and Dorian and Kasey have their way with his sweet little ass. Gage is always eager to accommodate his comrades and take a cock like a champ. But Dorian is up next and throws his legs in the air to get his hot, muscled ass fucked deep and hard. He's one hell of a receiver and the boys give it to him good and hard, cumming all over him in the end.
DJ and Randy meet up at the beach house while the others are out on the beach and what unfolds is one hell of a flip-flop scene between these two. In the Behind-The-Scenes footage you'll see where Randy kinda' has the hots for DJ and he's not shy about telling us all about it on camera as Kasey captures the moment when Randy says to DJ "Kiss me" and DJ does. So, the next day they get a chance to take that little Bromantic moment to the next level. Randy is just that on this entire beach trip—Randy! And he's getting really accustomed to the whole idea of bottoming. He and DJ go for a flip-flop fuck that is out of this world and by the time it's all over they've both been fucked hard, are out of breath and covered in cum.
Randy takes his bottoming practice to a whole new level in the fourth and final sex scene as he gets fucked first by Chaz, then Thomas fucks Randy while Randy fucks Chaz. DJ actually shot this scene and he did a damn good job of getting these three guys to really let loose and go for it. Randy's ass is broken in now that's for sure. Chaz is quite the trooper in this scene too as he takes on Randy's big cock and handles it just like the man he is. By the time it's over I'd say Randy is a bonafide tried and true bottom. I always knew the day would come, didn't you? And he looks so delicious taking all that cock up his pretty little bubble butt. He lets us know he can feel it!
The Behind-The-Scenes portion of Summer Recruits 2 is a little different than the first Summer Recruits. Dink actually went out and bought a small camera for the guys to carry around with them out on the prowl at the bars and walking around the beach. They got some really great stuff and captured some really good moments. I think you'll really like it as they make sure to include us in all of their fun.
---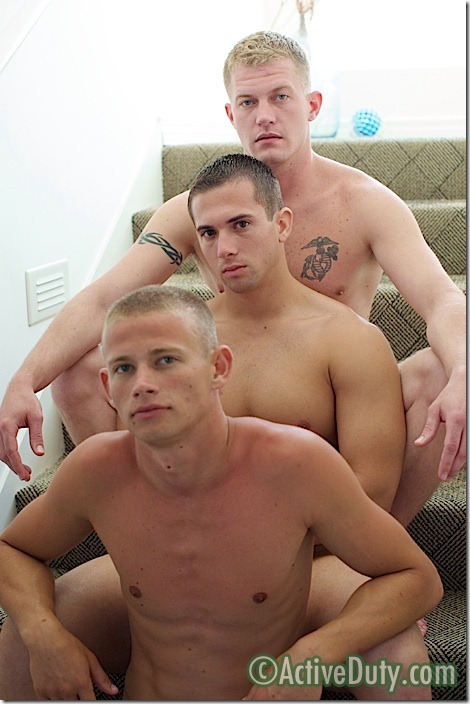 Summer Recruits 2
Scene 2 starts with Dink wandering around the house with the camera as the boys come in and out from the beach and the deck. Everyone's up to something but three guys seem to be missing in action. He roams around and as soon as he turns the corner the camera catches three cocks laying side-by-side on the bed getting stroked. They've hi-jacked a laptop and disappeared for a little afternoon relief. He quickly gets in on the fun and tells them if they're gonna do this they might as well remove the shorts. Everyone's already hard and stroking and the shorts come off easily. Kasey is in the middle and his attention quickly turns to Dorian who he's never worked with before, since this is Kasey's first video in 2009. You can tell Kasey wants himself a taste of this side of beef. He reaches over and grabs Dorian's cock and starts stroking it and Dorian returns the favor. Kasey is stroking Gage as well. Before you can say suck his dick, that's exactly what Kasey is doing for Dorian and he's mastering the task at hand. Gage moves in and they share the cock. Gage is hungry and he's not letting go too quickly of Dorian's hard meat. Kasey is stroking as he watches, probably wondering when Gage is going to share. Kasey skips through the small talk and quickly moves in behind Gage to give him a dick in his ass to go along with the cock in his mouth.
Kasey is teasing Gage's ass with his hard cock before he buries it deep inside him. Dorian's eyes are glued on the action as Gage's mouth is glued to his cock. Dorian is having fun and starts fucking Gage's face as he grabs his head and forces it down deep on his cock. Kasey saddles up and moves in for the tight hole. Gage moans and groans a bit, but takes it like a champ. Kasey is in and fucking him hard and fast in no time at all and Gage is loving it as both holes get stuffed. Having a cock shoved up his ass seems to make Gage that much more hungry for the cock in his mouth; a perfect reaction. They switch positions and Gage gets on his back, still able to reach and suck Dorian's cock as Kasey plows his ass deep.
Gage bends over and juts his ass out for Dorian to plow and Dorian moves in to do just that. Kasey moves around and gives Gage something to put in his mouth and Gage sucks it hard while Dorian fucks the hell out of his ass. They switch positions and Gage rides Dorian for awhile, slamming the hard cock in and out of his ass while Dorian services Kasey's dick. Gage beats his hard dick on Dorian's hard, flat stomach as he shoves his cock deeper and deeper up his ass.
Gage saddles up and they flip Dorian onto his back so Gage can fuck his ass. Dorian is stroking his own hard cock and sucking Kasey's dick while Gage pounds the fuck out of his ass. All the while Dorian is telling him how to fuck his ass. Gage tags off with Kasey and Dorian is happy to take on another hard dick as he watches them switch in anticipation. He's become the mouthy bottom as he tells Kasey to come on and put his cock in him. Dorian says he wants to feel it inside him. Dorian's cock is rock hard as he strokes it and waits. Gage moves in and starts kissing him. Kasey wastes no time and dives in where Gage has made a path for him. He's fucking Dorian hard and pounding him good.
After He's been fucked good and hard for a long while, Dorian is ready for a bath, but it's gonna be a cum bath. Gage is the first to blow and what a huge load it is. He shoots all the way across Dorian's chest and soaks him with his huge load, highlighting his sexy USMC tattoo. Kasey is the next to go and he blows his load all over Dorian's wrist and shakes the rest off all over his chest. Dorian finally squirts and finishes the glaze on his chest. He's covered in hot cum and loving it. Dorian says, "It smells like cum in here". Everyone laughs. They end it out with a nice kiss between the three and a lot of smiles.
---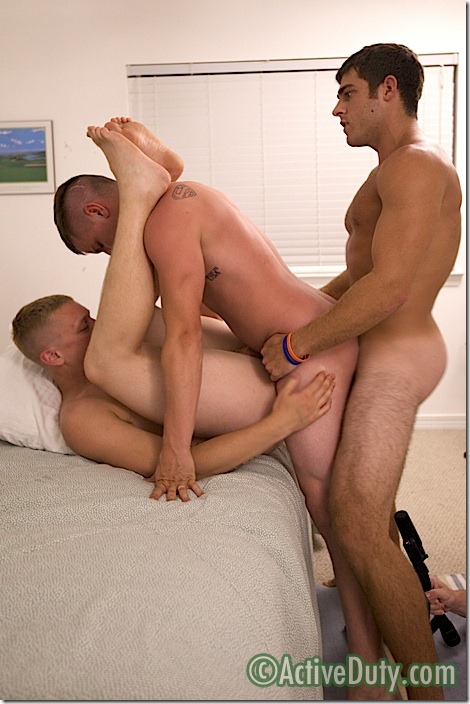 In this final scene, DJ tries his hand behind the camera and he does a great job of keeping these sexy guys in line and focused. He kicks things off like Dink normally does and shoots the shit with the guys for a bit before getting down to business. Randy makes strides on this beach trip and really takes to bottoming like never before. This scene is proof. The boys kick things off with a little kissing and it doesn't take long before everyone is butt-ass-naked. Chaz quickly moves in and starts sucking and playing with Randy's cock as Randy sucks on Thomas' huge hard meat. I think Randy is surprised to see a cock as big as his. He's trying hard to master the monster while Chaz masters his monster.
Thomas and Chaz stand up and share Randy's hot little mouth, gagging him with their cocks as Randy tries his best to keep them both at attention. Chaz moves back down and sucks on Randy while Randy concentrates on Thomas. They take turns sucking Randy's cock and using his mouth as Chaz fucks his face next and Thomas sucks his cock. Watching Chaz fuck Randy's face is really hot. Chaz is a seasoned vet and he's gonna' make sure his cocksucker does his job. Randy gags again and Chaz seems to get a charge out of it. They continue to take turns using Randy's throat for their pleasure and Thomas keeps sneaking back down to play with Randy's huge cock.
Chaz tells Thomas he's gonna roll Randy over and fuck him and he does. He shoves his hammerhead cock deep in Randy's ass as Randy grunts and moans in initial pain. Chaz shows no mercy and he's determined Randy's gonna be walking funny tomorrow. Chaz works it in and he's all the way to the pubes in no time at all. Randy is putting up a slight fight but he's manning up. Thomas feeds him his cock while Chaz bangs his ass. The looks on Randy's face are priceless. Seeing him with a fat cock in his mouth and one in his ass is a precious sight. Thomas is talking dirty to him as Chaz fucks him hard.
These three end up in a hot sandwich fuck with Thomas fucking Randy while Randy fucks Chaz. The noise is intense as Randy screams and moans, Chaz moans and screams and Thomas talks dirty to them both. There's no doubt there was some pain mixed in with all this pleasure tonight as DJ captures it all. This is some of the most intense fucking I've ever seen. I bet you could hear it all the way out on the beach!
Chaz is the cum dumpster at the grand finale to this hot scene. Randy and Thomas blow their hot loads all over him before he lands his own hot load on himself. The three go for a nice kiss and DJ closes out the scene. This is one hot scene.
---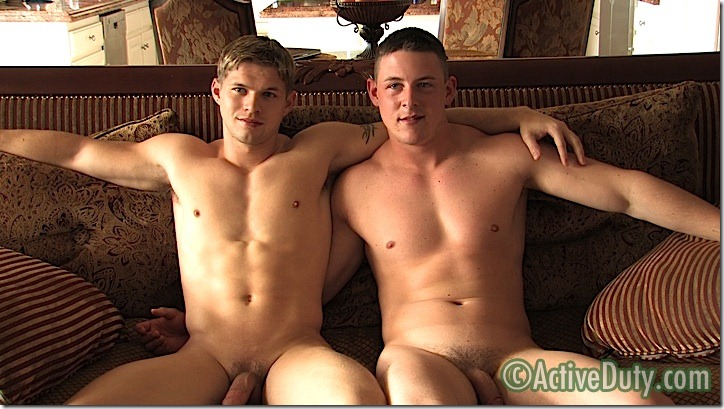 Kaden and Conrad have done a scene together with other guys, but never alone. This scene kicks off fast and with just a little teasing of Conrad from Dink before he leaves them alone to get down to business. Conrad wastes no time getting up close and personal with Kaden as he moves in and immediately starts kissing him. They are rubbing and feeling on each other just like that. They caress one anothers bodies and check each other out. Kaden is the first to reach in for Conrad's cock and pull it out. Kaden wastes no time in going down for a taste of that large beautiful dick. Watching him work Conrad's cock up from soft to hard is a hot sight. Conrad just kicks back and enjoys the help as he rubs all over Kaden's gorgeous body. Kaden worships the thick meat like only Kaden can. Watching Kaden make love to a dick with his hot mouth is something else. He's got Conrad at full attention in no time at all and Conrad goes down to get a taste of Kaden.
Conrad goes down on Kaden who is only half hard and in no time at all, Conrad's skills have Kaden's cock rock hard and ready to go. Conrad makes love to Kaden's cock, too. He's licking the shaft and sucking it fast and hard as Kaden throws his head back and enjoys the feel of Conrad's tongue all over his hard meat. He moves around and kisses Kaden's thigh and lower belly and then goes back to sucking again. He's enjoying Kaden's beautiful body and who can blame him? Kaden slowly fucks his face off and on as Conrad keeps the pace. It's great watching these two beauties enjoy one another. Dink gets some great angles and while you watch Conrad suck Kaden's cock, you get to watch Kaden spread his ass cheeks and play with his hole while Conrad sucks him.
Kaden finds his way down on his knees in front of Conrad again and latches on to that monster dick and takes it for another spin. You can see how huge Conrad's dick is from this angle and Kaden is having himself a ball as he worships it with his hot mouth. Kaden reaches down and plays with Conrad's ass and balls while he services his cock fast, giving himself some help by using a good mixture of hand technique and mouth together. Conrad is using his foot to play with Kaden's hard cock as Kaden keeps sucking him. Hot to see that foot action as he moves it up and down Kaden's cock. Conrad raises his leg up to give Kaden easier access to his hot ass and Kaden takes the lead and puts his finger in Conrad's hole, fingering him while he sucks him good. Kaden bends him over to take a closer look at that nice ass as he sucks his cock and plays with his hole. He's spreading it open and massaging it while Conrad strokes his own hard cock.
After he's played with it and Conrad has jerked his hard meat while Kaden plays with his hole, it's time to take things to the next level. Kaden saddles up and gets behind Conrad to deliver a good fucking to his waiting ass. Kaden slides right into home base and Conrad starts moaning and groaning as Kaden bangs his ass harder and harder from behind. Kaden sits down on the couch and Conrad squats down on his hard dick and they go at it in this position for a bit as Conrad takes control and shoves Kaden's cock deep in his ass. Conrad's cock is hard as a rock and he's stroking himself hard while riding Kaden's dick faster and faster. Conrad says he's pre-cumming and he is. Watching him ride Kaden's dick while he strokes his own is really hot. Conrad is horny beyond words and he's ready to fuck Kaden's ass, so they switch.
In no time flat Conrad is inching his huge cock deeper and deeper into Kaden's tight hole. Before long he's long-stroking Kaden's ass and Kaden is giving off his signature grunts and moans. He's got a big dick up his ass and it's going in and out balls deep and he's gonna make sure you know it by the sounds he's making. The deep-dicking he's giving Kaden has him over the edge and he's ready to blow.
Conrad asks Kaden where he wants him to cum and Kaden says on his chest. He turns over and Conrad positions himself above Kaden and strokes out a huge load all over his chest and stomach. Kaden scoops up a handful and uses it to stroke his own hot load out.
---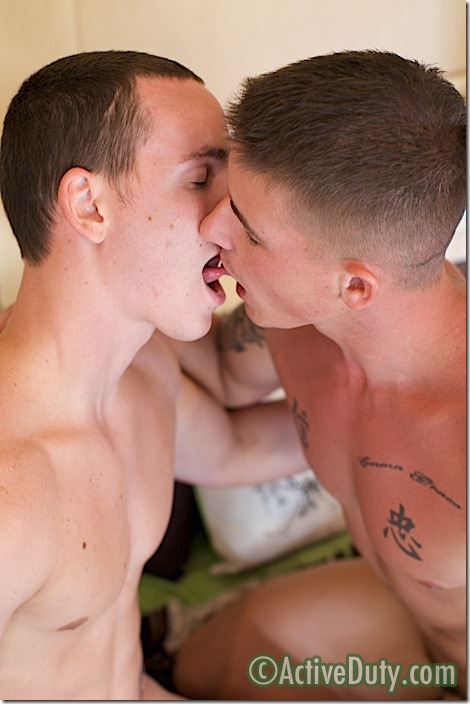 The second of the three pairings in Double Time 4, which is streaming for members this week, features the insanely hot Payne along with handsome Brian. As it turns out, this is only Payne's third hardcore scene and for Brian, it's only his fourth. These guys are so gorgeous. Payne has such a cute face, toned body, and nice big uncut cock. Brian is handsome with a toned tan body and a smile that could light up a room. Besides this hot new scene, which I'll describe in detail below, Active Duty is streaming 8 other full-length movies for members this week!
Things kick off with Dink chit-chatting with Payne about how he uses him for a place to come get off. He admits it without shame and Dink tells him that he's just jealous. Payne is one of Dink's personal favorites. That impish little grin and that tight, compact body with that gorgeous uncut cock attached to it makes for the complete package. There's just something about him that gets my motor running. Dink asks him what he thinks of Brian (before Brian joins them) and Payne gives his approval. Who wouldn't? Brian is adorable. Anyone in their right mind would fuck either one of these guys, but now they get to have each other.
As soon as Brian comes into the pool house, Payne is all over him. From the minute he lays down Payne starts rubbing his chest and feeling him up. Payne isn't shy. He's ready to get down. Brian moves in and starts sucking and licking Payne's nipples as he plays with his own hard cock and Payne jerks himself. Brian moves up to get a kiss and Payne returns it with his tongue deep in Brian's mouth. Their tongues intertwine and they taste each other. Brian moves quickly down to that uncut beauty and has it in his mouth quicker than you can say "foreskin." This is the first time Brian has sucked an uncut dick and he seems to be liking it just fine. He takes it all the way down his throat to the balls. Payne gives a look of surprise at first but then he gets lost in the feeling. Brian doesn't stop with one deep-throating, he keeps going over and over and mastering the art of deep-throating as he goes. I've never seen him worship a dick quite like this. Payne's cock must taste as good as it looks because Brian sure seems to be enjoying the taste. Watching him make love to that beautiful piece of meat will make you jealous. I'm not sure if you'll be jealous of Brian because Payne's cock is so beautiful and tasty looking or if you'll be jealous of Payne because Brian is so clearly into his cock, but either way you're gonna' wish you were there.
Payne must be very hungry today because when he gets Brian's cock in his mouth he really gets into it. After the head he just got from Brian I guess he feels like he really owes him something special and he's giving it to him right from the start. Payne's hard cock rests against his leg and bounces with his heartbeat. It's so hot to watch as he worships Brian's hard cock and Brian enjoys it immensely. These two are the perfect union. Payne tries hard to return the deep-throating favor and comes up on his hands and knees to better service Brian. Brian reaches beneath Payne and jerks his hard dick while Payne sucks him with wild abandon. Payne sucks Brian's balls and starts playing with his ass.
Payne gets Brian on his hands and knees and starts fingering his ass, getting it ready for that nice uncut cock that's about to go exploring deep inside it. Payne strokes his own hard cock while he shoves his middle finger knuckle deep in Brian's tight hole. Brian's pink ass ring is tightly squeezing around Payne's middle knuckle as Payne rolls it around in circles you can see how tight that is as it puckers close to Payne's knuckle. Hot, hot, hot.
Payne does the famous "donkey style" and comes up flat on his feet, squatting down to ram his huge, fat meat deep in Brian's waiting tight pucker. He descends rapidly, going in quick. Brian reaches back and spreads his ass cheeks as far apart as he can to give Payne plenty of room to work with as he plows Brian's tight hole, harder and harder, opening it up wider and wider. Payne stuffs his fat meat deeper and deeper until he's balls deep. Payne isn't giving Brian any mercy and I was totally breathless at this point. But what happened next nearly sent me completely over the edge. Dink tells Payne to come all the way out and go back in and he does and watching Brian's asshole as it is gaped open is a sight to see. Payne repeats this several times and we see Brian's tight ass gaping, fully open and ready. He keeps fucking Brian for a good long while, balls deep and banging hard. He can't hold out any longer and he blows a huge load all over Brian's back and what a huge load it is! It runs all the way down the middle of Brian's back. Payne pulls Brian back onto him as Brian grabs his huge, hard cock and jerks out his own fat load all over his stomach. They go in for another really hot kiss and it's fade to black.
---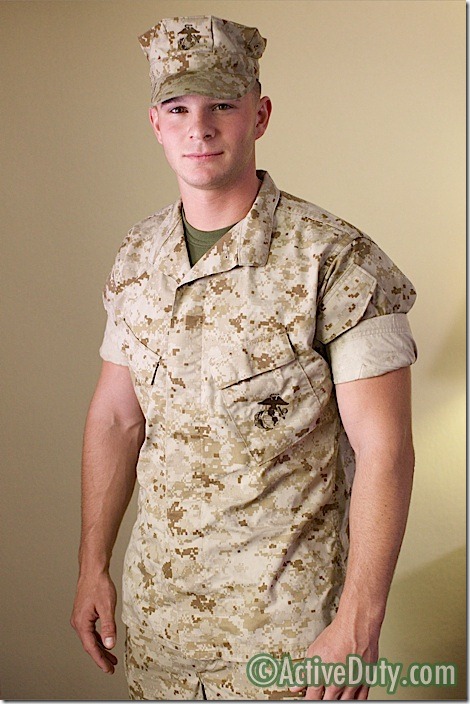 Jameson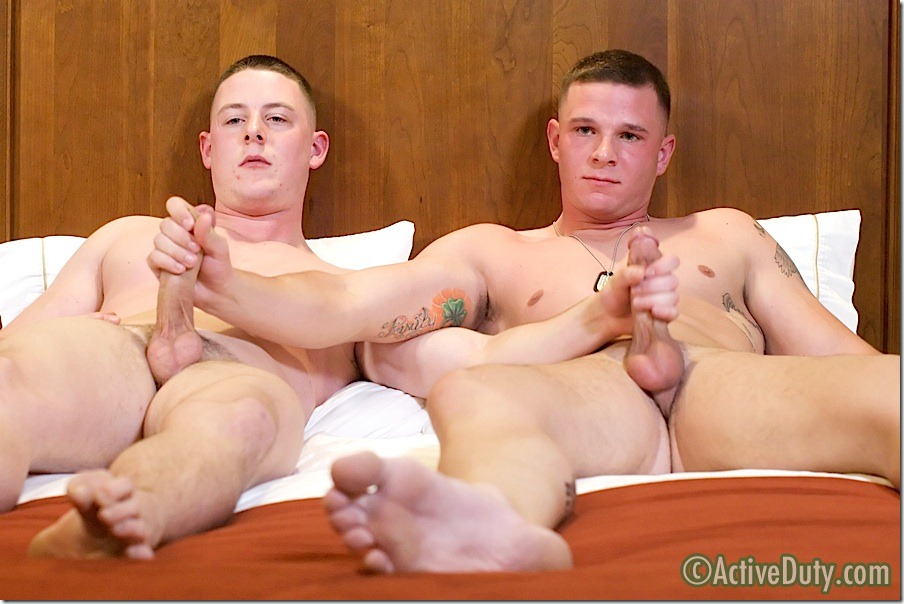 Dink was able to talk Jameson into doing a side-by-side jack-off session and getting his cock sucked and jerking Conrad's cock. He was all down for that, but it was Conrad who took things to the next level and got Jameson comfortable enough to do even more. They set this scene up with a little fantasy in the beginning that I think you'll enjoy, but Conrad soon ditches the script and takes things in a whole new direction and lucky for us, Jameson follows his lead and what ends up happening was much more than either Dink or Jameson expected. As you'll see in their scene in the Videos Of The Week, these two got very well acquainted and Jameson came out of it ready for more. Just what the doctor ordered.
Things kick off with Jameson returning from a long run, he's sweaty and needs to use the shower, but Conrad is in the bathroom shaving. He tells Conrad to hurry he has a date tonight with some chick he's met on the Internet. When Conrad continues to take his sweet ol' time, Jameson jumps in the shower and they shoot the shit and Conrad sneaks a few peeks at Jameson's jewels as he showers. Conrad uses the excuse of needing to trim his pubes a little more and joins Jameson in the shower for a bit. He tells Jameson that since he doesn't have a date lined up that he's gonna go rub one out.
Conrad is on the bed stroking his huge cock when Jameson comes into the room and says his date canceled. Jameson sits on the bed next to him. They start shooting the shit and Conrad asks Jameson if he's ever jacked off with another guy. Jameson lies at first and says no. But once he gets on the bed with Conrad he confesses to the circle jerk he did with his buddies the first day Dink met him and another double jerk-off he did with his buddy Riley for Active Duty. They're both stroking and Conrad starts in with the questions. Conrad wants to know if Jameson has ever had a guy suck his cock and confesses to Jameson that he has. Jameson says no, but he's down to give it a try. He asks Conrad how many times he's done it and they go back and forth breaking the ice.
Conrad slowly moves in for his planned attack and starts rubbing on Jameson's leg. He grabs on to Jameson's rock hard cock and starts stroking it. Jameson surprisingly reaches over right away and grabs Conrad's cock too. They stroke each other for a bit and Conrad finally moves in and takes Jameson's nice cock in his mouth. Jameson's balls are tight and his cock is raging hard as Conrad takes it in his mouth and shows him how it feels to get his cock sucked by a guy. Jameson throws his head back and a look of satisfaction covers his face as Conrad sucks him nice and slow. Before long, he's so into it that he's guiding Conrad's head with his hand.
Conrad comes off Jameson's cock and looks at him and chuckles a little and says, "You need to return the favor, bro." Conrad wasn't playing, he wanted Jameson to suck his cock in return. And why not? Only fair right? You can see Jameson's mind going a hundred miles an hour as he cuts a few glances over at Conrad's hard cock. Conrad is telling him it's no big deal. He tells Jameson that he'll suck him some more if Jameson will return the favor afterwards.
---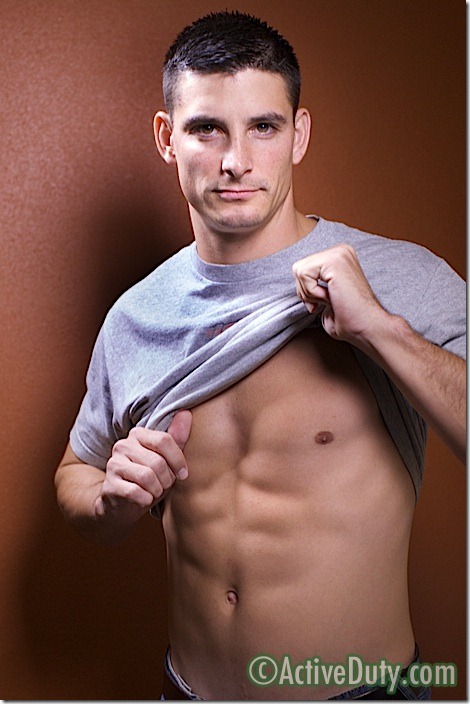 Dallas is 28 years old, 5′ 9″ and weighs about 180 lbs. He loves the outdoors and likes to hike and loves the water since he grew up in Florida. Dallas wrestled in high school, played football, played tennis and was in three different types of martial arts. Dallas has been to Iraq and has a background in videography himself. For fun he likes to have all the sex he can, go to the lake and play beer pong. Aside from his beautiful face, gorgeous eyes and near perfect body, Dallas has a most impressive set of low-hangers. And don't even get me started on his pretty bubble butt! It's to die for. It took my breath away to watch Dallas stroke his ample meat and massage his gigantic balls until he shot a thick load in frenzy all over his rock hard abs.
---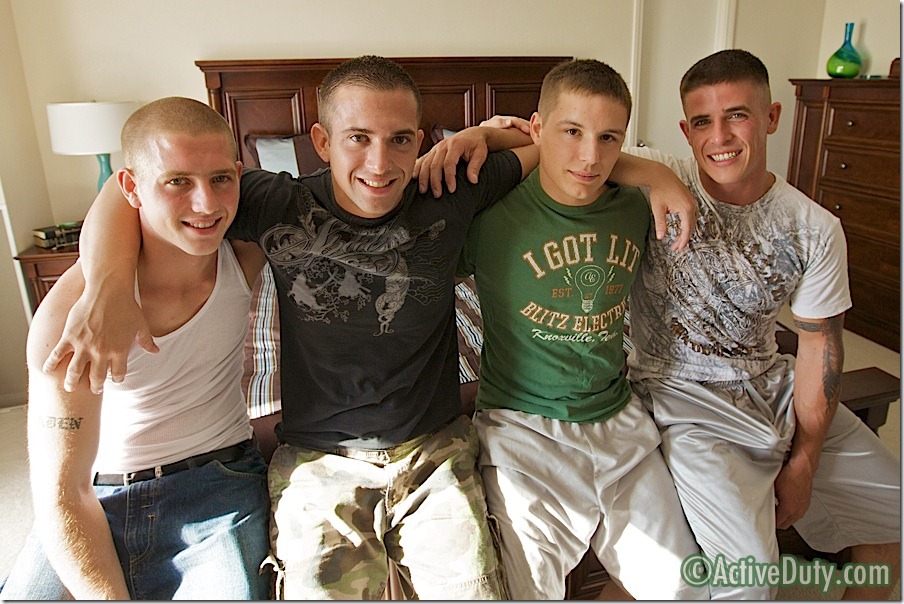 In this hot foursome, Brian, Kasey, Randy and Damien were teamed up for some exceptionally hot sucking and fucking with lots of switches! It started with Brian on the bed showing off that gorgeous smile spread across his face and his hard cock in his hand. Kasey eased up beside him with an equally big smile across his face and a nice hard-on to boot. These two looked hot as fire and things really ignited.
Kasey was snugly fit between Brian and Randy. Kasey gave Randy a little shit about the gay-go-juice incident from Summer Recruits 2. The boys did their usual joking and laughing and all in good-natured fun. Dink told them that he was leaving them to figure out who was gonna do who and what was gonna get done. Randy didn?t waste any time once Dink was gone. Randy moved in close to Damien and started rubbing his leg, then slowly moved up and embraced in a hot kiss. So cute. Randy's huge cock bounced with each beat of his heart as Kasey and Brian followed his lead and embraced in their own hot kiss-so cute.
All the cocks were rock hard and the Pullin' Rank 2 action was underway. Kasey was the first to go down for a taste of cock as he took Brian's nice hard dick in his mouth and aimed his perfect bubble butt in the air for all to admire. Damien couldn?t let go of Randy's huge cock as he stroked it while they kissed. I could tell Damien had other things on his mind. Damien couldn't resist the temptation and found his way down to Randy?s monster and took it in his mouth. Damien and Kasey were taking good care of their partners as they serviced their cocks with expert attention to detail. Randy already looked like he could blow his load anytime so he edged himself and waited.
Randy decided to get a little rowdy and started face fucking Damien who took the huge cock down his throat like a champ. Randy pushed Damien's head down further and further, and made Damien gag on his cock. Meanwhile, Kasey moved up and got his cock wet in Brian's mouth as he reached back and stroked Brian's hard cock. All of the throat fucking that Randy dished out to Damien got Damien really wet and horny as hell. Damien positioned himself and took Randy's cock. Randy moved in behind and filled Damien?s hole full of his huge meat. Randy slid his huge cock deep in Damien's ass and it was off to the races. He fucked Damien fast and hard. Randy stood up on the bed and did his famous "donkey" as he drilled down into Damien's hungry hole. He banged Damien's brains out and Damien loved every second of it. Meanwhile, Kasey and Brian fucked Damien's face while he got his ass plowed. Randy asked Damien if he was ready for the next dick and Damien said, "Hell yeah, where's it at?" Brian came in and took the reins from Randy and kept the pace going on Damien's ass.
They were in the groove with Brian fucking Damien, Damien sucking Randy and Randy sucking Kasey. Then, Kasey got his turn at Damien's ass while the rest of the boys linked up mouths, hands and dicks. Kasey was the next to get fucked and Brian did the honors on his ass. Brian saddled up and moved in as he eased his hard cock slowly into Kasey's tight hole. Then Kasey flipped over onto his back and a few short thrust later, he's came onto his stomach. It's always awesome to see a guy shoot his load while getting fucked!
For the finale, Brian submitted to, oh boy, Randy's beer can-thick cock. I wasn?t sure if Brian knew what hit him, because of his pained wails. But he was a trooper, and continued to get plowed by Randy until the end. Soon, everyone had shot their load on Brian's chest (including a second one from Kasey!) and the boys called it a day. Whew!
---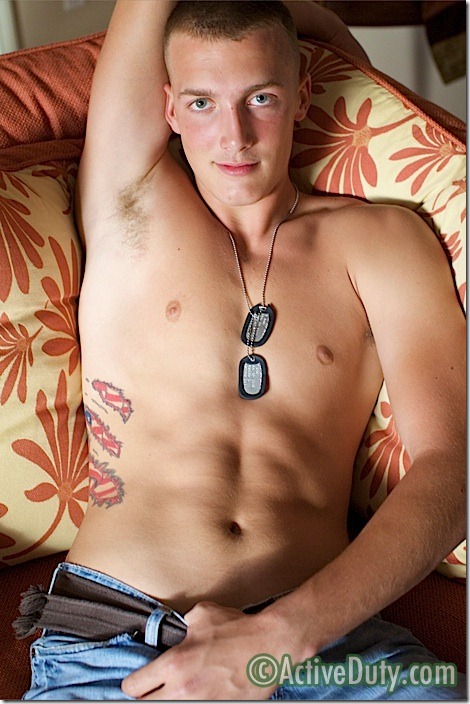 Austin is one fine hunk of a Marine. Things started off like always with an initial solo jack off video and Austin was primed and ready to go. He start talking about the biggest load he's ever shot right after he finished boot camp. He hadn't jerked off the entire time so he was more than ready. He says that load probably could've filled up a lube bottle. He says he jacks off at least once a day. He's been in the Marines for about a year and a half. Austin said that the only time he ever did anything with another guy was when he got a blowjob. He then tells us a little about what he'd be interested in doing with another guy. Austin gives us lots and lots of nice ass play and shows us what he's got to offer. I think you'll agree that he's got everything it takes and more. The way he shows off that perfect ass is amazing. If you're not drooling by the time he's done, don't worry, I've drooled enough for us both.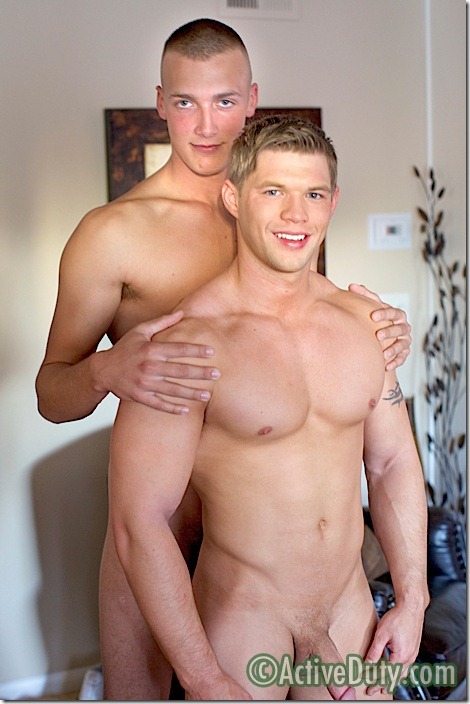 Austin is a beautiful Marine with a baby face and pretty blue eyes. Pairing him up with the ultimate pretty boy Kaden was a match made in porn heaven. They start some really passionate kissing and begin their journey that'll lead them to some really hot sex. Kaden is the first to go down on Austin's cock and what a nice cock it is. After Kaden has tasted Austin's perfect cock, Austin goes down for his own taste of Kaden's. Austin reaches back and spreads Kaden's cheeks to reveal his nice pink hole and rubs the head of his cock all over the precious pucker. Austin saddles up and Kaden begins the ride. After a nice long fucking Kaden is ready to return the favor and Austin is all smiles as he throws his legs in the air and plays with his hot hole. Kaden discovers that Austin's ass is very tight and it takes a little work to get inside him at first. Austin strokes his hard cock while Kaden pounds his sweet ass. He can't hold back any longer and shoots a huge load all over his chest. This gets Kaden excited and he starts banging him harder and faster, working up his own explosive load and landing it right in with Austin's. They go for another hot kiss and you can tell Austin is in heaven.
---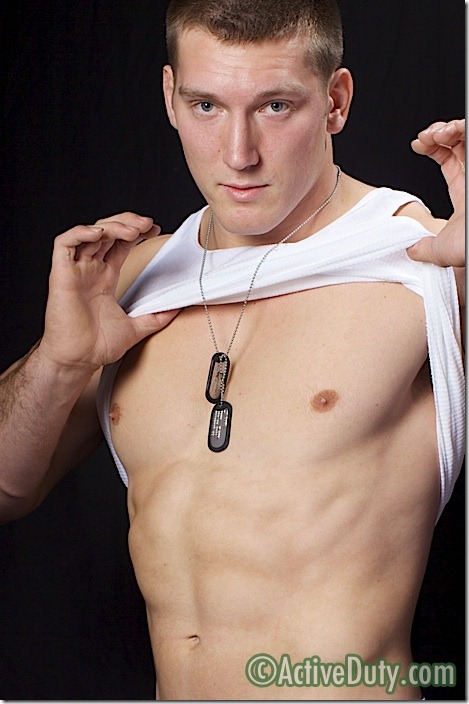 Maxx is a really nice guy and built like a brick shithouse. He's 20-years old, stands 6′ tall and weighs about 230 pounds. He works out everyday religiously for two to three hours and you can tell. He says his hobbies are hanging out with friends, going to the beach and soon he'll add bar hopping to that list. He pulls his nice hard cock out of his white boxers and starts slowly stroking it. When he pulls off his wife beater he reveals some of the most gorgeous nipples.  The boxers come off quickly after the shirt and we've got this hunk of muscle all naked and to ourselves. Next we are treated to a nice viewing of that hot bubble butt and Maxx isn't shy about showing it off at all. He arches the back and gets right into it. All that muscle is arched into a perfect picture. There are some nice close-ups of that nice hairy hole as Maxx allows total access, looking at the camera with a "come fuck me" look on that sexy mug of his. Once he's allowed us to drool over his gorgeous muscles, he pops a really nice load for us. But the best part was the shower scene after the jack-off session. Watching his beefy body glisten in the water is something else. This guy is hotter than a firecracker and you're going to want to savor every last inch of him.
---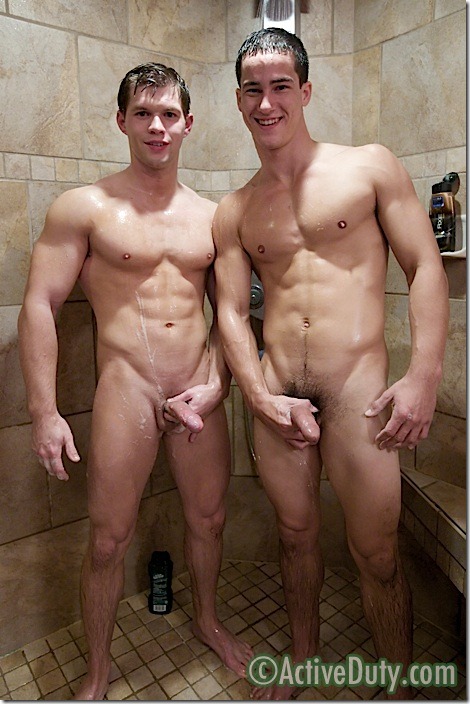 Cash is a dark haired, black-eyed stallion with flawless olive skin and Kaden a fair-haired, bright-eyed answer to all our fantasies. They are a dream come true for anyone watching. These two country boys hit it off right away. They start things off in the shower. Cash is in the shower alone at first and watching this man's beautiful body glisten in the water is like… well it's damn hot that's what. Kaden comes in, gives Cash a quick once over, drops his shorts at the edge of the shower and asks Cash if it's okay to join him. Cash is happy to have company. The two of them enjoy feeling each other as they get all lathered up. The cocks are hard in no time and soon the action begins to take another turn. Cash is the first to drop to his knees and begin sucking Kaden's cock. Cash loves sucking a cock and it shows between his legs. Cash's cock is hard as a rock as he strokes it fast while he devours Kaden's dick. Now this is a blowjob, and man what a hot one.
They switch up and Kaden goes down on Cash as Cash sits back on the shower bench. His cock is rock hard from Kaden's hot mouth. He's moaning as Kaden rocks his world with his own rendition of the perfect hummer. Meanwhile, Cash reaches around and grabs Kaden's hard cock and strokes it. This is really hot. Cash wants to make sure his partner is having as much fun as he is.
They ditch the shower and Kaden rests on the ledge of the tub to get his return favor. Cash is back at it like a pro in heat and it wasn't long before Kaden said, "So, you never been fucked before huh?" Cash grins and says, "Nah." Kaden responds with, "I think today's your day" and Cash says, "Let's do it." And they do! Kaden starts out by playing with Cash's ass, spreading his cheeks and hole open, it's a great view as he sticks a few fingers in to loosen him up. Kaden lubes him up really good and just goes for it. Cash naturally grunts a little and yells, "God damn it, God, God damn it" a few times but it ain't long before that cock is deep in his virgin ass and he starts moaning. It's obvious when it starts feeling good because you see his hand go down to his cock to play with himself. Kaden gets deep inside Cash's ass and fucks him hard and fast. Cash learns the value of arching his back and the great feeling that can come along with it.
Things take a turn and Cash gets to fuck Kaden's ass. The position they take is so hot. Kaden sits on Cash's cock as Cash leans back on the ledge of the tub. Kaden's hard cock is bouncing up and down as he rides Cash's hard dick. Cash reaches around and strokes the very bottom of the shaft of his cock and balls while he pounds in and out of Kaden's hole. You can tell by his nuts that his dick is having fun as they draw closer and closer into him. Kaden's cock is rock hard and Cash's cock is the perfect fit. It's clear how much Kaden's enjoying the fuck as he only has to stroke his cock every so often to keep it raging hard. He rides Cash hard and fast, working his cock harder with each thrust, slapping it on his lower abs until he works himself up to a really explosive orgasm. He shoots a huge load. Cash then tells Kaden to let him cum on his ass and Kaden bends over and arches his back for Cash to blow his nut all over. To end it all, were the hot ending kisses. Kaden eases Cash into it and steals not one, but two kisses from him.