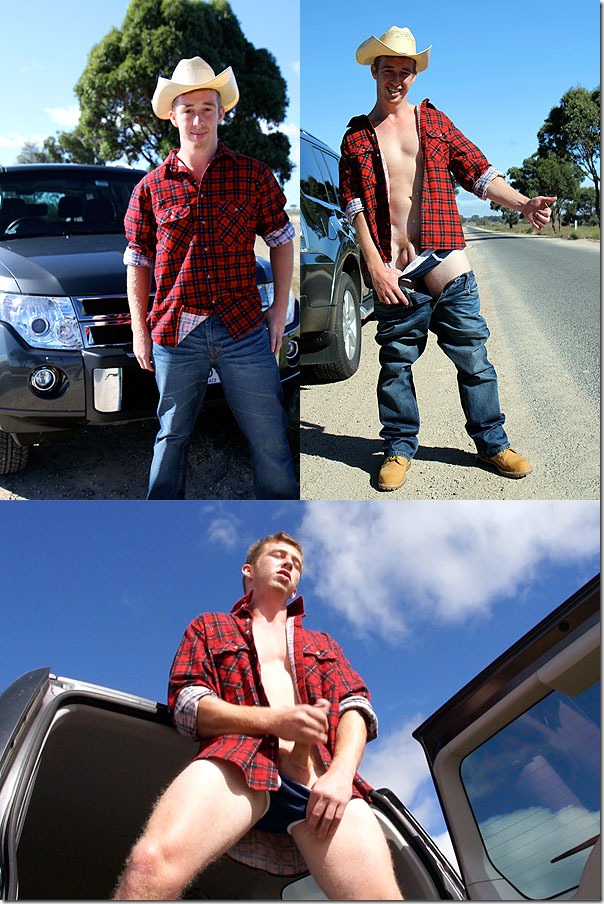 I want you to meet country boy Ryan Geary.   I met Ryan for the first time a while back when he started writing to me about the site.   We finally got to meet when he came in to the city last month to visit his cousin.    I love Aussie guys from the country.   They are always more ruggered than city boys and usually have a deep Australian accent.   Since we've had such perfect weather lately we took a trip out in to country Victoria in search of some good locations for future shoots.   We found a great spot at a place called Bacchus Marsh along a long strip of road with little traffic.   Ryan jumped out and posed for me while I grabbed a bunch of shots.   He was getting visibly excited by the whole idea of getting naked outside, so we also made a video of him jerking off on the back of the car.   The look of concentration on his face was so hot when he was about to blow.   And when he did he shot every everywhere!   It wasn't until later that I realized we were parked at the end of the runway to a small regional airport.   That now explains all the small planes flying about.   I hope they got a good show from my mate Ryan
---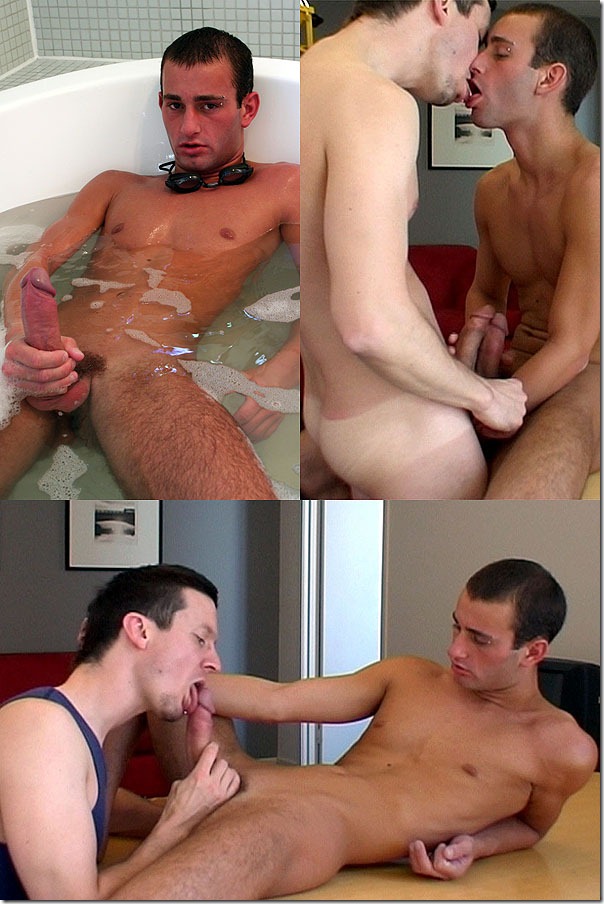 My mate Mitch from Sydney is so much fun to shoot with.  When we first met we made this scene together in an apartment with this big hot tub.   I couldn't pass up the opportunity to jump into a soapy tub with this big dicked hottie when we had finished the photo session.    Mitch was actually quite nervous since it was his first time meeting me and first time making a porn film.   Mitch loves muscly guys and big dicks and ended up getting off by sucking my cock after we jumped out of the tub.    He has since starred in at least 10 scenes on BentleyRace and we have become really good mates.  He quickly became popular with the members because of his big rocket shaped cock and his playfulness in the videos.     I'm hoping to get back to Sydney soon to see Mitch again and make some more scenes with Mitch and some new guys up there.   I love Sydney boys!
---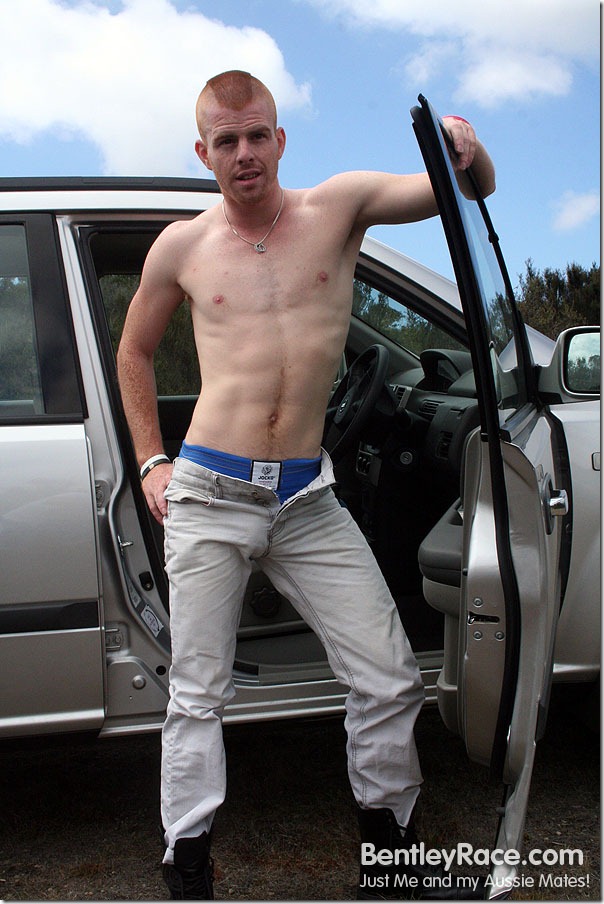 One of my favorite mates to hang out and shoot dirty videos with is Leon Hardie.   We met a few years ago in Sydney when we hooked up in a hotel there.   Later he came to visit me in Melbourne and I took a roadtrip around Victoria.  Mostly to spend some time down at the surf coast.    Along the way we stopped off the road to get some shots of Leon posing in his jockstrap around the car.  And since he was stripped down and sporting a hard on I grabbed the video camera and filmed him fingering himself while he jerked off in the back of the car.   He told me later that he was mostly turned on by the cars passing by on the highway just a few meters away from where we stopped.
Leon Hardie filmed his first porn video in 2006 with BentleyRace.   Since then he has starred in a stack of hot scenes for hot porn companies around the world.   I'm really proud to see another Aussie becoming popular around the world.
---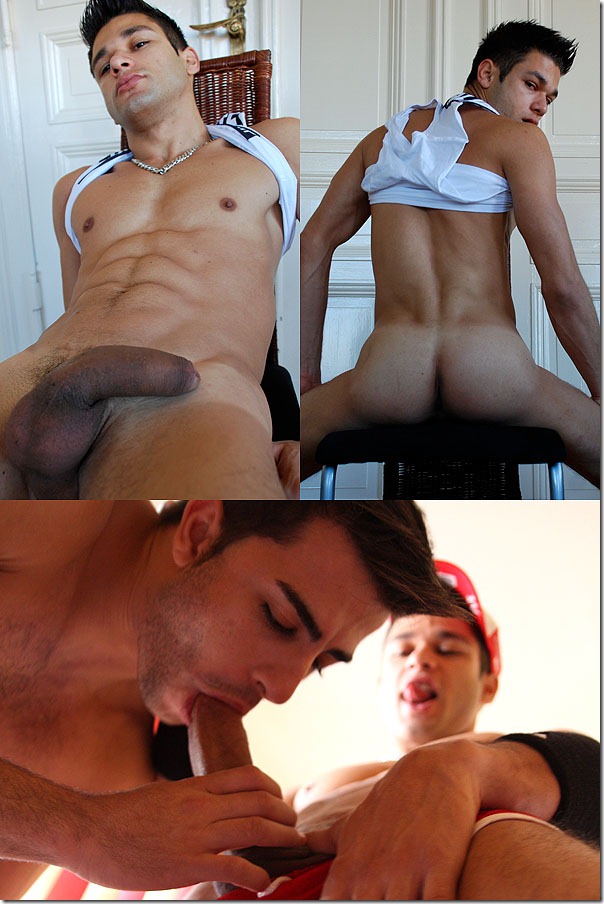 When I met Fernando Kairon in Berlin I didn't know that it was his first shoot and he was quite nervous.   Zac was taking these photos in our hotel room while I was next door with his mate Harry.   Zac told me that Fernando became much more comfortable when it was just the two of them together and Fernando had stripped right down.   Occasionally they would stop and Zac would suck his cock to help him stay hard during the shoot.   Afterwards Fernando came over and helped Harry out during his video shoot.    He was still sporting a hard on long after he had shot a load and his video scene was over.   Now I only wish I could bring Fernando home to Australia with me.   My mates would love him!
---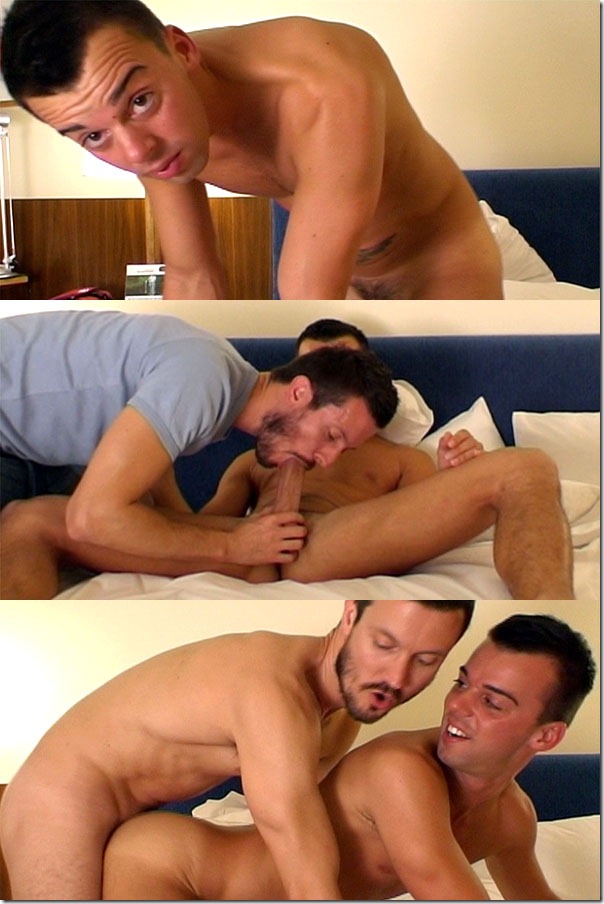 No one likes getting fucked more than my mate Mikele.   I met Mikele in Sydney a few years ago.  We have been on and off fuck buddies since then.   I love teasing his hole before I climb on and fucking him like crazy.   I just watched this video again and remembered just how really hot this session was.   I was stuck in a hotel in the suburbs outside of Sydney so Mikele dropped over to have a beer with me.   Since the hotel bar was closed we headed back to my room and emptied the mini bar.   You have to check out this video where my Italian mate backs up on my cock and rides it until he is shooting his cum all over my chest.   Aren't fuck buddies the best!   You're gonna love Mikele.
---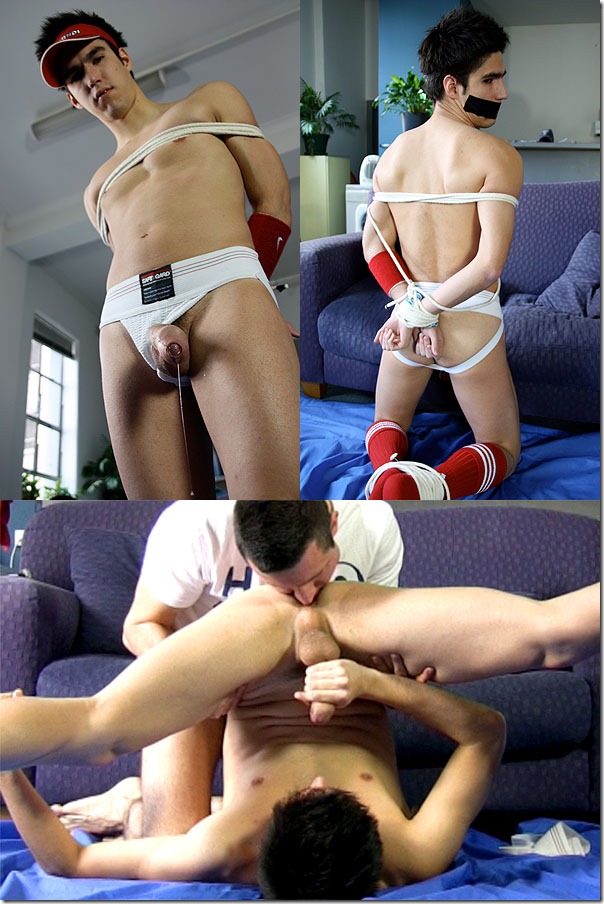 I'm pretty excited to tell you about today's scene with my mate Robbie Price.   When sexy Robbie dropped around to my place for a photo session I asked him if he would like to try anything new out.   He told me that he'd like to be tied up.   Great!!  It had been ages since I'd tied anyone up so I found the ropes from one of the previous shoots and started tying his legs together.   The first thing I noticed about Robbie as he stood up was that his thick erect cock was already oozing lots of precum through his jockstrap.   I absolutely love precum, and Robbie was running like a tap!   While he was completely bound and gagged it gave me a chance to tease him a a little.   And when I did eventually pull his cock out I got soaked in his precum.
After playing while Robbie for a while I let him free so we could play around a bit more with the video running.   Eventually Robbie turn over on his back so I could lick his arse hole while he jacked a huge load of cum into his own face!   This is one really hot video that you can't miss.   Robbie is extremely hot to watch as he fingers his own hole and jerks his oversized twink cock.
---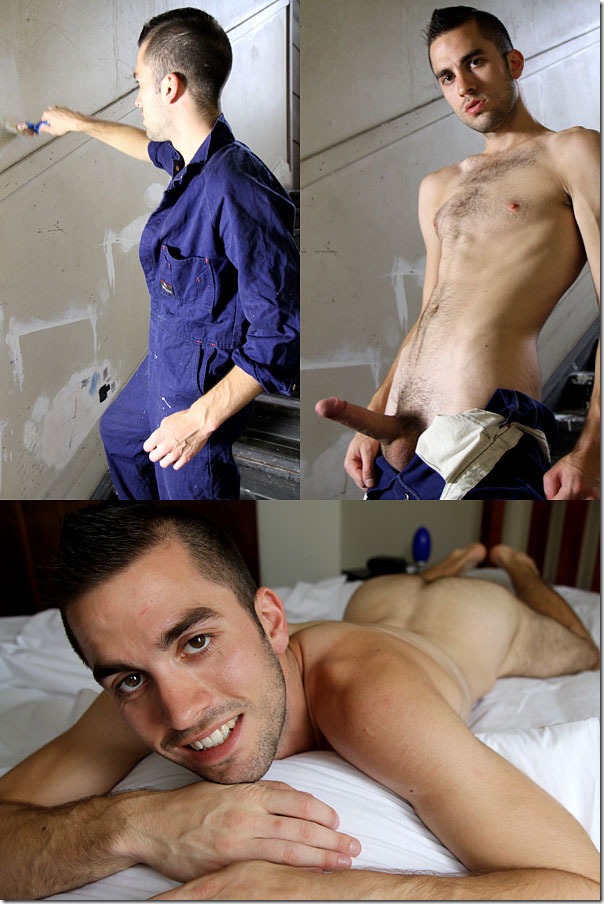 Meet my new mate TJ Nelson.  TJ is one of the many workers doing maintenance on my building at the moment.   I had met him a couple of times as they often asked to use the bathroom.   When the other guys had left I got talking to TJ about my photography and website.   He was really interested and surprised me when he offered to model.    It was at the end of his shift on the next day that TJ came in and stripped out of his overalls.   He told me that the boss made them wear these overalls, even in summer.   So he usually wears nothing underneath them when it's so hot.    I took some photos of him getting naked out where the guys were working as well as some inside my apartment.    I totally love skinny guys with big dicks and I think TJ is absolutely perfect!
---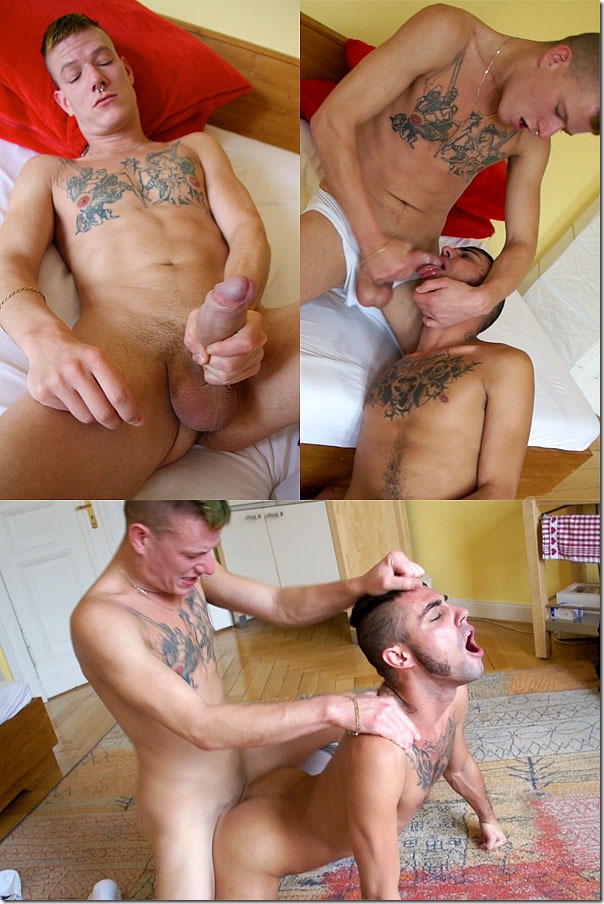 On our last day in Berlin my mate Zac had invited a couple of guys around to our hotel for one more shoot before we left.   Darec Bauer and Ivan Rivera turned up after spending the night out clubbing and told us they were ready to get off before heading home.   I was starting to film a solo scene with Darec as he worked his fat cock when Ivan returned from the other room and jumped in on Darec's scene.   I had no idea what was going to happen next.   These guys really got into each other with Ivan slurping down Darec's thick cock.    I had no idea they were going to get into some raw fucking action as the guys took turns at pounding each other.    And occasionally Ivan would go to the other side of the room to tease Darec by showing off his ass hole.   And then Darec would go over and fuck it.  You gotta watch this video…  it's really hot.    Darec finishes the scene by delivering a hot load to Ivan's ass.    Nice work boys!   You can now go home and get some sleep.
---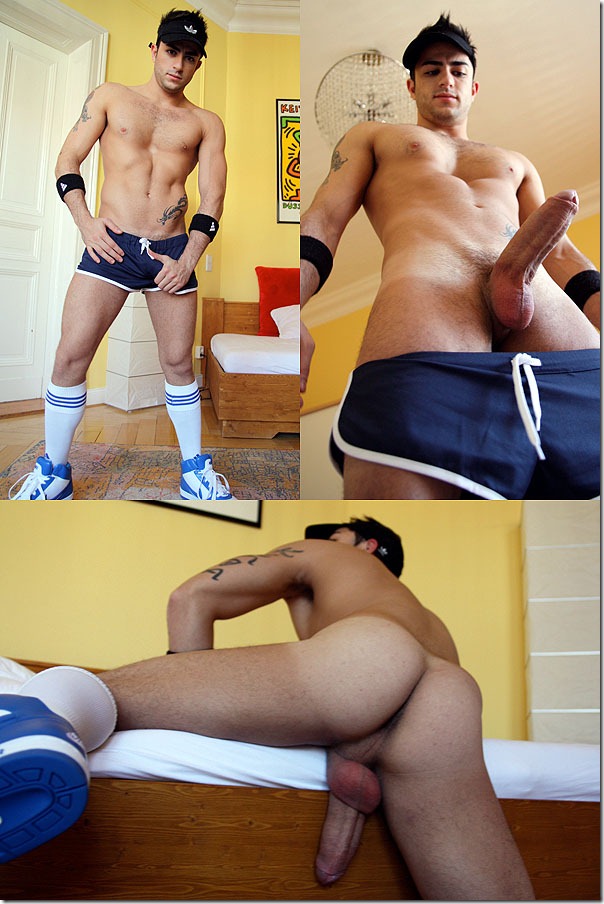 I'm really excited to bring you the scene I shot with porn star Harry Louis late last year in Europe.   I met some pretty hot and hung guys while I was over there.   But meeting Harry had to be one of the best days of my vacation there.    Harry is a super sweet guy and we had lots of fun making these photos and a really hot video.    I had just one video camera with me and it was being used by my mate Zac in the room next door.   So while we waited Harry and I fooled around a bit while we took these shots.  Once the video camera was free Harry pulled out his famous fat cock again and proceeded to jack off for me while I positioned myself on the floor below him.    Harry performed in this video while watching another one of our mates sucking my cock as I filmed, occasionally giving us directions.    He didn't tell me so I was really caught by surprise when that big dicked started spurting one of the longest cum shots I've ever seen!   I'm sure it went several metres past me!   There was cum all over me and the room.   Nice one Harry!    Let's do it again sometime.
---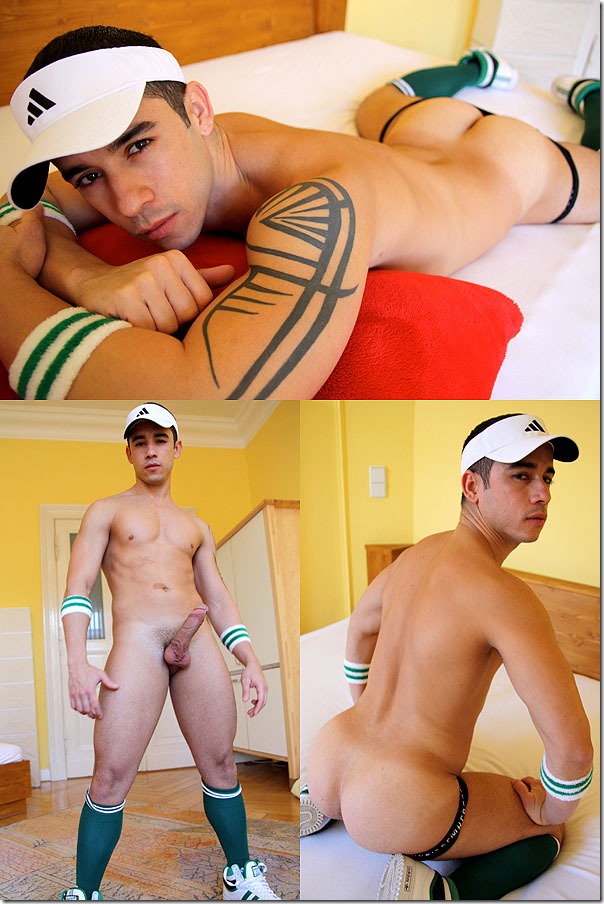 Seeing the photos and video from my shoot with Daniel Carrera in Berlin really makes me miss the big dicked boys in Europe.   I had met Daniel a couple of years ago and thought he looked pretty cute.   But then when I saw what he was hiding in his undies I was really impressed.   I love Daniel and his fat cock, and I was excited when I ran into him again during my vacation in Berlin.   Daniel was rock hard from the moment he arrived and was still hard after he had squirted a load of cum all over his belly while I filmed him.   He told me he had been out clubbing all night when we met up and was horny as all hell.   I could tell as he stripped down.   Now if only I could bring him home to Australia with me. 
Make sure you check out the video where Daniel loves to pull up his muscular legs to show you his tight little hole.