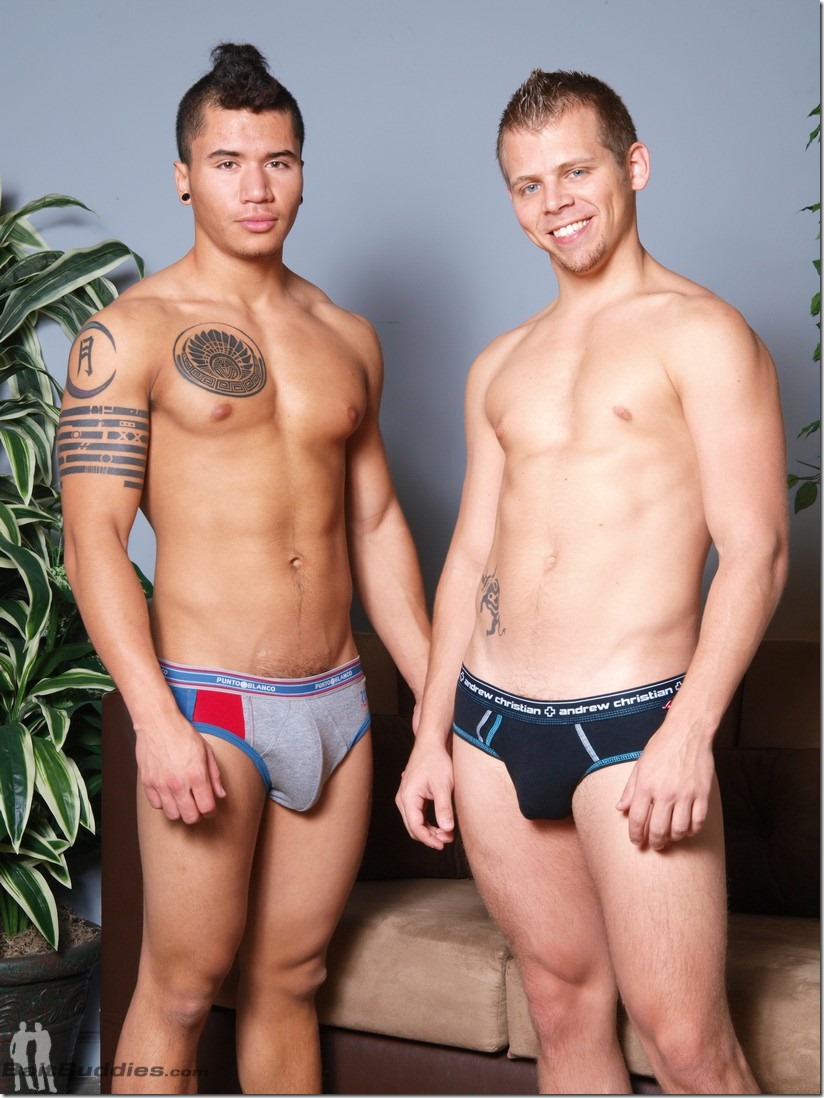 Straight: Dante Escobar Bait: Mike Rivers
"Eye Candy"
It`s all about "Eye Candy" this week. When you have two very hot, beautiful, athletic boys, one gay and one straight you know that sparks are gonna fly.   Mike Rivers, who has been a Bait Buddy before is 26, 5`8" and 160lbs of perfectly layered muscle that he`s developed over the years as he had worked to earn his current black belt status in Karate. He has the blond hair and blue eyes of the all American guy next door with an 8" beauty hanging between his legs. His soon to be sex mate is Dante Escobar, a straight outdoorsman who is a camping and paintball enthusiast. Dante is a hottie, he sports a Mohawk which complements his ethnic Nicaraguan and African American caramel colored skin. But that doesn`t even begin to describe what you get when this 19 year old stud takes off his clothes – a near perfect body – the muscular symmetry is so flawless it looks like it must`ve been computer generated. Just the right amount of ink and a thick 8" cock – he`s a shower and a grower – finishes off this well packaged eye candy. And he`s very nervous today, because he knows what he`s there for, his initiation into man-man sex. As nervous as Dante is, that`s how excited Mike is in anticipation of getting pounded by a gorgeous young hunk. Watch as these two boys go at it – it`s so hot that we bet you`ll blow your load first!
---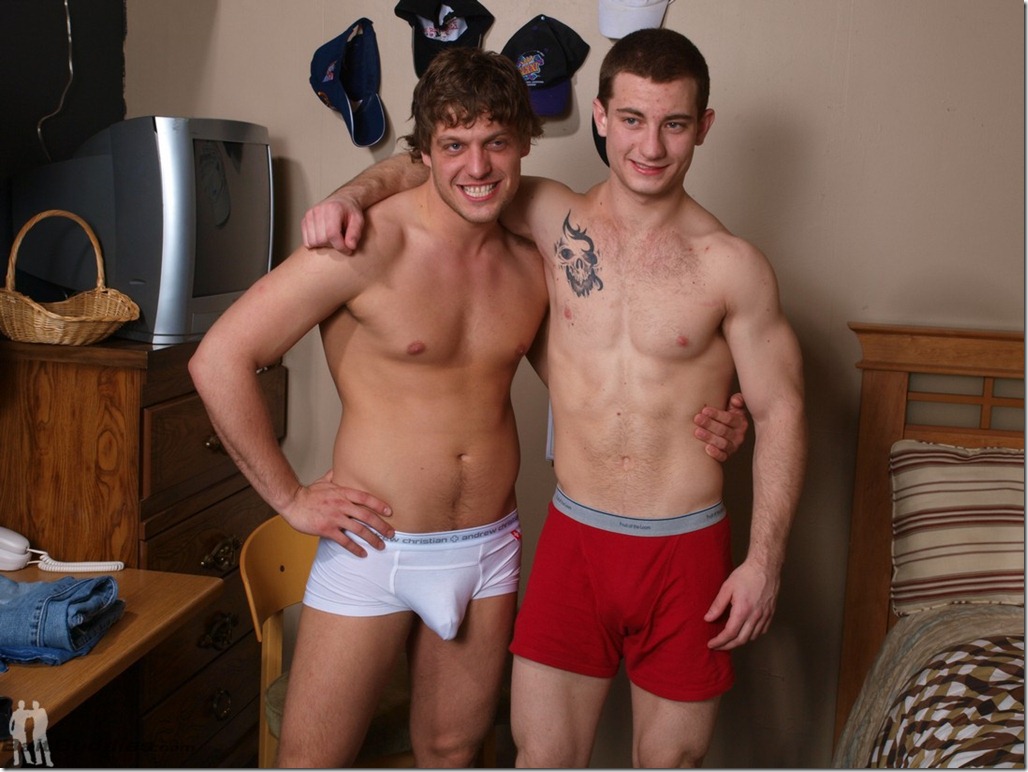 Straight: Eddie Blake Straight: Jake Taylor
"Dorm Dazed"
"Dazed" is the word in this video – it describes poor, nervous, disoriented Eddie who`s about to have his first gay sex experience with his straight buddy and college roommate, Jake, who also happens to be a Gay4Pay model who works for Robins & Caruso. These two dudes are tight – they do everything together – they share majors, they share meals, sports, clubs, girls – you name it. And, after today they`ll be sharing spit, dicks, butts and lots of cum!
Both dudes are total freshman jocks. Jake is as hot as they come. He`s got the cutest face with longish brown hair and a smile to die for. At 23 he`s 5`10" with 195lbs of hunky muscle and a beautiful, really hot, 7.5" cut cock. Eddie is only 19 with guy next door looks, but when he removes his clothes he`s anything but! This dude has the most amazing body – he`s totally ripped and everything is in perfect proportion from his toes to his nose including a sexy 7" cut cock which gets hard and stays hard from beginning to end.
When Eddie found out what his roomie was doing to pay for his books and extras he flipped. His straight roommate is blowing dudes and getting fucked while Eddie is breaking his neck stocking shelves at the local market. Although, being very straight laced himself, Eddie figured why the fuck not. Make what it takes him a week to make in that shit hole – in just a few hours. So, that`s how Robins & Caruso wound up in the dorms. Watch how nervous Eddie is kissing his roomie and eventually sucking his dick and then actually being in his hot roommates ass when he comes. He never even saw his roommate jack off or blow a load – now his dick can feel the pulsations as his buddy Jake blows a huge load all over his stomach and chest!
---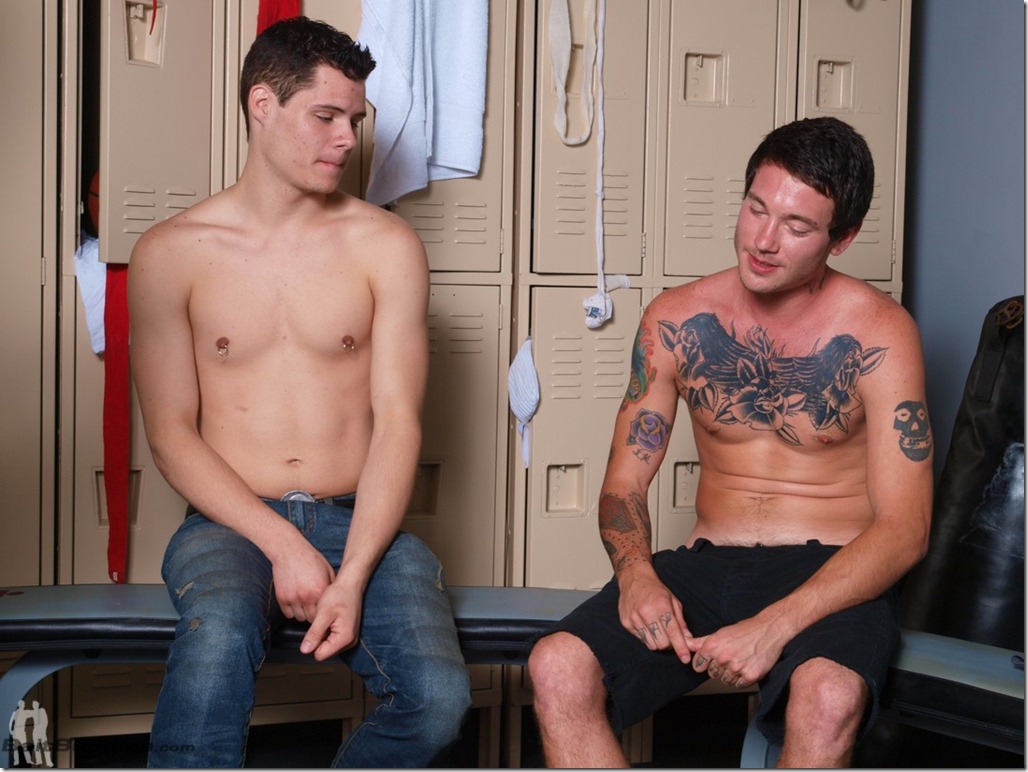 Straight: Bobby Lite Bait: Kody Valintine
"Golden Lips"
Kody Valintine, our Bait boy, is known for his "Golden Lips" which he describes as having the ability to "suck the chrome off an trailer". Robins and Caruso think he`s just the hottie to bust this episode`s straight guy`s gay cherry. Kody is a real cute dude. He`s 20, 6`2" with a naturally smooth, tight and well proportioned body which goes well with his 8" cock.  The straight subject of his oral attention this week is Bobby, a 26 year old, 6`, 165lb masculine stud who sports a big, thick 8" dick himself.  Bobby is here for the cash and knows he`s about to receive his first blow job from another dude – and he readily admits looking forward to it. He says most girls can`t do a good job because his cock is just too damn big. So, for the cash he`s willing to let Kody go down on his beautiful tool.
Both dudes strip down and we find that Bobby`s entire chest is covered with beautiful tattoo art which only makes him look more manly if that`s even possible. Bobby is now ready for the test, do guys give better head? There`s really not much more to talk about as his big cock is swallowed up by Kody. Bobby is hard in no time as Kody throat fills with all 8 thick inches of cock and that boy knows just what to do. He truly must have "Golden Lips" because before Bobby could say "I`m cumming!", we see a mouthful of thick white spunk flowing out from around the cock in his mouth. He let`s the still spurting cock out of his mouth for a couple of moments and then goes back in to suck the remaining drops of his prize right from the source.  Bobby is so taken aback by the experience he can`t talk and asks Robins for a few minutes to get his shit together. Bobby`s conclusion – "much better than any girl!" But, we already know that.
---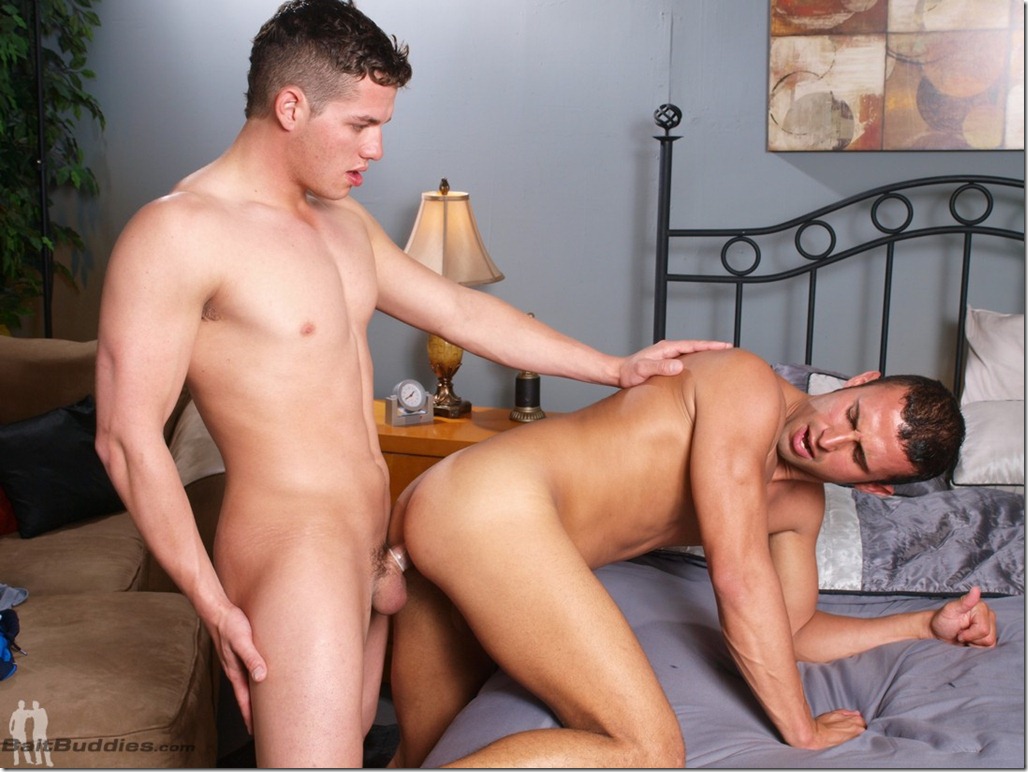 Straight: Diego Vena Bait: Hunter Ford
"It`s the real thing."
Our Latino straight guy, Diego, and his girlfriend have been fooling around lately with what some couples would consider kinky sex. She`s the aggressor and began using her own private time toys on his butthole – and hey – he said it wasn`t so bad. As a matter of fact Diego decided to take it to the next step at BaitBuddies.com. So, we matched up this hot blooded, well built hottie with Hunter, a pretty experienced bi-sexual stud. Hunter is a cowboy from Texas, he rides horse, hunts and all that good manly shit and knows how to use his 8" shooter real good. He`s hot looking, built and sexy with his hazel eyes, brown hair and great smile.
Caruso is in charge of this gig and starts the guys off with some kissing. Then a flip flop blow job ending with what Diego came for in the first place – a good butt fucking, a stud`s real 8" cock up his butt. And he really liked it-just watch the never ending smile on this boy`s face. After the video shoot was over, Caruso asked his preference – his girlfriend`s toys or Hunter`s cock – without any hesitation he answered "The real thing".
---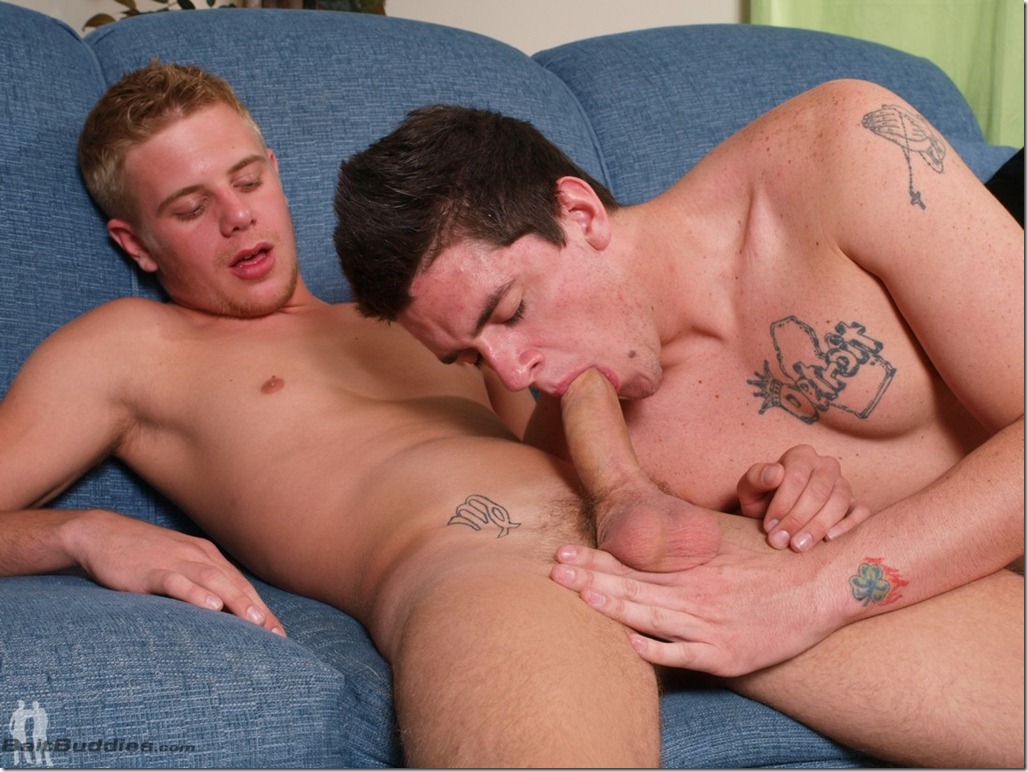 Straight: Liam O'Connor Bait: Chase
"Can you hear me now?"
Poor Chase, our blond, blue eyed 21 year old Bait boy with an 8" cock is a surfer and muscle car enthusiast who today can`t hear a fucking thing. He recently had an ear infection and his ears are temporarily clogged as they heal. Of course our director, Robins, can`t help but have some fun with him as he goes from a whisper to almost screaming at the poor kid. Chase takes it all in good spirit and anyway, he`s more interested in  getting his hands on some hot straight boy – something he`s a bit addicted to. And man is he in for a welcomed surprise, because our straight dude is a total stud. Liam is a first timer. He`s 20 and stands 6`4" with 190lbs on his very beefy frame. He has piercing green eyes, black hair, a great smile topped off with a perfect 8.5" cock. And apparently he knows how to use it – and gets his share of babes they way he tells it. He loves to hang out at clubs with his fake ID and pick up chicks as often as possible. This dude is as straight as they come!
Cut to the two guys on the couch in the studio. Liam is telling the director that his wiener is pretty big – and that we`ll think it`s pretty big when we see it. And, that is the truth – stripped naked, with two big hard schlongs, this is one of the hottest straight-bait duos we`ve ever seen. Robbins then broaches the subject of doing a video with only the two guys and Liam isn`t happy. He makes it clear that he`s there for the chicks and the money and says "I`m totally straight." It took a while and a bit of money to get him agree to get head from our now drooling Bait guy. When Chase goes down on him he hides his eyes with his arm, but his dick tells another story as it gets rock hard – what a beautiful thing to see. Now it`s time for the flip and Liam just doesn`t want to do it and Robins has to convince that he`s not gay if he sucks a dick. He bought it and did a pretty good knob job slurping away at Chase's big 8.  Next it`s time to fuck. Liam will absolutely not fuck another dude even when Robins went up to quadruple the money. So, he agreed that Chase could finish him with a blow job. The finale is amazing. Both dudes jacking their big cocks laying next to each other on the couch.  When Liam gets close, Chase puts his head down on the dude`s stomach and waits to get hit in the face – and he gets spooged but good on his face and in his mouth. This sets Chase off and he blows a huge load all over Liam – some blew past Liam`s shoulder and landed on the couch – this boy was hot to get off.  Chase lays on the couch breathing hard with the biggest smile we`ve seen on his face yet. When we asked him, he admits that he thinks he likes sex with guys. He goes into more details about this and it`s very, very hot. Watch it in the "After the Shoot" video which you can find in the video trailer.
---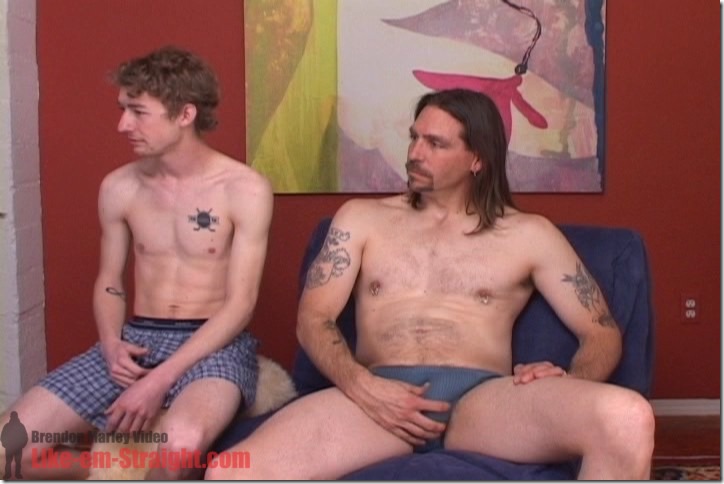 Featuring: Ed, Jack, Brendon Marley
This isn`t exactly beauty and the beast, but quirky best describes Jack`s looks. Brendon has paired him today with the big, sexy Ed. Jack was last seen getting a hand job from the boss but today there is a lot more on the line. Sitting next to Ed, Jack looks bewildered and scared as shit. Find out what these guys have to do to make a little scratch. Jack certainly doesn`t have a problem keeping a raging hard-on when Brendon`s mouth is going down on his cock. Ed knows that blow jobs this good are hard to find
---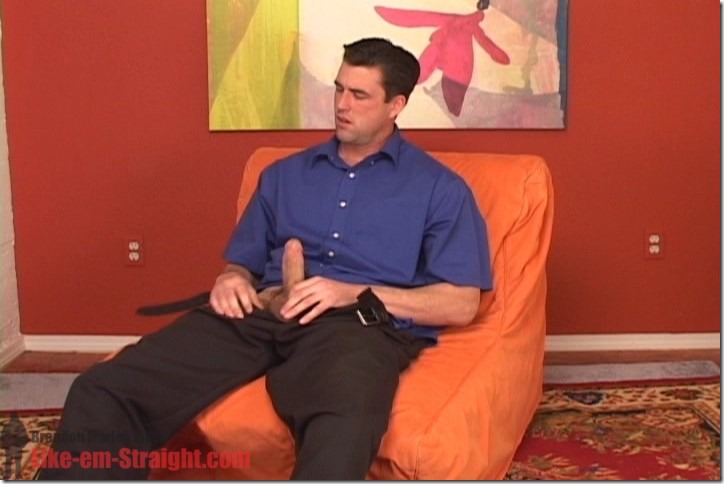 Featuring: Brendon Marley, Wyatt
Why does this Navy veteran, STUD keep returning to the studio when clearly Brendon is not going to provide a chick for him to fuck? Could be the nervous sexual energy that propels him through our door time and again for blow jobs from a pro. He`s 6 foot 5 inches of pure, hard glory. His cock responds to Brendon`s touch and this time his ass gets a licking that keeps Wyatt ticking……….like a time bomb. When he finally blows his load, Wyatt feels like he`s been to the gym. It`s a workout with beautiful results.
---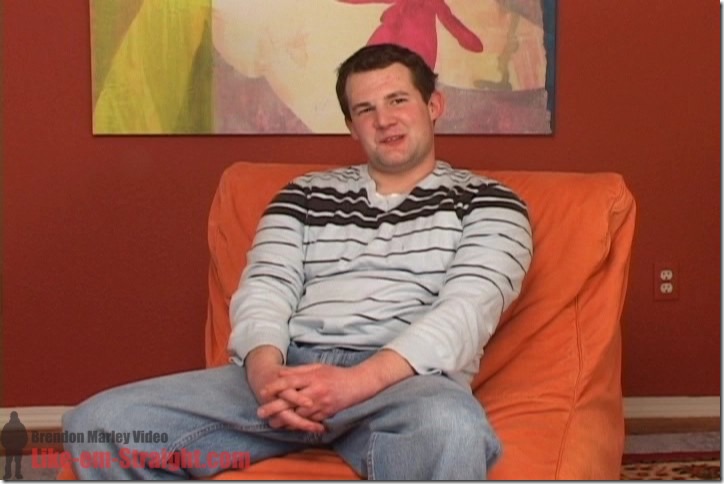 Featuring: Brendon Marley, Sid
O.K., guy next door in a working class neighborhood likes to drink beer and watch football, and , Oh yeah….pursue a porn career. Obviously Sid will not get the career he may have envisioned, but today he gets his first guy on guy blow job. Sid`s amateur status is what got Brendon into this business in the first place. Find regular guys, get em turned on watching porn and see if you can get their cock in your mouth. It`s worked for 15 years, and it works again today as Sid leans back and finds his cock serviced by the best in the business. If it feels this good, why not do it?
---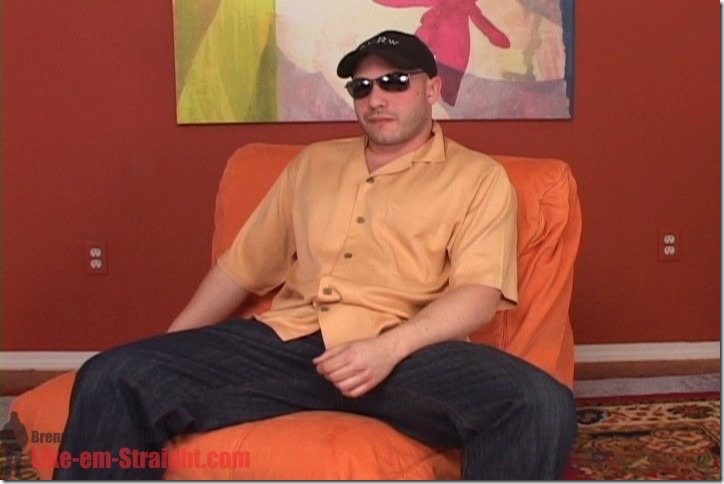 Featuring: Brendon Marley, Romeo
Dark glasses and a cap satisfy Romeo`s desire to stay un-recognized. Probably to anyone who doesn`t know him already, but if Romeo`s girlfriend happens on this site……BUSTED! Brendon enjoys his rock hard un-cut cock that stands up straight and strong as he swallows the whole thing. A beefy body with a nice ass make Romeo sweet meat for cock sucking.
---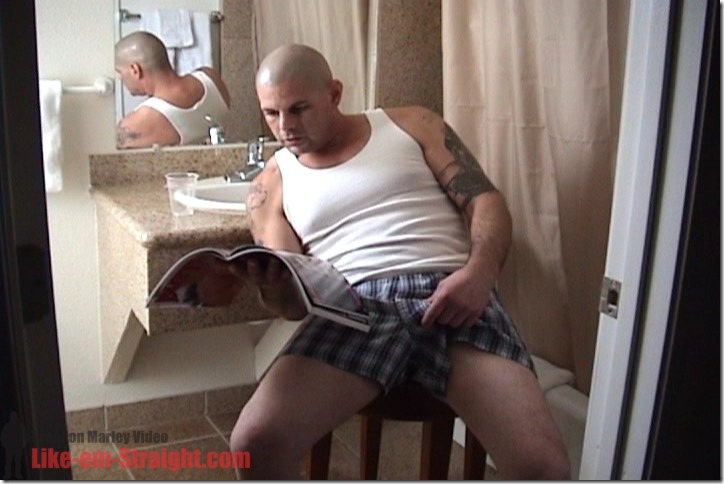 Featuring: Brendon Marley, Sledge
We couldn`t have come up with a better name for this guy, cause what follows Sledge? Hammer! Brendon goes on location (OK it`s a cheap motel on the coast) for this bit of nastiness. Sledge only has a porn magazine for fuel, but Brendon is soon on the floor slurping up this stud`s thick cock while Sledge plays camera man and star. He`s so horny his cum oozes out before he can stop it, but there`s more where that came from . This scene looks so amateur it ain`t funny. But that`s what we like about it.