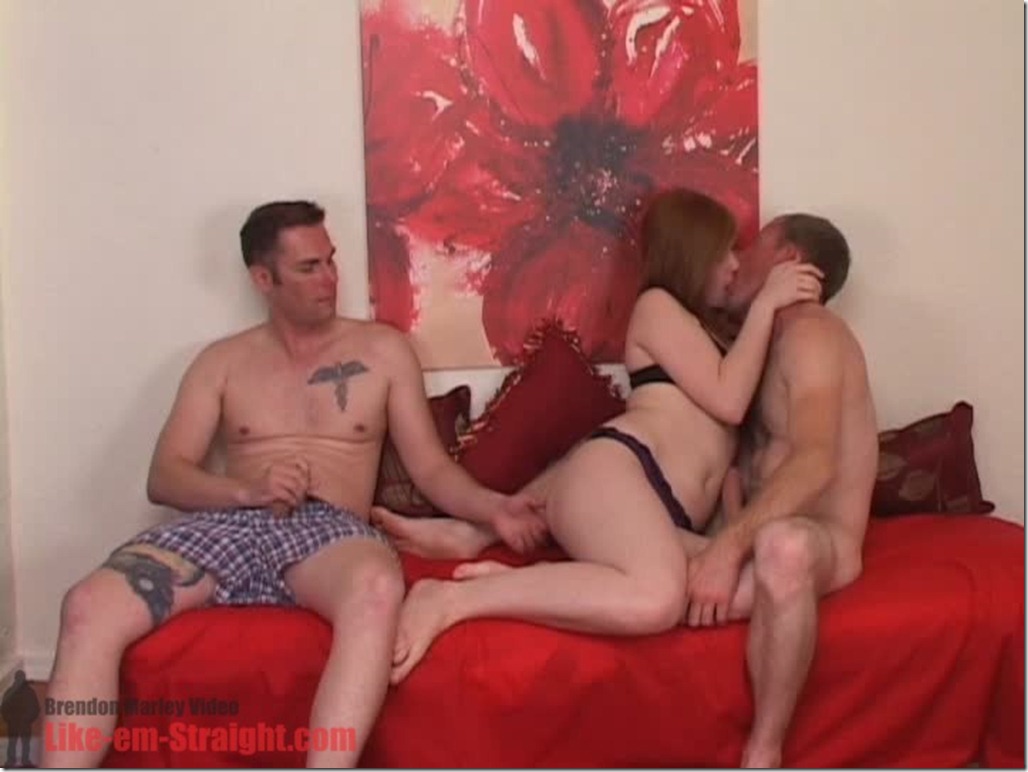 Sexy, well hung Ben has been playing along with Brendon all summer, sucking cock, getting blown, even fucking the boss, and he's been patiently waiting for some pussy. Believe it or not, today Brendon pays up. Lizzie and Dean, the model couple for a new definition of marriage, are back in the studio and Ben is the special invited guest. Lizzie looks pretty surprised when Ben's hard-on sticks through the top of his boxers, but not as surprised as when her husband and Ben plug her ass and her pussy at the same time. She is definitely NOT a desperate housewife!
---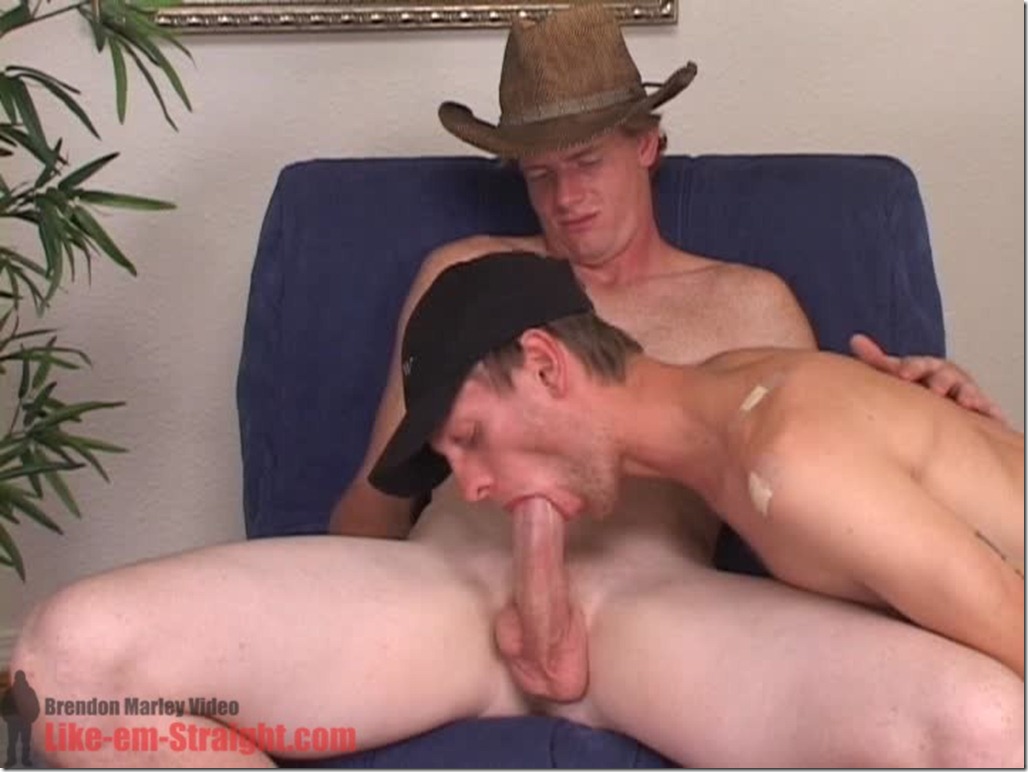 It's always nice to see Clark, the red haired, freckle skinned, long horn from every boy's cowboy fantasy. He comes from that same ranch that spews out these horny cow pokes just dying for some cock friction. We've seen his massive dick disappear down Brendon's throat in DISCHARGED, but today he wants to fuck……anything. Brendon obliges with the hungriest ass in town, Geo. This young stud has been calling the studio looking for gigs, so Brendon dares him to take on one of the biggest dicks we've seen, Clark. No problem. Geo slides down on that fuck pole and rides it like a champ. He gets the sperm fucked right out of him, then Clark releases his own healthy load. SCORE!
---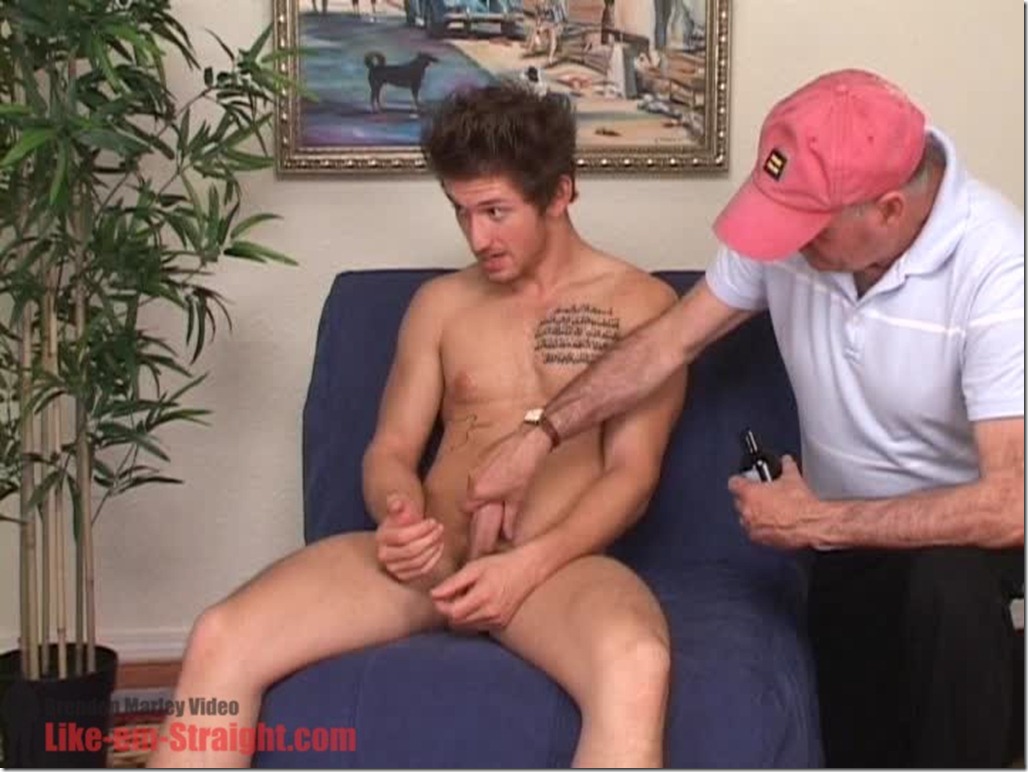 Back for more is the pro kick boxer. Tariq is built tough like a Ford truck, and might just be as reliable. His cock points straight up and he sits in awe of Brendon's videos while getting the best blow job of his young life. That's a map of Afghanistan tattooed on his torso, so Brendon does his bit for world peace by disarming this stud and making love, not war.
---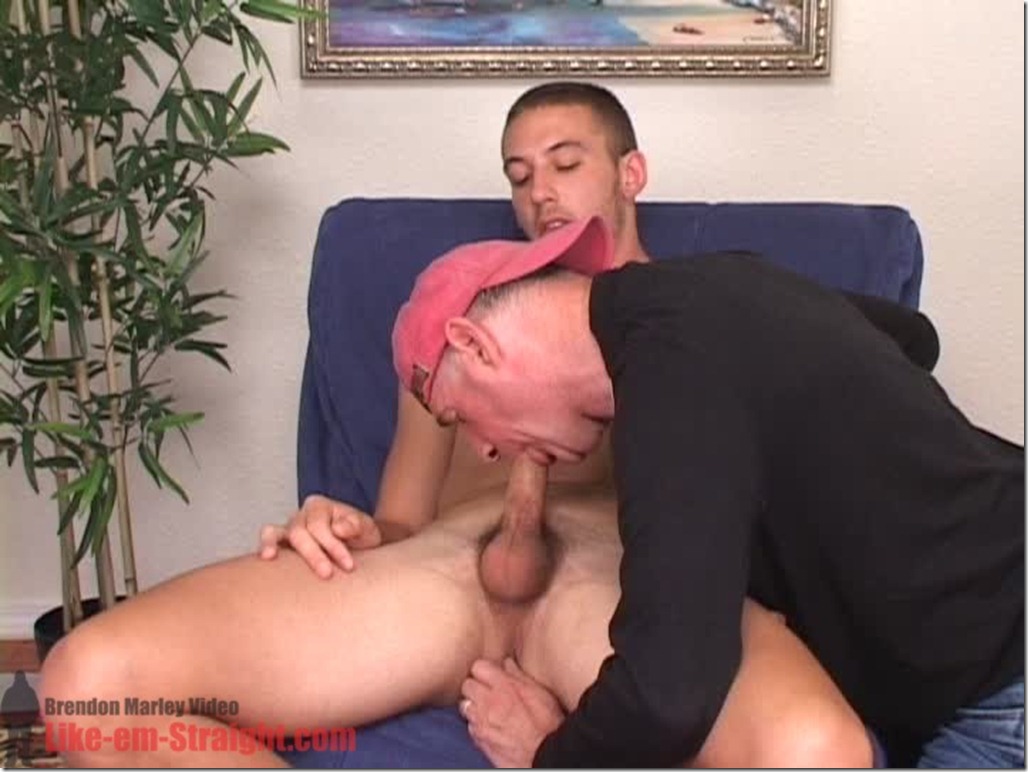 Some guys are just handsome! Travis is one of them. His eyes light up the room and his smile sends shivers down Brendon's back. So when this delicious, sexy straight boy showed up to play, Brendon gave him the whole sandbox. New to the city and in need of some cash, Travis opens his tool box to a horny older gentleman. Needless to say, Brendon devours this young morsel and licks up the crumbs. Finger lickin good!
---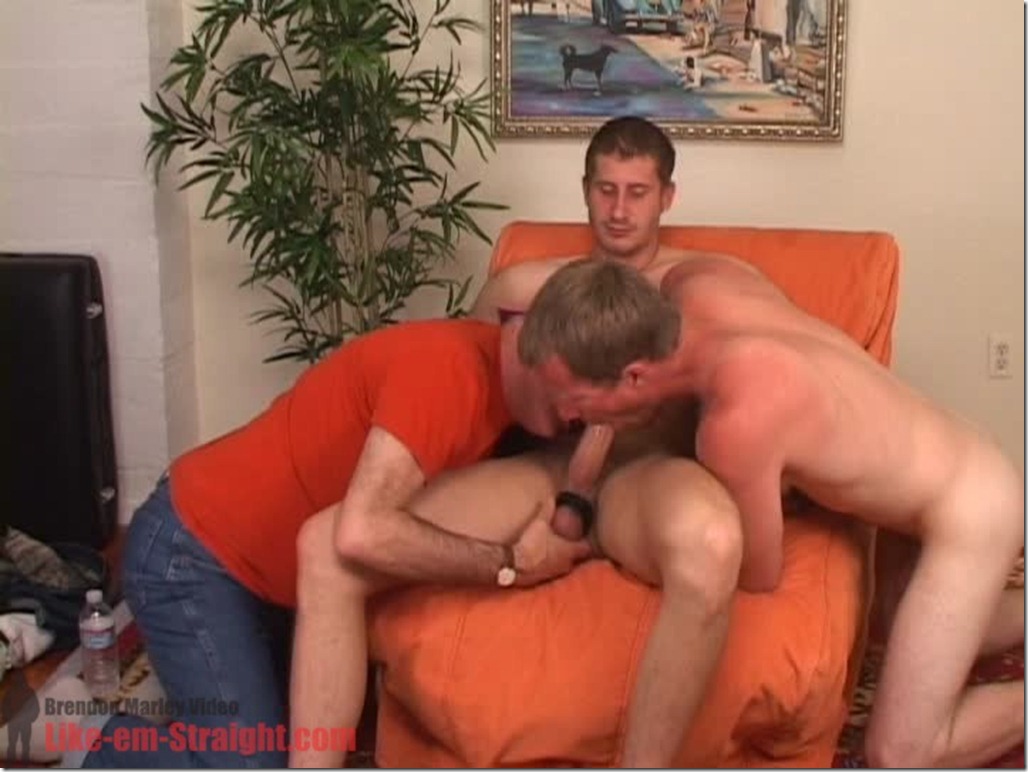 Too much of a good thing can be a REALLY good thing. Apparently that's Brendon's motto as he pairs two of his favorite straight guys together for a second 'cumming'. Ben has been Brendon's alter ego all summer, jumping into scenes and following direction like a guy going for his undergrad in Sex Ed. It doesn't hurt that he's the red headed dead ringer for another Ben with a throat stretching cock. And Mike is the thick stud whose nut sack has a permanent choker on it. "Makes my balls feel like someone's holding them all the time," says the sexy fucker. Brendon starts the scene by sampling Mike's smooth, Captain America body, then Ben joins in to tag team until both guys dump a load. These two could take their show on the road.
---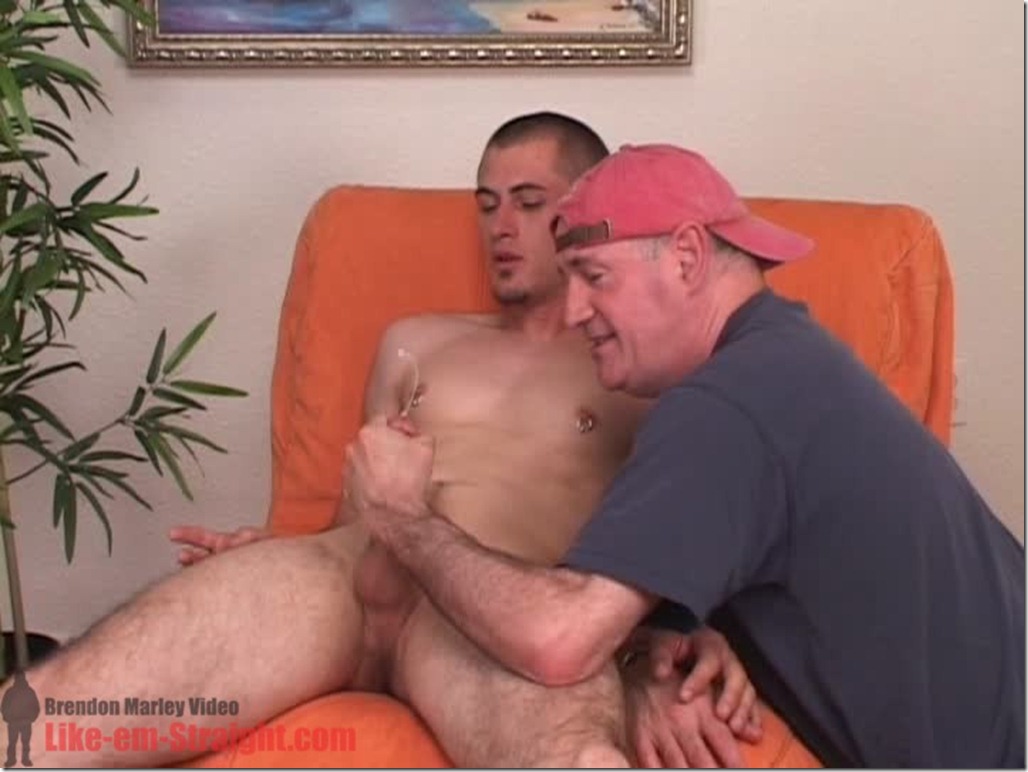 Jasper is hot and hung. Addicted to porn and broke, he's come to the right place. Brendon knows this guy has a wild side to him and even though he's quiet and somewhat shy, the pleasure piercing in his cock speaks for itself. Just moments after Brendon starts sucking Jasper's hard cock. Jasper tells him that if he keeps sucking it, he's gonna cum.
---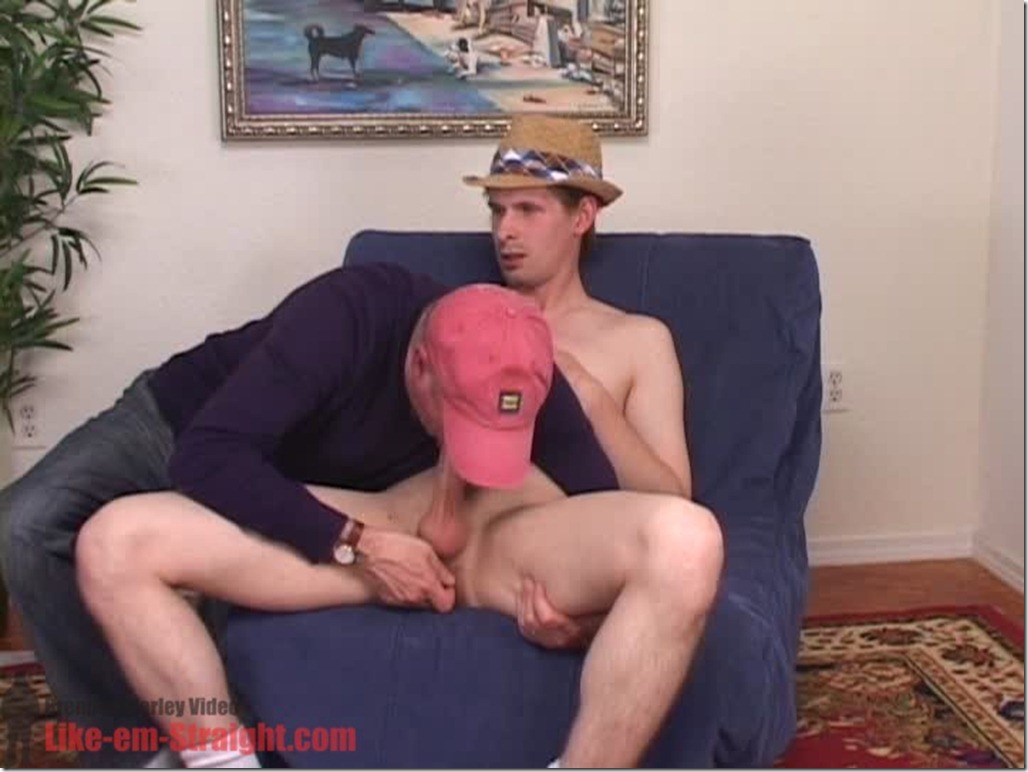 Kenneth is a throw back to the swinging 60's, when jazz was cool and sex was hot. Brendon keeps the music playing by blowing Kenneth's horn, and there's nothing sweeter than the melody of a pitch perfect blow job on a slide trom'bone'. If you know the lyrics, sing along as Brendon sight reads his way through a medley of tender strokes, nips on the nipples and ass fingerings that blows the roof off of this jiazz joint. Kenneth gets played and everyone leaves humming the same tune.
---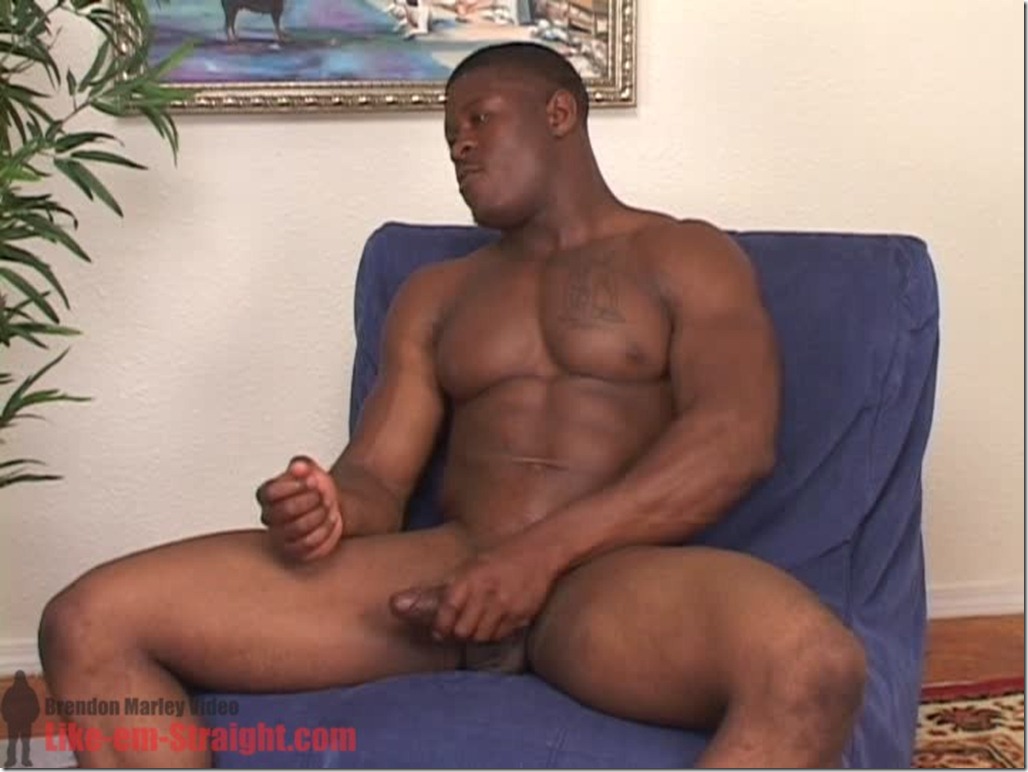 LOOK, but don't touch! This heavy weight dude looks good enough to eat… but Brendon doesn't get to taste the goods in this sexy scene. Buru the Bull has muscles the size of beach balls and when he pulls out his cock…..SHA-ZAM! He just fucked some lucky chick this morning, but now he's in the studio stroking out another load. Brendon wants to see it milky white against Buru's gorgeous black thigh. We've got to get this stud back for another visit.
---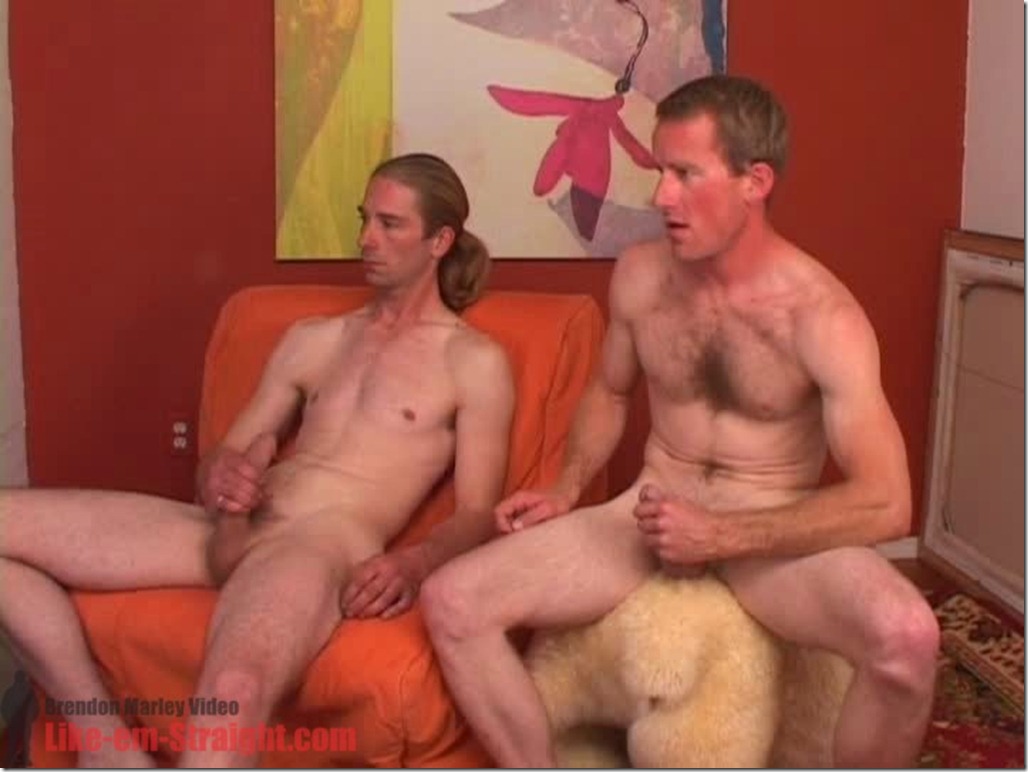 One of Brendon`s favorite pastimes is pairing up two straight guys and giving them gay orders. Patrick is a big dicked mystery from the GULP series who got away from the studio un-sucked. That will change! Ben is the newbie sex starved hottie that is shadowing Brendon to learn the tricks of the trade. Willing to do almost anything to get his `foot` in the door, so to speak, Ben joins Brendon on the floor to suck Patrick`s huge cock, nuts and bolts and both straight guys get way off the beaten path.
---
Damn! Ben is a handsome mutherfucking stud with red hair that winds it's way from his two day stubble down past his mouth watering belly to his gorgeous dick. He reminds us of another Ben……Afflack!! You'd squawk like a duck too if Ben shoved his long, golden dagger up your ass. But those squawks would turn to moans of pleasure as he thrusts long, hard and deep as if he's fucking pussy. Today Brendon plays pussy….galore!