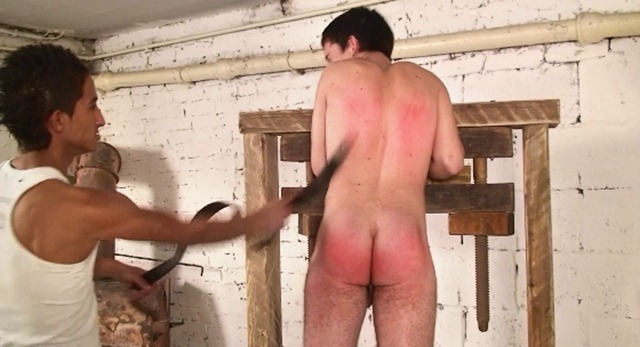 "DUNGEON OF PAIN"
---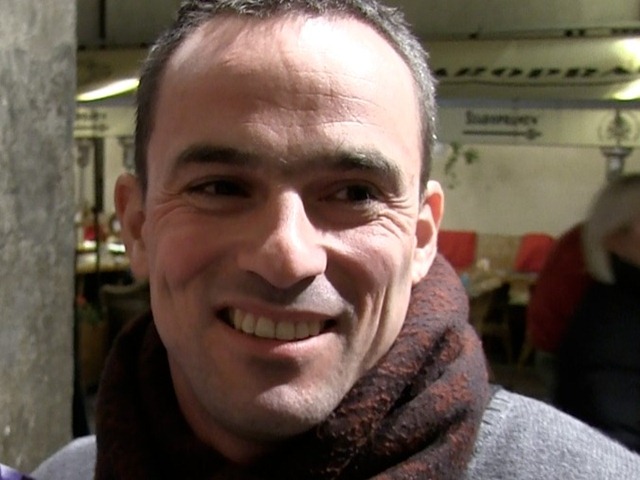 As I always want to show you the beauty of Prague I decided to go to the historic tourist areas. I took me ages to even find somebody from Czech. Then suddenly a guy was waiting in front of a show-bar. I started a conversation and after two minutes I know that he was very open and maybe willing to earn good money. When I finally noticed that a girl is watching us all the time she joined us and introduced herself as his girlfriend. Tough shit. What could I do now? So I tried something different. I tried to involve her in the action. And she was more than willing to show her tits on the street. Pushed by his girl the guy also showed his dick. I persuaded a couple with about 20.000 and we found a nice garage for, well, strange sex.
---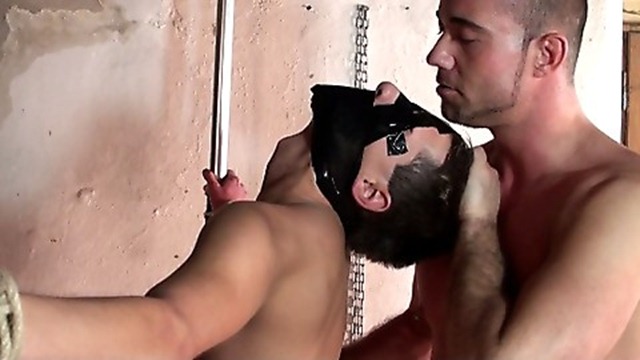 Tyler´s private parts are decorated with painful clamps. Leo kicks him into the stomach again and again. He tortures him with hot candle wax and puts the light close under his balls. He spits onto him and beats his soles. Tyler gets blindfolded. He is told to exercise while Leo controls his breath. Then he starts to wrap his catch with plastic film.
---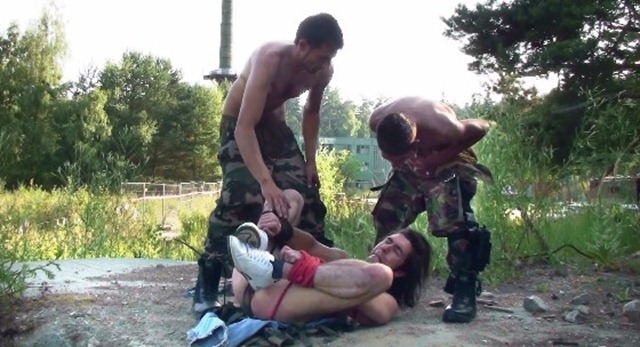 "THE BUILDER"
---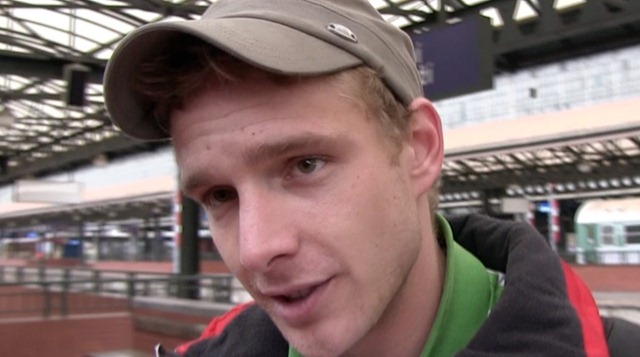 It was a funny day so far. Even though I didn't find a boy for sex this time. But I had many funny interviews and I was able to make a cute guy to show me his cock. Usually I wouldn't use this material even for cutting. But to give you a more in-depth view on how hard my job sometimes is I decided to give this to you as a bonus. One old rule says that younger boys between 18 and 22 are easier to persuade than older guys. But not today. I offered 15.000 to a cutie just for showing me his cock. But he rejected. Well, I only offered so much because I wanted to know his price. Of course I wouldn't have paid so much even if he would have agreed. My brain is still working, don't worry.
---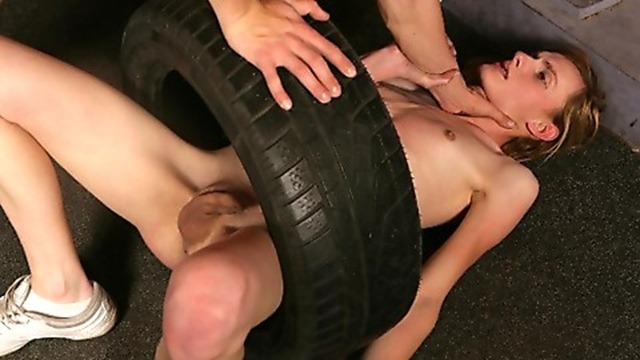 Jerome gets fucked without mercy. But Hassan starts to worry. Did this grind make him gay now? He grabs him and beats him. He drags him to the ground and kicks him. But even doing this the young Arab gets aroused. He again takes the boy and starts to fuck his mouth. Then he suddenly cums all over the blond boy´s face. Jerome has to swallow every single drop of sperm.
---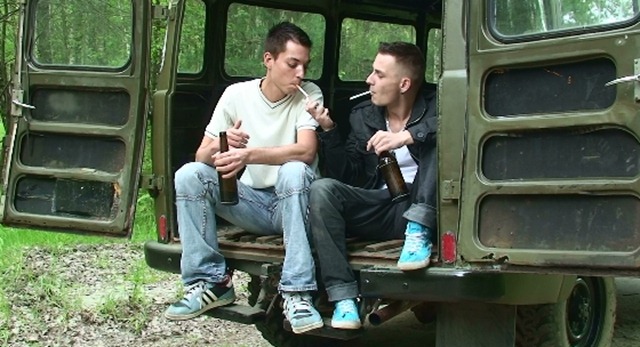 "BUS TOUR"
---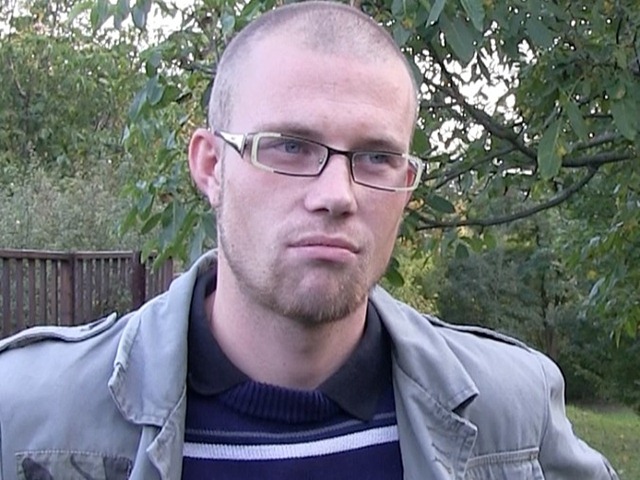 This was not my week. I changed my hunting-area many times already. Today I was in some sort of a ghetto. In a small park. The only guy there was not a hundred percent my taste. I tried to persuade him for fun. But quite frankly: I was happy that he rejected. I wanted to go back to a bigger park but there wasn´t even a taxi. So I walked a few hundred meters but when I finally stopped a taxi my luck was coming back. The guy inside was quite young but arrogant. When we stopped I wanted to pay my 170 crown fee with a 2000 bill. Of course he had no change. So I offered him to keep the rest as a tip. For a little favor. I used my "We-make-a-survey-for-our-university" strategy. When I explained him that he could even make a one-month´s salary for sucking me I was ready that he would maybe beat me. No risk no fun. But instead and to my big surprise he agreed.
---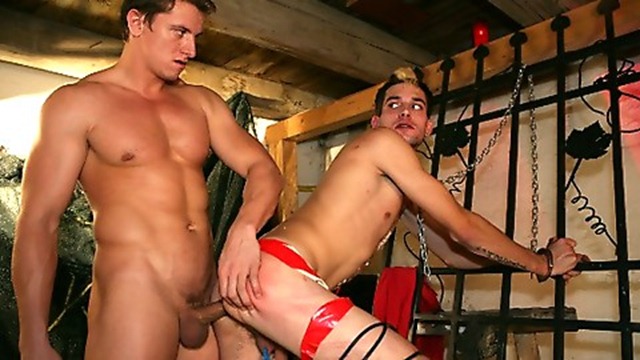 Tied to a wooden beam Steven gets brutally fucked. He is gagged with his own sneakers to stop the screaming and moaning. His boss beats him until he agrees to jerk and cum for his master. To complete the humiliation Steven gets a full load of hot sperm directly in his mouth. He has to swallow it and his boss leaves him in this pitiful position.
---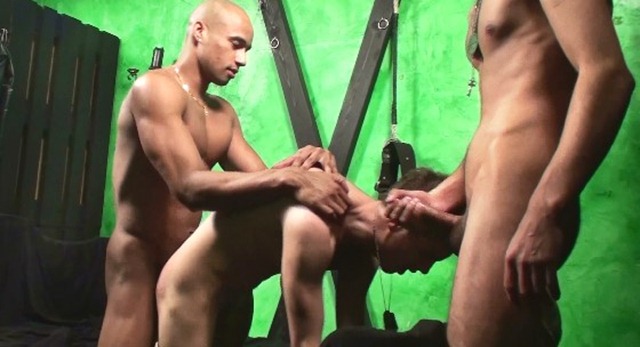 "FOOTBALL PLAYER"
---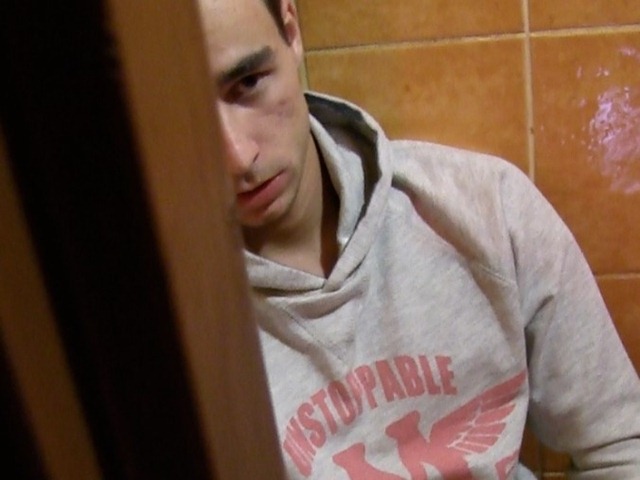 After a successful day I just went to a bar for an ice-cold strawberry juice. It was a quite big place. But without people. The young barmen was happy that at least I came in. And as you guys know me I of course had to try my luck. I wanted to buy his undies. Although he was quite embarrassed he couldn't resist my ultimate offer of 4.000 crowns. With his underwear in my pocket I enjoyed another drink when finally a guest came in. Not really unattractive. He seemed to wait for someone and as nobody showed up after half an hour I asked him if I could invite him for a drink. And I started my interview. He was too shy for sex but at least he agreed to jerk for me in the toilet.
---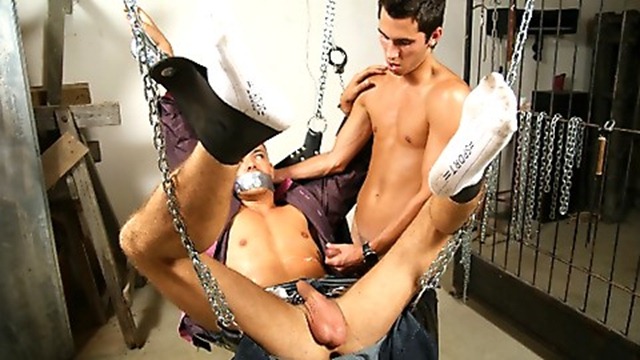 David is tied to the heavy-duty sling. His arms and legs are fixed well. His master enjoys to slowly cut off his trousers. Then he enters the well stretched boy-cherry of his prisoner. Then a wild fuck is going to start. David struggles a lot but betrayed by his own body he gets first jerked and then milked. Finally he gets covered with hot cum.
---
"RANSOM"
---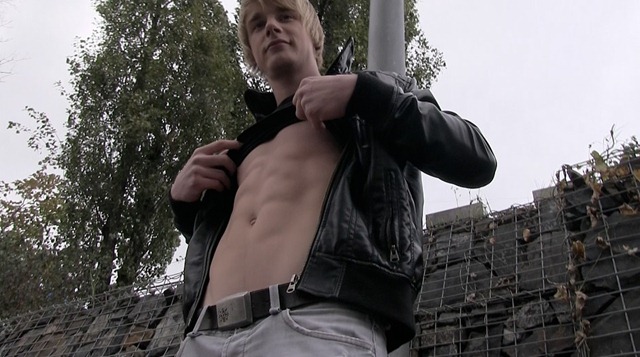 Quite frankly: I was so nervous. I had a walk next to the Moldova river when I saw this angle-faced blond cutie waiting for a tram. Well, I couldn´t help. I had to try my luck. So I approached him and pretended to film the tram-stop. So I was able to start a conversation. He was confused because of my cam but I told him that I make just interviews. He was really shy. And it cost me a fortune to make him show me his chest and cock. It was funny but the next steps appeared to be much easier. Touch my dick, try to take it into your mouth. Then we hide behind a plastic tarp. I was almost broke afterwards but I finally got my fuck in the toilet of a restaurant.
---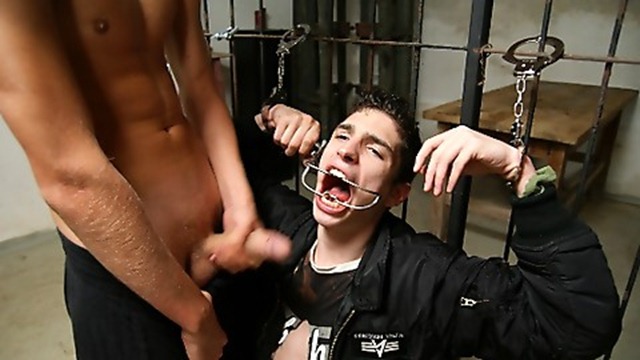 Falco´s body is shaking. He got a heavy beating. And his minder wanked him. No chance to escape. And now his master starts to even kiss him all over. What a humiliation. He gets chained to the grids. A mouth-spreader allows his master to give his prisoner a good mouth-fuck; first on his knees and later crouching.
---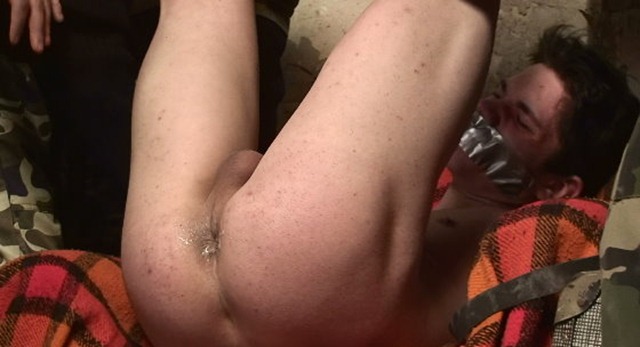 "PAYBACK"
---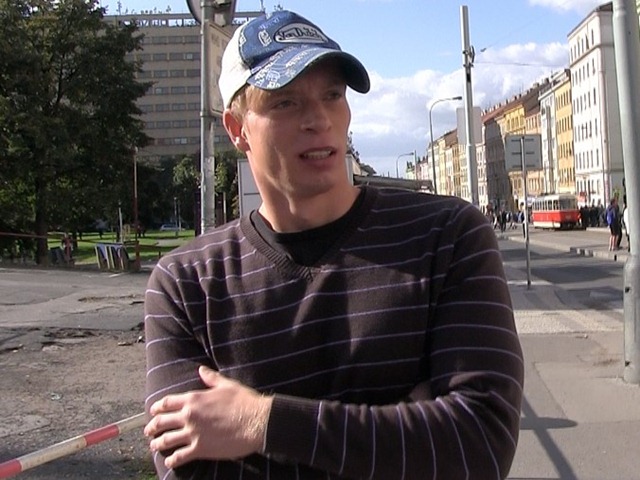 Well, I wasn´t sure if I should use this update. But I want to show you how difficult it sometimes is, to find willing boys. Ok, this is the story… I saw a guy standing next to a small shop looking for flowers. Agreed, maybe not the most handsome guy. But he seemed to have a damn strong body. When I tried to start a conversation he was very arrogant and unfriendly. But I am persistent. When I showed him my money his mood changed. He showed my his bare chest in the middle of the street and round the corner he even let me touch it. I thought. In a nearby hallway he showed me his cock and to jerk a bit for more money. I was so sure about my victory that I couldn´t believe he denied me a fuck or at least a blow-job. I offered all I had in my wallet. But he started to get aggressive and left me. Shit happens.
---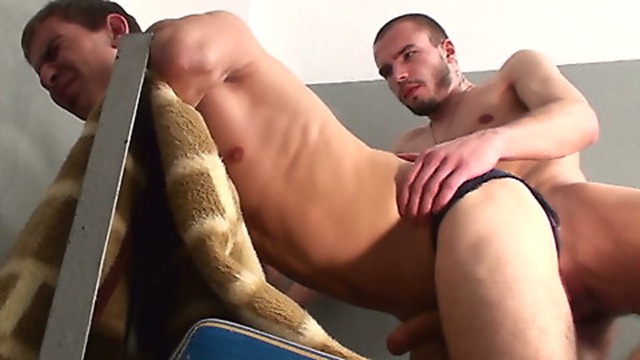 Justin is sleeping in his cell. Time to visit him before he gets bored. Till is shouting at him and tells the pitiful dealer to undress. Followed by an accurate strip-search. The cop humiliates him and forces him to squat naked. Then he tells him to take on girl´s underwear. Justin is nothing more but a sex-toy now and he gets brutally fucked.
---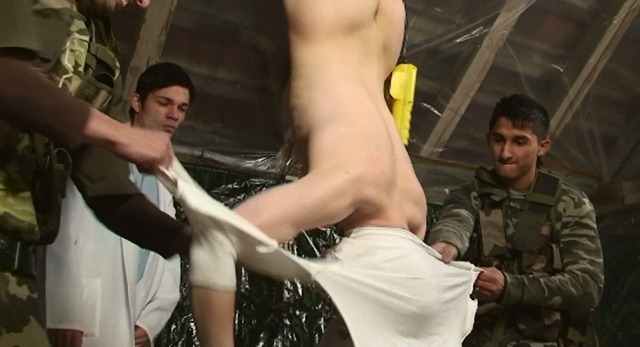 "THE PSYCHO DOCTOR"
---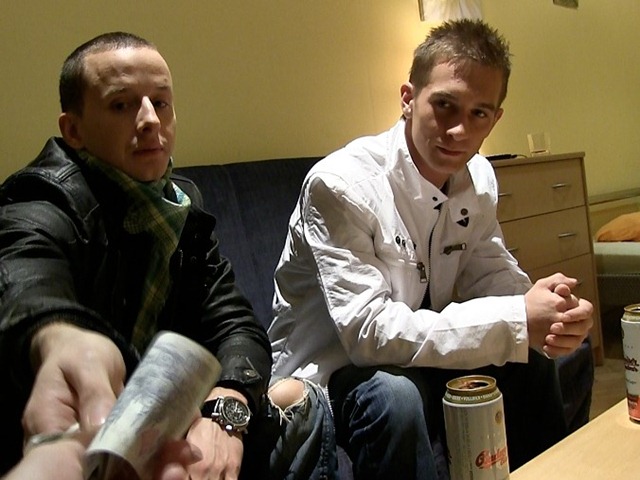 It was already late at night when I decided to take a walk through the park. I had my cam with me. Cause you never know. And indeed there were those two guys sitting on a park bank. They had their beers and didn´t even notice me in the beginning. I was a bit concerned about approaching them. Boys react sometimes aggressive when they are not alone. But still I decided to try my luck. After a short interview I realized that they were completely broke. Without money for another beer. For 4000 crowns they showed me their dicks. Then I made a real immoral offer for a three-some in my apartment. One of the guys was in dept. He was so keen on the money that he even helped me to convince his friend. What followed is something even I will never forget. 
---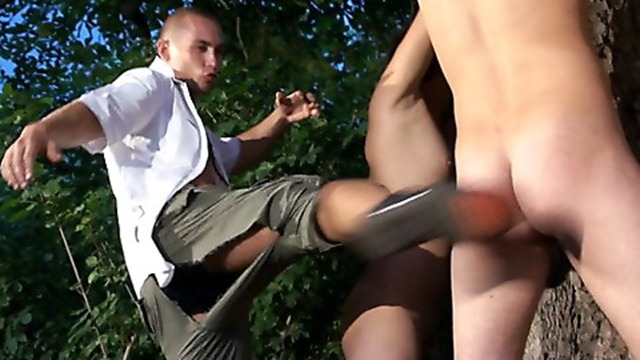 They tie Aaron and Josef to a tree. Dimitri kicks their asses in a wild kung-fu-style. Then they spank their butts to make them red like fire. The boys are quite aggressive and abduct their victims to their tent. There they have to go on their knees and suck until they choke. Finally they get fucked on the meadow and their face will be covered with hot cum.