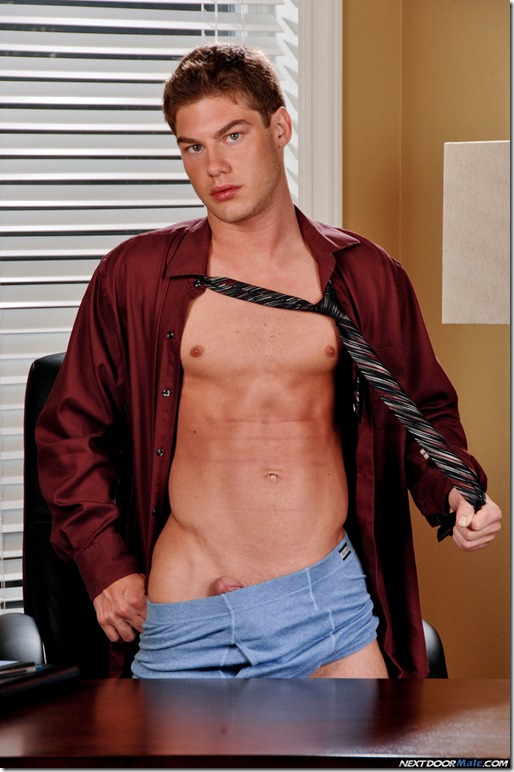 Vance Crawford is in the gym, and he's socking it to you in this hard hitting solo. Trying to get a leg up on the other guys, he's reclined back against the inverted bench and has his cock out to rock out. Slowly peeling off his clothes, he waits until the end to take off his socks and shoes, then slips his cock inside his warm slipper and begins to really work it. He spreads his legs and stretches his toes for maximum release and relaxation, and his sole purpose is your enjoyment, right up to the point where he unloads a massive glob of cum all over his own socks and shoes. Hopefully this will heel that urge for some hot foot action!
---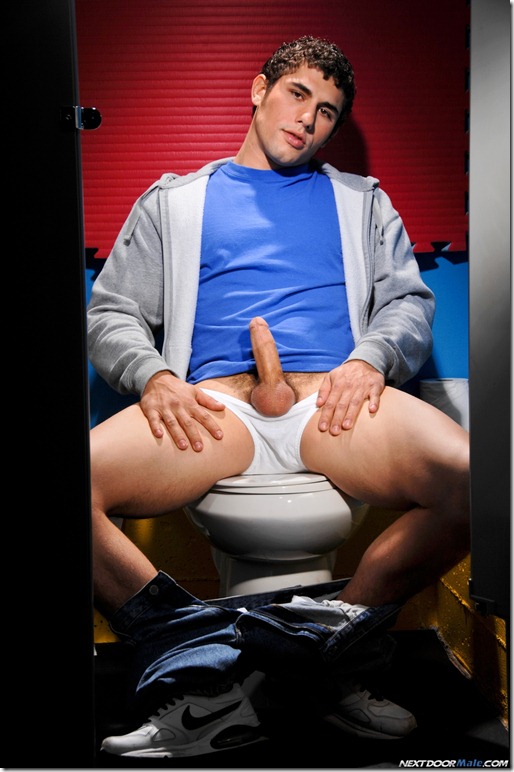 Here's a guy who loves stroking his fat cock in strange, sometimes dirty places. Jimmy Clay has holed up in a grimy bathroom stall to jerk off and enjoy the atmosphere. There's a glory hole in the wall that inspires naughty and nasty thoughts for Jimmy. It's just what he needs to make his hard dick throb with desire. Watch him grind the toilet as he spreads and plays with his tight asshole. His plump lips are moist as he licks them, thinking of the intense action the glory hole has seen. Jimmy's boyish looks and incredibly hot body will provoke plenty of your own dirty thoughts.
---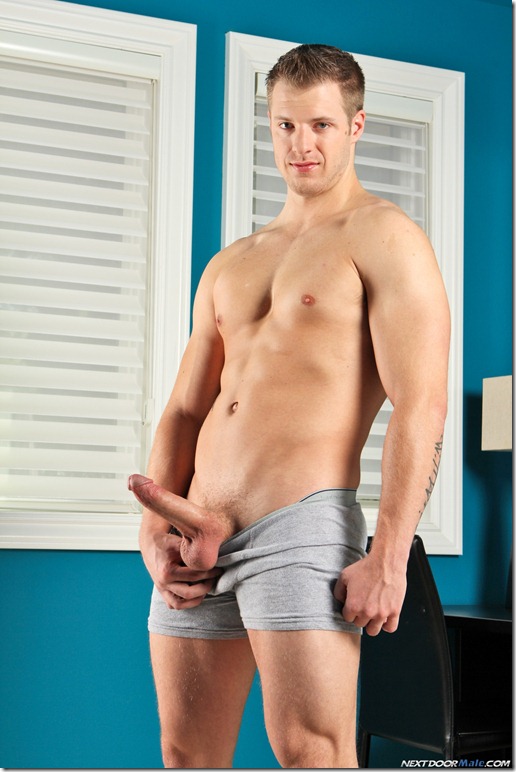 Someone is spying in on Marc Scalvo, looking through the window and watching him during his private moments. Marc undresses and showers before coming back into the bedroom and laying down on the bed to stretch out and relax. Taking his massive cock in his hands, he lubes up and begins to stroke, unbeknownst to him that the whole time someone is watching and hanging on his every move. When Marc suddenly hops up, our pervy voyeur is momentarily scared, but by now Marc is either too into what he's doing or he just doesn't care. Maybe he's even turned on by the fact that he knows you are watching. Stick around for the sticky twist ending to find out which one it is.
---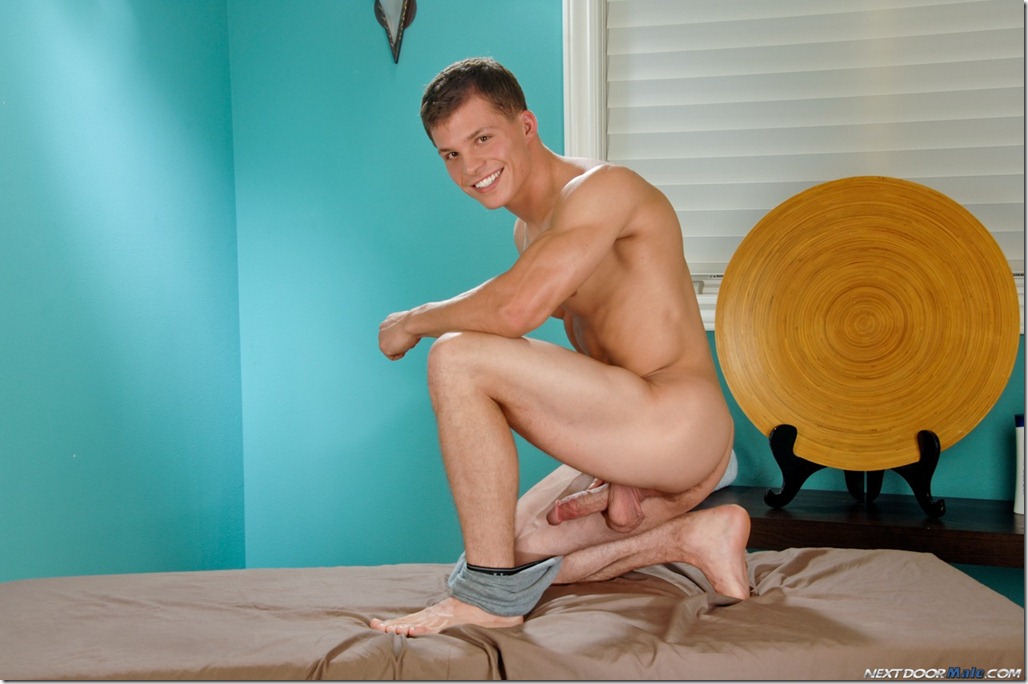 Now here's an all-American boy with a classic, clean-cut look for which anyone would salivate. If you like a lean, chiseled physique, Chad's for you. If you enjoy a gorgeous smile from an incredibly cute young man, Chad is your boy! If you dream of an industrious, serious-minded guy that still knows how to goof around when appropriate, you're gonna love Chad Logan! Chad is a masseur who just had his appointment cancel for the day. That means Chad has a little extra time to spend rubbing himself, releasing some serious tension. Watch Chad lather himself with plenty of lotion and lube as he jerks his thick, swollen cock while taking some very special personal time.
---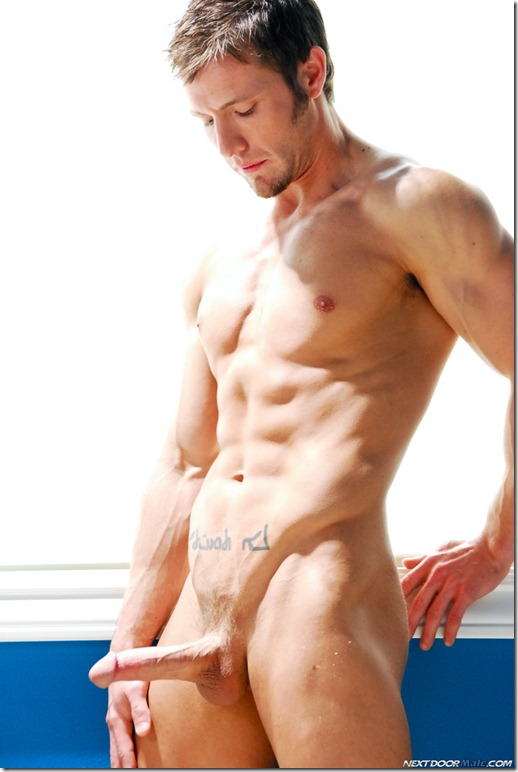 Kevin Crows is in a bit of a tangle. Stealing a few precious moments to himself, he as retreated to his room for a bit of personal time, where he seems to have entangled himself in a bit of a knot. Wrapping his tie around his balls to form tightness and tension, he lathers his dick up with lube, rubbing it all over his body, stretching out in his chair and spreading his legs to maximize his release and to fully loosen up. Watch has he strokes and pulls on his dick, then watch as he breaks the ties holding him down and explodes all over the tie, the table, the chair and himself.
---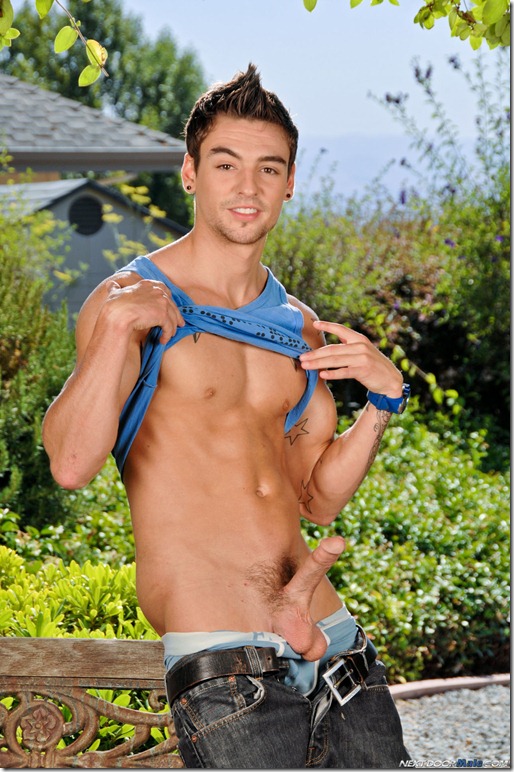 Johnny Torque is out for a day hike on the trail one afternoon by himself. He's got a little snack and some libations, but he fears he might be lost. Stopping to drink a beer and take a load off, he checks his map and takes off his shirt to combat the heat. Some time later, he finds the resting spot he had been looking for: a scenic overlook that is covered from the heat and private from wandering eyes. So, taking the advantage that the shelter provides, he decides to squeeze one off before heading back to civilization. Out here a man can really unwind, relax and let himself go, and that's just what Johnny does, spreading his legs wide and massaging his taint, then bending over the bench before finally sitting back down and cumming all over his chest. He decides this is one nature retreat he's going to have to make a regular routine.
---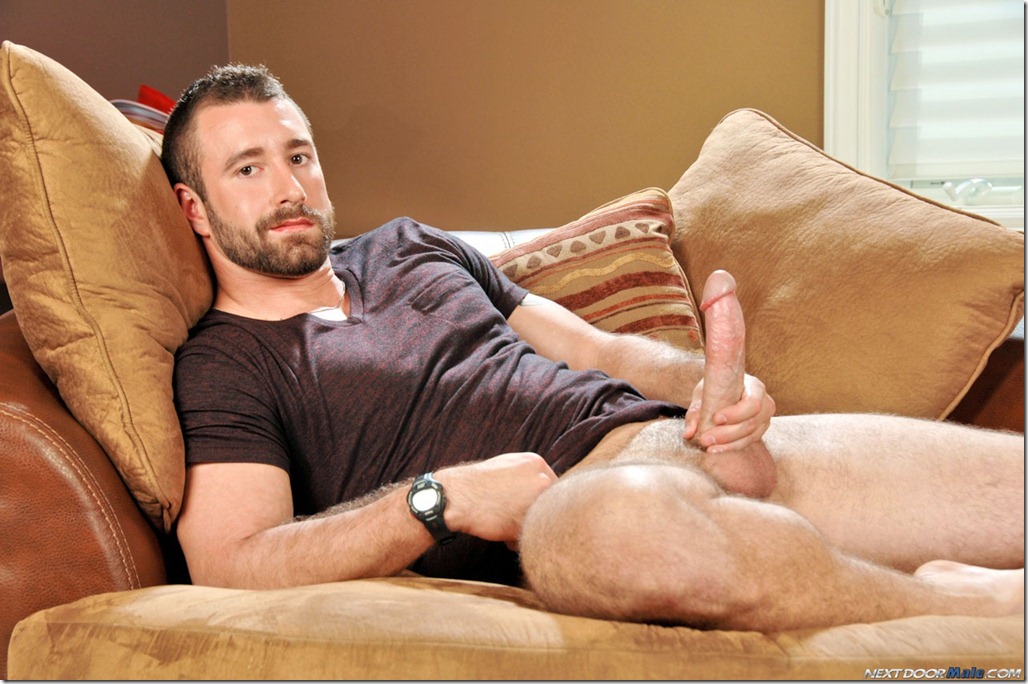 Vinny Castillo makes his Next Door debut in front of the camera and totally exposed. This tall, dark and handsome farmboy from the Midwest is showing you how they grow them back in God's country, flexing his ripped biceps and stretching his hard cock. Reclining back on a recliner and spreading his legs to give you a better view, he breaks his proverbial cherry with each passing stroke. He starts by working his dick up inside his underwear, outlining its contour with his hands. Once stripped, he goes at it with two hands, bending over and giving you a sweet rear end view, jerking until he cannot contain himself until he finally cums all over himself in a sticky first time mess.
---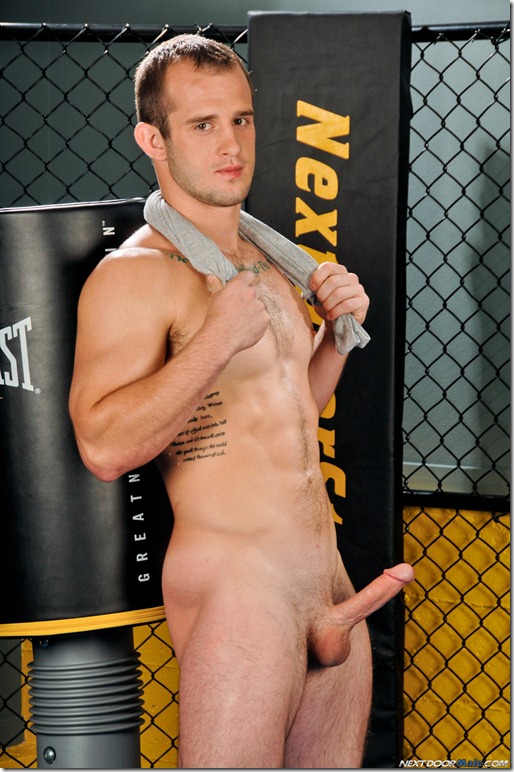 His name is Caesar Lancelot and he's a cold-blooded fighter. He's hitting the sparring room by himself today to hone a new badass jab he's developed, as well as work on his roundhouse kicks. He's focusing on concentrating the power generated by his toned, shapely muscles straight into the point of impact. It's hard work, but Caesar rarely takes a break. Today, however, he's going to take a minute to realign his mental functions by stroking his large, bulging cock. Watch this incredibly sexy dude milk his thick meat stick as he cools down after an intense workout session.
---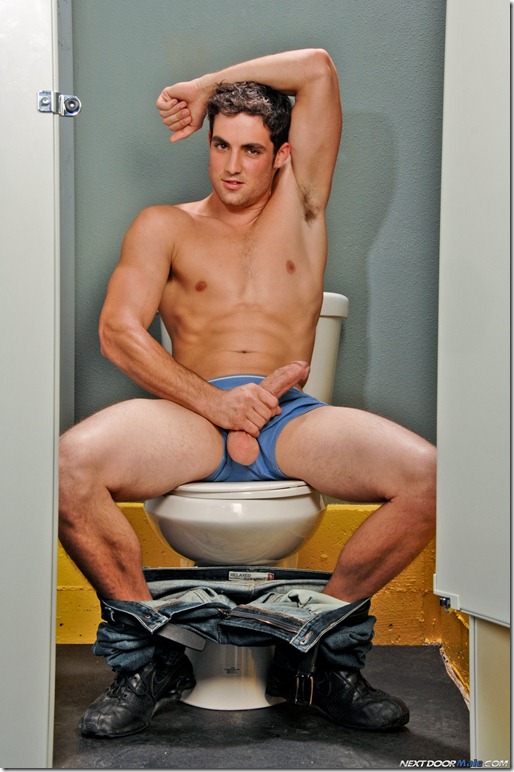 Jack King is hanging out in a public bathroom today. He likes the feeling of cold, grimy porcelain on his ass. He also likes the idea that another man could walk in on him jerking his fat cock any minute. Oh the trouble in which he would be! If someone were to find him grinding his dick on the stall door, or tugging his boner while spreading his ass cheeks, he'd be totally busted! Lucky for you, Jack is allowing one person to watch the door. Just make sure the coast is clear for your pal Jack, okay? Oh, and if you wanna jerk off too, Jack doesn't mind.
---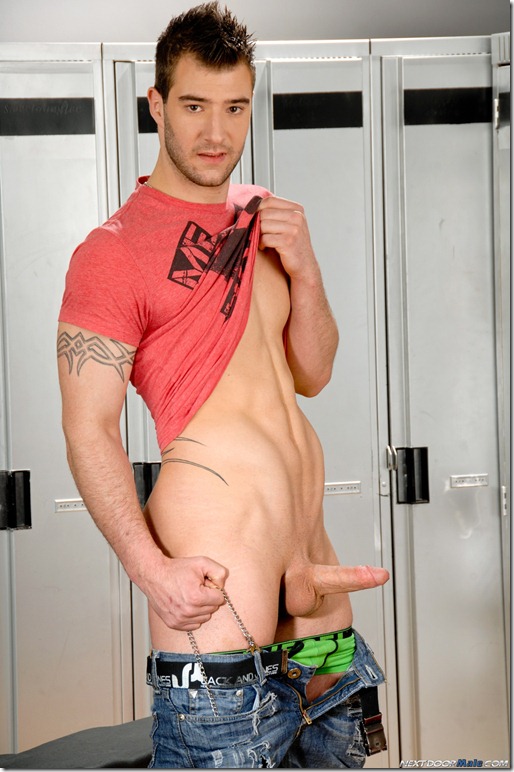 Alex Laurant has finished his workout and is changing in the locker room. Noticing a bottle of lube, he decides to go ahead and relax on the bench midway through, and since his dick instantly gets rock hard, he decides to extend his workout just a little longer. In no hurry, he slowly caresses himself, undressing and reclining on the bench, spreading his legs and fingering his asshole while stroking his dick into a locker room frenzy.